In a year marked by a pandemic, fires and other hurdles, Sandians rose to every challenge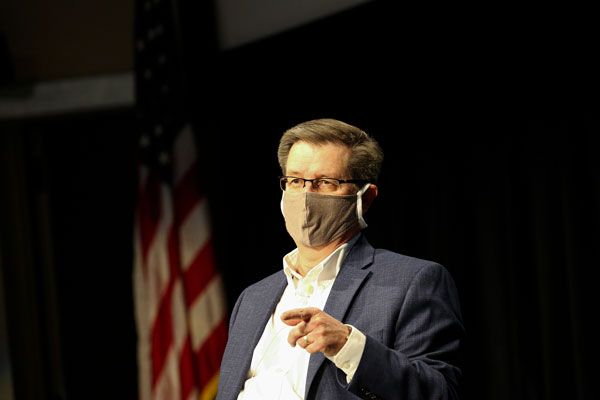 Laboratories Director James Peery had nothing but praise for Sandia's workforce as he looked back on a year filled with unimaginable crises and impressive successes. "Even without the challenges we faced, this has been a phenomenal year," he said at his Nov. 16 State of the Labs address. "We have a lot to be proud of."
James said the accomplishments came against a backdrop of the COVID-19 pandemic, deadly wildfires in California, extensive telecommuting, greater parenting demands, a presidential election and the daily effort to keep homes supplied and families safe. He said Sandians across every division rose to the challenges and kept the Labs on track and meeting critical national security deliverables. "Everyone did their part and it was extraordinary," he said. "You were firing on all cylinders."
The successes began in March with the Labs' response to COVID-19, which had roots in a pandemic response plan drawn up in 2010. "We were as ready as we could be," James said.
He said Sandia took a defense-in-depth approach centered on face coverings, social distancing, limited in-person meetings, contact tracing and regular communications that kept the workforce informed. "We have been able to keep the on-site workforce very healthy," he said.
James thanked the many people who must be at the Labs to do their jobs, including technicians, custodians, administrative assistants, design engineers, security professionals, the medical team and others. "We needed them here and they came," he said. "Many of them have been here every day since the pandemic started."
He also thanked parents for their dedication to Sandia as their child-care responsibilities grew. "I can't imagine how difficult it must be to do the work you do for us, for these many months, while taking care of families and educating children," he said.
Accomplishments across the board
James praised the teams that launched in-house COVID-19 testing and funded R&D projects that are making a difference in the nation's fight against the virus. And he said he was humbled by the generosity of Sandians who donated hundreds of thousands of dollars and countless volunteer hours to help people struggling during the pandemic. The United Way said the speed with which donations poured in from Sandia for the Need is Now Native American relief fund was the fastest it had ever seen in a 48-hour period – $250,000 was raised.
James singled out a long list of accomplishments across all divisions, including:
Mission Enabling: Cost savings, security improvements, legal, communications and HR extraordinary efforts
Science and Technology: A next-generation stockpile stewardship plan and plutonium experiments at Z
DOE/DHS: Co-led one of five quantum institutes in DOE and breakthroughs at California's Combustion Research Facility
Global Security: Advances in the Global Burst Detector and remote training of emergency responders
National Security: Collaborated with the military and other partners on the historic Hypersonic Flight Exeriment-2 and played a critical role in an executive order aimed at securing the United States Bulk Power System
Nuclear Deterrence: Met all critical milestones in multiple weapon programs, executed nine U.S. Air Force Initial Operational Test and Evaluation B61-12 surveillance tests at the Tonopah Test Range, and completed a full-scale crash test of the Mobile Guardian Transporter Prototype I at the Rocket Sled Track
"It was an amazing year for our missions with outstanding support from across the Labs — procurement, finance, HR, communications, legal — the list is long," James said. "I thank all of you for performing exceptional service in the national interest."
Twenty individual Sandians received national awards in 2020, six teams won R&D 100 Awards, and numerous other groups brought in Defense Program Awards of Excellence, the DOE Office of Intelligence and Counterintelligence Alsos Award, the Laser Focus World Innovators Award, three NNSA awards, and four national technology transfer awards. "Congratulations to all the winners," James said. "This is a lot of awards in a normal year; this year, it's exceptional."
Questions from the workforce
James answered several questions from members of the workforce. One involved the future of telecommuting, and he said there is a strategy to improve facilities if enough people are wanting and able to telecommute. But he cautioned against losing the creativity and innovation that come from teams working together on-site. "We have been effective working remotely," he said. "But a lot of creativity happens in the work environment. We are an organization funded to do innovation, and we need people to be creative. I want to be sure we don't lose that."
Addressing other questions, James said inclusion and diversity continue to be one of his top priorities and that Sandia is doing everything in its power to have a safe work environment. "I want to dispel the idea that coming on-site is unsafe compared to being in the community," he said. "The data doesn't support that. Only 5% of our COVID-19 cases have any possibility of having been contracted at work. At least 95% of infections occurred outside Sandia. It is not correct to assume our work environment is not safe."
In closing, James said Sandia has accomplished a lot during the pandemic. "Thank you to those who are coming on-site, thank you to those who are working from home," he said. "We are all making sacrifices. I appreciate your dedication to our national security mission."
Watch the 2020 State of the Labs
Employees who missed James Peery's State of the Labs can view the video on Sandia's internal Digital Media Library.