Sandia invites collaborators in quest for renewable fuels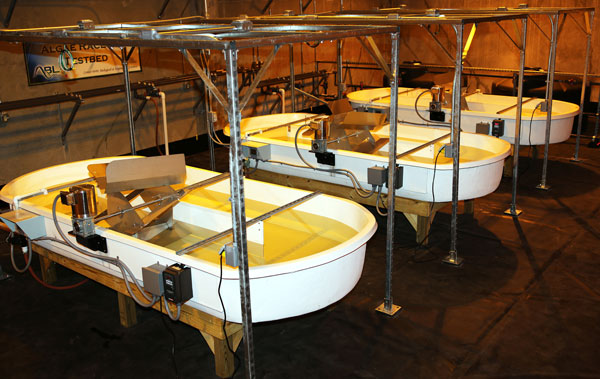 To make algae biofuels more competitive with petroleum, growers must increase productivity and keep their ponds from crashing. That's why Sandia and partners are inviting participants to help in the search for the toughest algae strains and most innovative farming techniques.
Though algae sometimes bloom uncontrollably in the wild, it can be difficult to keep them thriving when grown at large scale as a bioenergy crop. Since 2017, Sandia has tested strains of algae for their resistance to disease and grazers, which are organisms that eat algae, as part of the Development of Integrated Screening, Cultivar Optimization and Verification Research project.
Project partners in the first phase of DISCOVR have included Pacific Northwest and Los Alamos national laboratories, as well as the National Renewable Energy Laboratory. Now, joined by Arizona State University's Center for Algae Technology and Innovation, the project is ready to build on the previous work and bring in strains and technologies from outside the laboratories.
Sandia project lead Todd Lane explained that this a great opportunity for companies that cannot conduct research on their algae technology at the scale that the DISCOVR pipeline can.
Hoping to encourage potential collaborators, Todd said, "If you've got a technology or strain that you think is a winner, we'll help you prove it."
Promoting algae productivity
Making algae-growing operations more productive is essential to lowering the cost of algae-based biofuels and products. According to Todd, two main factors affect productivity: the growth rate of the algae; and the stability of an algae-cultivation system.
These two factors cannot work independently. Even if the algae grow quickly in the short term, a company will have to sterilize its equipment and start a new crop if a pond crashes, causing delays, additional costs and diminished annual returns. An estimated 30 percent of production on algae farms is lost each year to pond crashes, during which previously healthy algae die, Todd said.
Sandia has expertise in algae crop-protection strategies and is the DISCOVR lead in evaluating anything that could prevent a pond crash, including any technology that eliminates grazers. The most threatening grazers can eat enough algae to destroy a healthy, 132,000-gallon pond in less than 48 hours, Todd said. Grazers could be any number of parasitic fungi, bacteria and diseases that threaten algae stability.
To date, Sandia has tested 18 algal strains against a diverse panel of grazers, and then further tested the strains with the most prolific growth rates in 1,000-liter ponds under simulated, outdoor-cultivation conditions. As part of this new phase of the DISCOVR project, Arizona State will grow collaborators' submitted strains in its outdoor test beds, while the laboratory consortium will evaluate the productivity of those strains.
Ultimately, the researchers hope to learn the biochemical and physical characteristics of the toughest, most prolific algae strains, so they can identify which strains will be grazer-resistant from their physical properties and reduce the need for the strains to be tested.
Rare opportunity for companies and inventors
Having the resources of major, experienced research teams available to prove the strength and efficacy of private research is rare. Todd urged those who believe they have developed or discovered the toughest algae strains or most innovative algae farming techniques to apply for the program.
This project is sponsored by DOE's Office of Energy Efficiency and Renewable Energy. Ultimately, data gathered for DISCOVR will be made public, but program organizers can also make arrangements with collaborators to protect intellectual property.
Proposals submitted to the call for collaboration will be reviewed on a rolling basis. Those interested can email discovr.algae@lanl.gov for more information or visit the project website.