Sandia Women's Connection honors exceptional local scholars
See below: "2018 Sandia Math and Science Award winners"
More than 30 students recently visited Sandia California to attend the 27th annual Sandia Math and Science Awards, a flagship program of the Sandia Women's Connection.
Every year, the Sandia Women's Connection receives nominations from local high schools and hosts a ceremony to honor the award winners for their accomplishments in STEM (science, technology, engineering and math). During and after the ceremony, students are paired with Sandia mentors, who encourage their future studies and answer questions.
Heidi Ammerlahn, director of the Homeland Security and Defense Systems Center, kicked off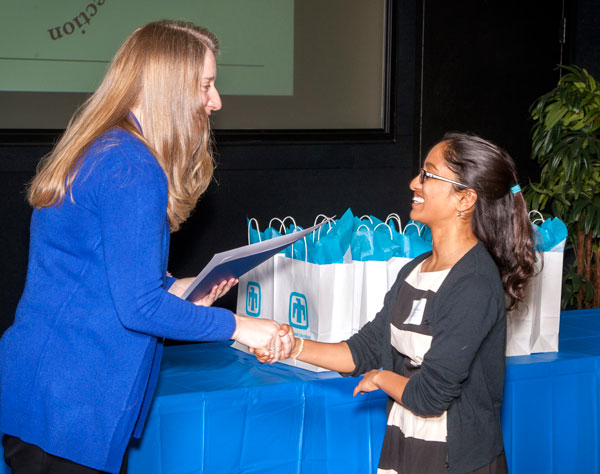 the evening by talking about what attracted her to Sandia's mission.
"My career at Sandia has allowed me to follow my interest in math and computer science while serving my community," Heidi said. "I encourage you all to consider careers in public service."
Mentors make a difference
Associate Labs Director Dori Ellis congratulated the young scholars in a video address and shared the beginnings of her career.
"Men in my father's generation believed that women should only be teachers or nurses. That is until they get married, and then they should stay at home and be a good wife and mother," Dori said. "It was a Sandia mentor, Tom Lane, that encouraged me to apply for an education program at Sandia. That one-year master's degree program was life changing for me."
Dori stressed the importance of seeking mentors and allies.
"Do not hesitate to reach out to us as you make your way," she said. "We are all rooting for you."
Plan to change your plans
Carolyn Fisher, a Sandia postdoc in systems biology, gave the keynote remarks. Fresh from finishing her own academic journey, she shared some words of wisdom.
"Please do not be afraid to dabble," Carolyn said. "When I was in high school, I wanted to be a crime scene detective. Now, I search for algae predators. Give yourself permission to change your mind and follow your interests."
2018 Sandia Math and Science Award winners
Outstanding Achievement in Mathematics
Nicole Park, Amador Valley High School
D'Aysia Johnson, Castlemont High School
Arnetta Olden, Coliseum College Preparatory Academy
Neha Harpanhalli, Dublin High School
Kelly Francesco Ball, East Union High School
Jasmine Zhang, Foothill High School
Silvia Pablo Cruz, Fremont High School
Colleen McCandless, Granada High School
Nikolle Sanchis, Lathrop High School
Zoe Russ, Livermore High School
Josie Voss, Merril F. West High School
Madelyn Beckner, Millenium High School
Areej Choudhry, Sierra High School
Isabella Ellis, Tracy High School
Renny Manansala, Weston Ranch High School
Outstanding Achievement in Science
Esha Chawla, Amador Valley High School
Ariana Perfino, ARISE High School
Ma. Cristina Arlantico, Castlemont High School
Paulina Vazquez, Coliseum College Preparatory Academy
Di Zhuang, Dublin High School
Nisha Prabhakar, Foothill High School
Ashley Zhuang, Granada High School
Kara Asuncion, John C. Kimball High School
Eghosa Ogbeide, Lathrop High School
Indira D'Souza, Livermore High School
Julia Tang, Manteca High School
Alyssa Costa, Merrill F. West High School
Ormina Naveed, Mountain House High School
Yuvleen Kaur, Millenium High School
Rakebe Gebrekidan, Oakland Technical High School
Sophia Sperman, San Leandro High School
Sophia Schmiedt, Sierra High School
Yael Berrol, Skyline High School
Meena Yuqob, Tracy High School