Lisa Gordon-Hagerty, DOE under secretary for nuclear security, signaled strong federal support for Sandia's mission and infrastructure improvements in her all-hands presentation in Albuquerque on June 12. The meeting was part of an all-day tour of the Labs.
This was her first visit to Sandia New Mexico as under secretary. She toured Sandia's California campus six weeks ago.
In her remarks, she championed recent and proposed budget increases. "Our work is cut out for us, but finally we have been given the resources to do it," she said. Gordon-Hagerty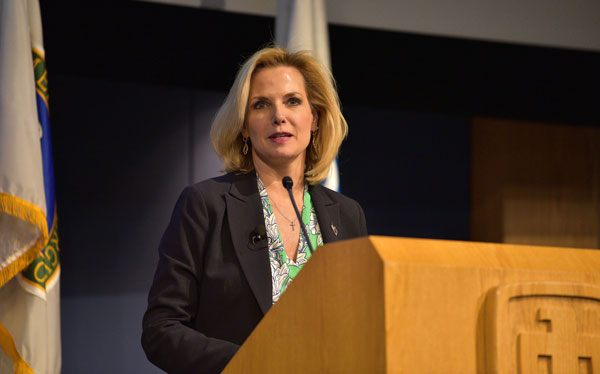 voiced a strong commitment to modernize aging infrastructure. She also discussed plans to break ground soon for the $174.5 million NNSA Albuquerque Complex, which Congress authorized in April, an announcement met with applause.
She made reference to a long-term plan for renewal of Sandia's Microsystems Engineering, Science and Applications complex, saying the administration is "ensuring the U.S. ability to produce secure, radiation-hardened microelectronic systems beyond 2025."
Another top priority that Gordon-Hagerty noted was investing in people and teams. She said NNSA will increase investments in professional development programs and in building a stronger pipeline of young talent. Fielding questions following her remarks, Gordon-Hagerty acknowledged the difficulty of competing with private-sector salaries and affirmed her department's desire to correct disparities as much as possible.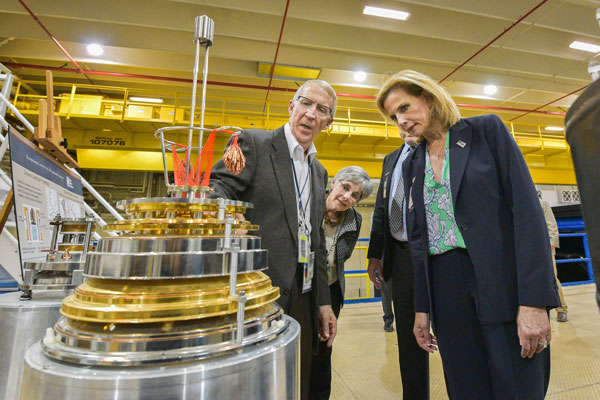 Sandia achievements that received praise included the completion of 135 nuclear deterrence milestones, delivering new radiation detection equipment for U.S. arms control treaty inspectors and new formal processes that improve the readiness of responders to nuclear accidents or incidents.
Ms. Gordon-Hagerty was sworn in in February. She has more than 30 years of national security experience, including serving as the Director for Combatting Terrorism on the National Security Council. During her visit, the NNSA
administrator met with labs executive leadership to discuss the nuclear weapons modernization program, upgrades to MESA and hypersonics. She also toured the neutron generator facility, Z Machine, and the annular core research reactor. Following her visit to Albuquerque, she continued on to the Nevada National Security Site.