Computational Science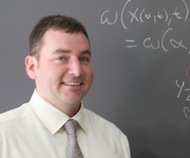 Biography
My research develops numerical methods and accompanying software for coupled multi physics problems. Most recently I have been working with projects in the climate modeling and plasma physics application areas. I have experience with vortex methods, Lagrangian particle methods, discontinuous Galerkin methods, and Lagrangian/semi-Lagrangian transport schemes.
Education
Ph.D. Applied Mathematics, University of Michigan, 2013.
B.S. (honors) Oceanography, U.S. Naval Academy, 2002.
I was an active duty Naval officer from 2002-2007, serving in the weapons department aboard USS SHOUP (DDG 86) and in the operations department at the Naval Maritime Forecast Center / Joint Typhoon Warning Center, Pearl Harbor HI.
Following my time in the Navy, I was a primary instructor for the University of Michigan's introductory calculus program (calc I, II, and III). After graduate school I spent a year as a postdoctoral assistant professor, also in the mathematics department at the University of Michigan.
I joined Sandia in 2014 as that year's John von Neumann Postdoctoral Fellow, and transitioned to a permanent staff position in 2016.
Publications
Showing Results. Show More Publications
Software
Awards & Recognition
2014

Peter Andrew Bosler, John von Neumann Fellowship, Sandia National Laboratories, The John von Neumann Postdoctoral Research Fellowship in Computational Science offers an exceptional opportunity to conduct innovative research in computational mathematics and scientific computing on advanced computing architectures. As members of either the Computing Research Center at Sandia/New Mexico or the Computer Sciences and Information Systems Center at Sandia/California, von Neumann Fellows apply their research findings to a broad range of science and engineering problems of national importance., August 1, 2014