Computational Science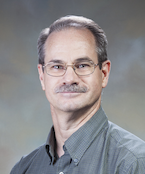 Computational Science
(505) 844-1846
Sandia National Laboratories, New Mexico
P.O. Box 5800
Albuquerque, NM 87185-1320

Biography
Curt has extensive experience with seismic imaging, full-waveform inversion, verification, time-integration, and discontinuous Galerkin methods.
Additionally, he has a diverse background in computational dynamics, including computational fluid dynamics in the areas of
Shock physics
Supersonic and hypersonic flow
Supersonic wakes
Education
1/1991-5/1994 University of Texas at Austin, Austin, Texas, PhD.
8/1989-12/1990 New Mexico State University, Las Cruces, N.M, MSME
181983-5/1989 New Mexico State University, Las Cruces, N.M, BSME
Publications
Showing Results. Show More Publications
Patents
2003
Barnette, Daniel W, Curtis C. Ober, Patent, "Multiprocessor Computer Overset Grid Method and Apparatus," No. 6,519,553, February 11, 2003.
2000
Ghiglia, Dennis, Curtis C. Ober, Louis Romero, Patent, "Method of migrating seismic records," No. 6,021,094, February 1, 2000.
Projects
Awards & Recognition
1999

Curtis Ober, David E. Womble, Louis Romero, Ron A. Oldfield, Robert Gjertsen, IBM, , R&D 100 Award, Salvo - Seismic Imaging Software, R&D Magazine, September 1, 1999