Sandia supports scientific adventures
It isn't even 2019 yet, but Sandia has already kicked off a new year of supporting science in elementary schools. The first Family STEAM Night at Sankofa Elementary in Oakland, California, featured a carnival theme that attracted dozens of students and their parents.
Building roller coasters for marbles, making ice cream from scratch and learning the science of midway games were just a few of the projects that engaged kids in science, technology, engineering, arts and math during the Nov. 13 event.
In addition to a Sandia grant that made the event possible, several Sandia staff members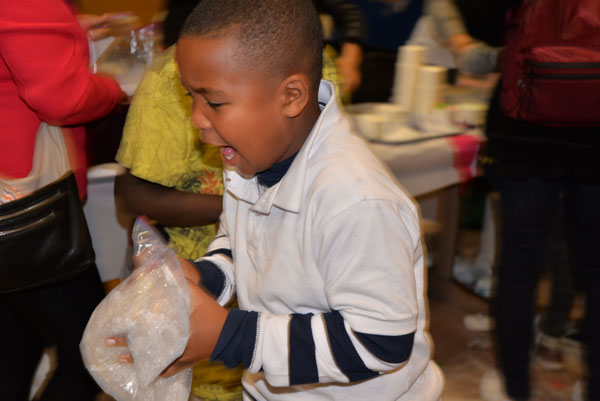 volunteered to lead project stations. Systems engineer Raheel Mahmood took part in several previous local education events, but he said the flashy big top theme of this STEAM night made it particularly unique and fun.
Learning games under the carnival tent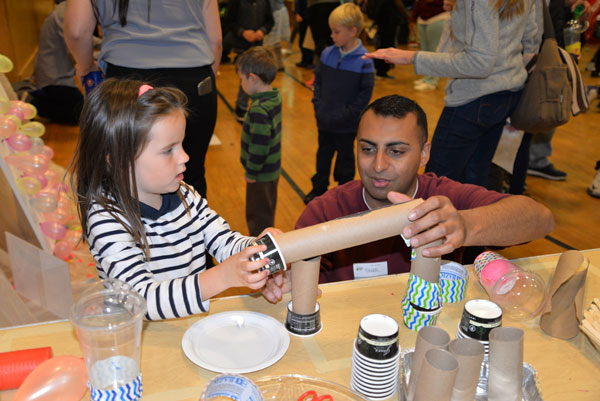 Raheel led the marble roller coaster activity, which gave students construction materials, some design constraints and a goal of building a track for a rolling marble. Raheel and other facilitators guided students in proposing their own designs, building them, understanding what did and didn't work, then helping them improve on their design.
"I really appreciate how supportive Sandia is of education and outreach initiatives," he said. "These events can help students, teachers and parents appreciate science, and shows how engineers and scientists can be positive influences in the community."
Khelsey Pellum, a kindergarten teacher at the school, agreed completely with Raheel's sentiment. She said she felt the STEAM night was a great way to excite students' love of learning. "One of my students saw me and ran across the room to show me how she made her 'air-zooka' balloon launcher," Pellum said. "I thought, 'Wow! Look at how she's so engaged in this!'"
Turning entertainment into engineers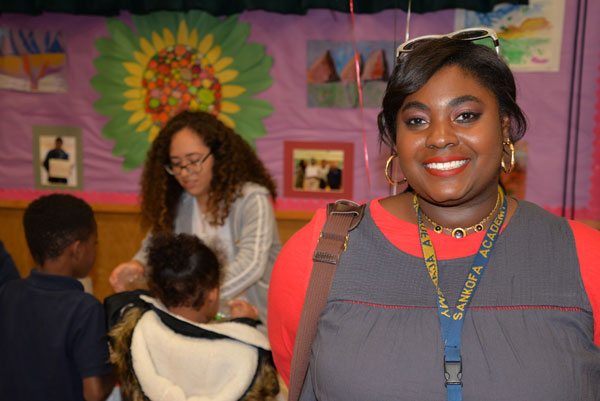 The event was organized by Scientific Adventures for Girls. After learning that California kids get, on average, less than an hour of science instruction every week, that many after-school science programs were expensive and that women are greatly underrepresented in STEM industries, Courtneay Carr Heuer and Tiffany Sprague were inspired to start the organization.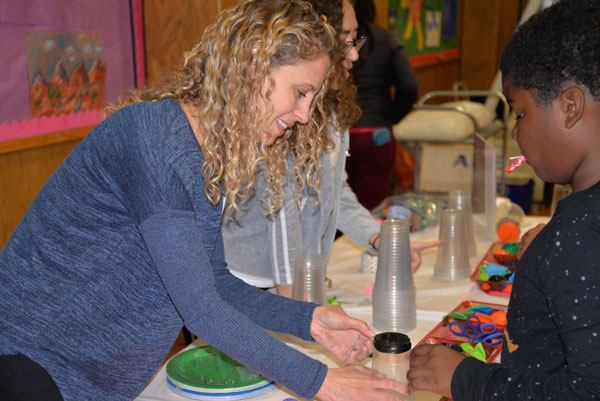 Their mission is to keep all kids, especially girls and underserved youth engaged in STEM for the long term. Carr Heuer said, "We are trying to make sure that girls from underrepresented areas have the opportunity to fall in love with STEM, and ultimately give them a better chance at economic mobility."
To that end, the group will host five more Family STEAM Nights in Oakland throughout 2019. Typically the events run 5-7 p.m., for kindergarten through fifth graders and their parents. Anyone interested in volunteering should contact community relations specialist Kayla Norris.