Almost every morning on her way to work, Theresa Rolfe drives past homeless people outside a fast food restaurant, and the sight takes her back to a time when her son could have been among them.
It wasn't too long ago that Theresa, who works in emergency management, cried all night wondering why he had left a detoxification facility with nothing more than an extra pair of underwear. He'd been to drug rehabilitation and relapsed, and for a while, his location was a mystery.
From the day she found out he was addicted to heroin until she found online support groups where others dealt with similar issues, Theresa said she felt alone. Her son has been clean and sober for more than a year now, and she has others to talk to. However, because she doesn't want others to experience the same dark roads, she formed a support group at Sandia.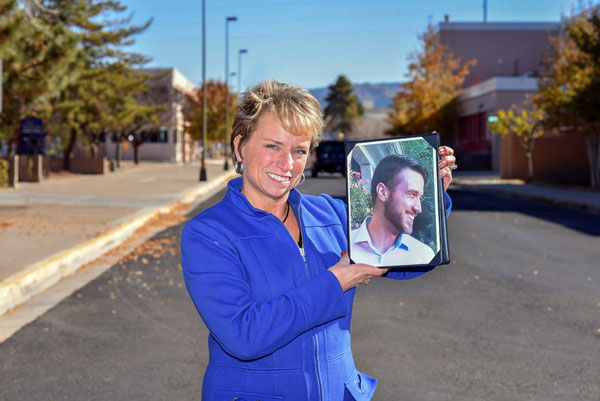 The Family and Friends of Addicts Support Group meets twice a month during the lunch hour to discuss what members are going through. Theresa's son went through rehabilitation twice, but she knows others at the Labs are struggling. Since starting the group, she's had several employees call to talk and managers call on behalf of staff members.
Out of the darkness
"I felt there was a need for people not to be ashamed anymore because when you're ashamed, if you hide it away, it can't get better," Theresa said. "I think for things to get better, you've got to take the issue out of the darkness and put it into the light."
Theresa's son now works full-time helping other men through drug and alcohol addiction at the facility that helped him get clean, in Connecticut. Theresa is very proud of where he is now.
Group stresses employees won't lose security clearances
Although Sandia endorsement isn't required, Theresa went through the Labs' onsite counseling office before starting the group, and gained support from Sandia clinical psychologist Kristina Rynes.
"I thought the support group was such a great idea," Kristina said. "Sadly, nobody is completely immune to this."
Before the support group began, others had established alliances for grieving employees and caregivers at Sandia. Staff can also reach out to counselors for individual help with anxiety, depression, marital issues and workplace problems, and counselors can guide them to long-term therapy if needed.
Kristina doesn't attend the support group meetings, but if someone in the group wants to talk to a professional or if they need a guest speaker, she can help. At Sandia, onsite counseling is free.
It's common in the workplace for people to keep quiet about struggles with family and friends, and at Sandia, there's the added worry about losing security clearances, which are required for most jobs at the Labs.
"No one wants to be viewed in a less-than-perfect light," Theresa said. "People will always say the good things. Your son is exceeding, your daughter is valedictorian. My son's a drug addict. I knew there was a risk putting my name out there, but I didn't care. This is way more important. If somebody wants to judge me, or look down on me, or more importantly my son, that's not my problem."
Sandia requires self-reporting of drug abuse, and employees are also subject to random drug screenings, but they won't lose clearances based on the behavior of family or friends.
"That has been a large concern that other people have," engineer Ian Young said about employees losing clearances. He's been attending the support group for several months and called the security office to doublecheck Sandia's drug policy. "You should know that going to a support group won't affect your clearance."
'A phone call can wreck your day'
His productivity went downhill when Ian discovered his dad used cocaine and methamphetamines, and the ups and downs continue. He always knows when his dad isn't doing well when collection calls come in, or when he receives another driver's license for his dad in the mail.
"He's constantly losing his wallet and license and everything when he's not doing well," Ian said. "You can get to the state where a phone call can wreck your day."
Ian and Theresa both said even when things are going well, it's a state of fragile calm.
"Every time my phone rings, I look at it just to make sure it's not my son and if it is, I answer right away because I think, 'Are you OK?'" Theresa said. "That's all stuff I've got to get over."
A place where others 'get it'
If group attendees don't feel like talking during the meetings, Theresa comes prepared with topics related to drug addiction. She knows numbers and statistics, has advice about finding good rehabilitation facilities and learns about events that could be helpful for those in the group.
"You don't have to say your name. You are welcome to turn your badge around and you don't even have to share if you don't want to," she said. "I understand people are kind of hesitant to share, but I also know if they go to that meeting, they want to share whether they realize it or not."
Ian said the support group gives attendees a place to connect with others who understand drug issues, unlike friends and co-workers.
Kristina said one of the benefits is not having to start from scratch. "People just get it," she said. "When you're in a supportive group, everyone is sort of nodding their heads and saying, 'I know.'"
Theresa said she hopes as more people find out about the group, more will attend.
"Not acknowledging it won't make it go away. In fact, that's probably the worst thing we can do," she said. "An addict is somebody's son, daughter, brother, sister, parent or friend. There's somebody underneath the addiction. They're there. And I never want somebody to feel so alone and desperate as I have felt."
The Family and Friends of Addicts Support Group meets the first and third Wednesday of the month from noon-12:45 p.m. in Building 823, Room 2093. Questions to Theresa Rolfe at 505-844-1702.