Testing facility paves path from lab to real-world applications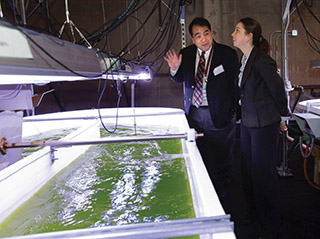 In a twist of geometry, an oval can make a line. The new algae raceway testing facility at Sandia/California may be oval in shape, but it paves a direct path between laboratory research and solving the demand for clean energy.
As the nation and California adopt policies to promote clean transportation fuels, that path could help bring the promise of algal biofuels closer to reality. As one of the fastest growing plants on the planet, algae are an ideal source of biomass, but researchers have not yet found a cost-competitive way to use algae for fuels.
The facility will help bridge the gap from the lab to the real world by providing an environmentally controlled raceway in which to monitor, test, and fine tune technological innovations. "The success of moving technologies from a research lab to large outdoor facilities is tenuous. The scale-up from flask to a 150,000-liter outdoor raceway pond is just too big," said Ben Wu (8624), Sandia's Biomass Science and Conversion Technology manager.
Celebrating the new facility
On Feb. 4, Sandia/California held a ribbon-cutting ceremony to celebrate the opening of the new facility in the Livermore Valley Open Campus.
"As someone who drives her minivan back and forth to the state Capitol every day, I'm looking forward to the day I have the option to fill up with an algal biofuel," State Assemblywoman Catharine Baker (16th District) told the audience at the event. "As a collaborative effort that involves industry, academia, state and federal resources, and scientists from our community, this project is a model."
Livermore Mayor John Marchand thanked Sandia for being a great asset to the community and the nation. "We will never have true national security until we have energy security," he said. "There is tremendous potential here to develop sustainable biofuels that could some day replace fossil fuels."
The collaborative effort that Baker referenced was clear in the diverse audience at the event. This included Alison Goss Eng, program manager for DOE's Bioenergy Technologies Office (BETO) and her colleague at BETO, Daniel Fishman; representatives from the offices of US Reps. Mark DeSaulnier (Calif.-11th), Jeff Denham (Calif.-10th), Eric Swalwell (Calif.-15th), and Jerry McNerney (Calif.-9th); industrial partners; the state Water Resources Board; the California Energy Commission; Lawrence Berkeley National Laboratory; and Lawrence Livermore National Laboratory.
Raceway will advance research
The new Sandia algae testing facility consists of three 1,000-liter raceway ponds with advanced monitoring. The same experiments will be conducted in all three ponds, enabling statistical reproduction of results.
The algae raceway is fully contained for testing genetic strains and crop protection strategies. Customizable lighting and temperature controls, operational by year end, enable researchers to simulate the climate conditions of locations across the country.
Several projects already underway will use the new capability. Anne Ruffing (8631) and Todd Lane (8633) will test genetically modified algae strains as part of a project funded by Sandia's Laboratory Directed Research and Development program. The algae raceway will allow the researchers to more quickly identify strains that promise improved performance.
Todd is also part of a BETO-funded project partnership with Lawrence Livermore National Laboratory that is investigating a probiotic approach to algae crop protection. Another BETO project seeks to convert algae proteins into useful chemical compounds such as butanol.
Ben expects the facility will expand opportunities for Sandia researchers to develop algae as a robust source of biofuels and increase collaborations and partnerships with the private sector, particularly in California where efforts to transform transportation energy are prevalent.
"The bioeconomy is gaining momentum," he said.
Biofuels from algae may be further off, but algae has sugar and proteins that can make fuel or higher valued products, such as butanol or nylon — products that currently come from fossil fuels.