Distributed Virtual Supercomputers
Sponsor: Sandia National Laboratories
Chair: Bill Camp, 505-845-7655
Technical Chair: Neil Pundit, 505-845-7601
Administrative Contact: Carmela Andrade, 505-844-2345
This year's program included: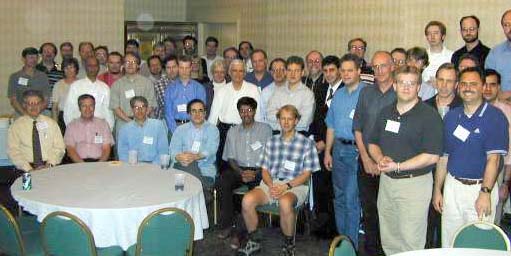 succinct visions from leaders;
Technology Sessions exploring burning issues;
Panels exposing the controversies with brief statements (of <5 minutes each) and vigorous audience participation;
an Integration & Testing Technology Session delving into such issues as installation, testing, operational readiness and support;
an Applications Panel illustrating successes and drawing attention to the challenges ahead;
a Usability Panel looking into such success metrics as reliability, availability, and modifiability;
a CRYSTAL BALL session projecting the future of heterogeneous clusters, integrating SMPs, Petaflops computing, and web-supercomputing.
We concluded by summarizing the highlights of the two-day activities, and getting a program committee to engage us in planning for the 5th Workshop in 2001. This was an immense immersion experience.
Detailed Program
Wednesday, March 8, 2000
| Time | Event |
| --- | --- |
| 6 – 8 pm | Registration, Check-in, and Socials–hosted by Compaq |
---
Thursday, March 9, 2000
Friday, March 10, 2000
Participants by Organizations
(*unable to attend):
Abba Technologies: Bill Boas
Amerada Hess: Scott Morton
Ames: David Turner
ANL: Rick Stevens*, Rajeev Thakur
Compaq: Tad Dodson, Glen Rowe, Ivan Sipos, Lenore Albright
Cray, Inc: Bob Numrich
DOE: Paul Messina, Ed Oliver, Fred Johnson
EPFL/ETHZ: Ralf Gruber, Michel Deville, Michel Jaunin, Emin Gabrielyan, Mark Sawley, Josef Nemecek
IBM Watson Center: Marc Snir
LANL: John Reynders, Pete Beckman, Susan Coghlan, Ron Minnich, Manuel Vigil*, MaryDell Nochumson
LBL: Bill Saphir, Adrian Wong
LLNL: Terri Quinn*, Mark Seager, Mary Zosel, Randy Frank
MPI Softtech: Tony Skjellum, Matt Gleeson
NASA: Tom Sterling, Dan Katz
NOAA/Forecast Systems Laboratories: Leslie Hart
NSA: David Greenberg
ORNL: Al Geist, Jack Dongarra
PSC/CMU: Michael Levine, John Kochmar
SCS: Roland Paul, Martin Frey
SNL: Bill Camp, Dona Crawford, Art Hale, Neil Pundit, Sudip Dosanjh, Rolf Riesen, Ron Brightwell, Jim Tomkins, Tramm Hudson, Dino Pavlakos, Steve Plimpton, Ann Hodges, Robert Clay*, John Noe, Dave Evensky, John Kelly, Carmela Andrade
SUN High Perf. Computing: Dan Fraser*
Syracuse Univ.: Steve Chapin
UNM: Barney Maccabe
UVA: Greg Lindahl
VA Linux: Brian Finley*