Multipronged strategy helps attract top talent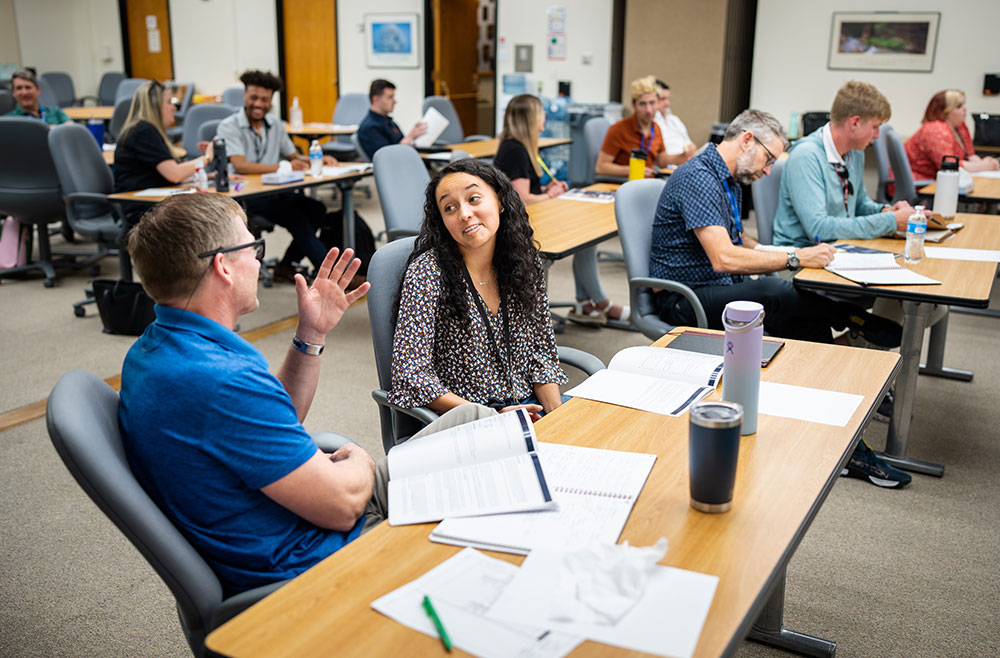 Sandia has enhanced its recruitment and hiring strategy to help fill mid-to-senior experienced career positions, as well as entry-level jobs.
Focusing on recent undergraduates, the Labs has supersized its Critical Skills Recruiting Program; targeting more experienced talent, Sandia's Talent Acquisition Recruiting has added a new role to its arsenal; and to further bolster its efforts, Sandia has increased the number of staffing partners.
Young, diverse talent is critical
In June, the Critical Skills Recruiting Program started welcoming new employees, increasing its hires to almost 30 this fiscal year, up from eight the previous year.
The program recruits people who recently completed a bachelor's in a skill Sandia deems critical, with a focus on building a diverse, qualified candidate pool. About 70% of this year's candidates exhibited that diversity. More than 40% of the hires are women engineers.
The employees are spending the summer at Sandia, learning their roles and connecting with their teams, before starting graduate school in the fall.
"The Critical Skills Recruiting Program is our opportunity to grow and develop future researchers for the Labs that align with our mission needs," said Ana Garcia, who leads hiring for the program. "We're investing in them by providing a fully funded master's degree, and after completing the program, they return to the Labs as full-time R&D staff."
Ana partners closely with University Programs, which administers the Critical Skills Recruiting Program.
The group hired this year must pursue a master's degree in electrical engineering, mechanical engineering, computer engineering or computer science to qualify for coverage of tuition and tuition-related fees. The area of study can change based on mission needs. About 73% of those selected for the program were current or prior interns.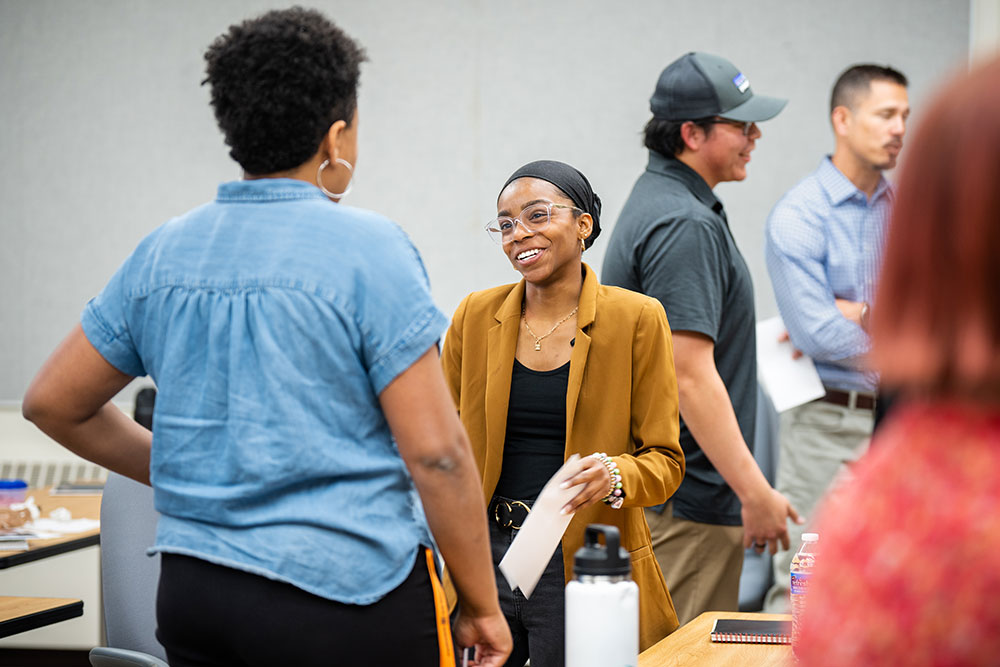 Finding experienced talent
Sandia is also making changes to engage with hard-to-fill, critical experienced talent, which includes the addition of the technical recruiter role within Talent Acquisition Recruiting. The shift refocused existing employees and added eight new technical recruiters over the past year, bringing the total technical recruiter roster to 10. There's now at least one technical recruiter supporting each division at Sandia.
"For some positions, there might only be 30 qualified people nationwide to fill that highly specialized technical job. We look for candidates who haven't applied and, in some cases, who haven't even heard of Sandia," said technical recruiter Dwight Beck, describing the search process for what recruiters dub passive talent, or employed people who are not looking for a job.
After talking to the hiring manager about specific qualifications and the ideal candidate to fill a hard-to-fill niche position, the technical recruiters start researching, sourcing candidates and building the talent pool.
"We're only called in for the difficult-to-fill positions," technical recruiter Meg Duba said. "I think that referring to it as needle-in-a-haystack recruiting is a little too easy."
Advanced search methodologies are used to locate prospective candidates, such as Boolean search criteria on various job boards, OpenWeb search, cold calling and leveraging various social media platforms. "The candidates we want are also wanted by a lot of other national labs and high-tech competitors. We must really sell our mission and its importance," Meg said.
Recently, a position that was open for about two years was filled in just several weeks by the technical recruiting team. "The technical recruiter was able to meet with the hiring manager and then find the right passive candidate," Dwight said.
Consultative approach
As part of its talent acquisition strategy, Sandia has also increased the number of staffing partners to work with hiring managers. The change helps reduce the number of job requisitions per staffing partner, allowing for a more strategic and consultative hiring approach.
"Our focus is on creating a more holistic approach to hiring," said Wade Bodlovic, senior manager of talent acquisition. "Our staffing partners work closely with hiring managers from start to finish in the hiring process, easing the burden on the manager."
With fewer job requisitions per staffing partner, the change is designed to allow staffing partners to be proactive versus reactive in the hiring process, leading to more strategic engagement with the objective of reducing hiring time.
"We've implemented a robust recruiting and staffing strategy that focuses on early-to-late career talent, which will help ensure Sandia has the right people at the right time to meet our critical mission needs," Wade said.