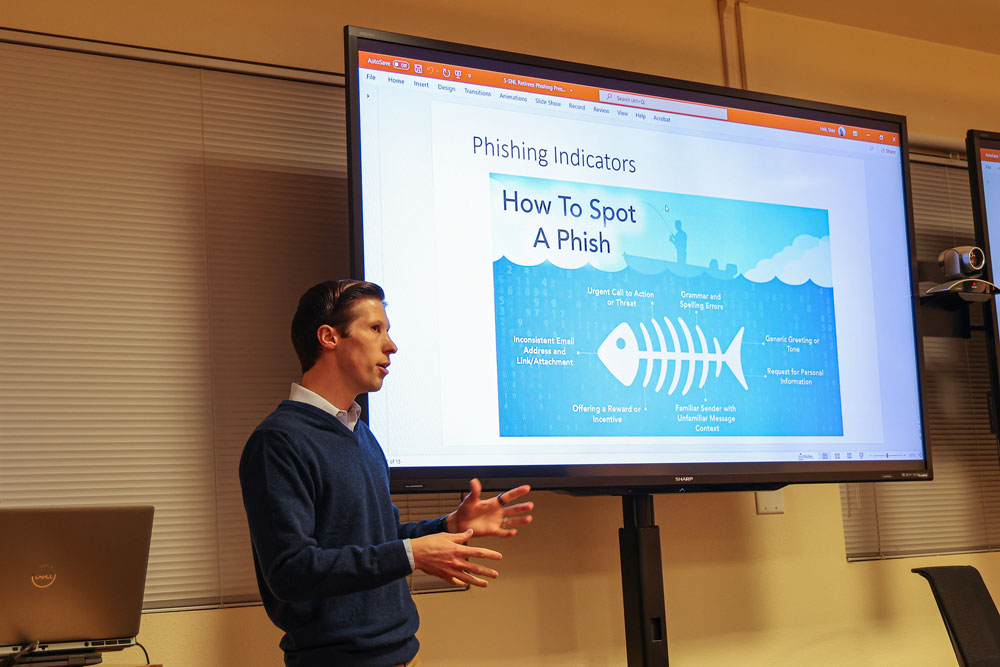 Most people have heard stories about, or even been a target of, email phishing, internet scams or malware attacks. When it comes to protecting online information and devices, users may not be aware of steps for optimizing their online presence for greater privacy and security.
Recently, staff from Sandia's Information Engineering division joined Sandia's Chief Information Officer and Executive Director John Zepper to share best practices with the Coronado Thunderbirds retiree community on how to safeguard electronic devices. The Coronado Thunderbirds is a social club for retirees from federal agencies and their contractors. Over 70 retirees tuned in to the educational talk to learn how to protect their computers and mobile devices, and ultimately themselves, from scams and malware.
The Coronado Thunderbirds were pleased to lead the collaborative meeting with Sandia and the Kirtland Air Force Base Force Support Squadron. Coronado Thunderbirds President John Anthes and Club Newsletter Editor Diana Frederick provided information on the benefits of the club and how to become a member. Air Force Maj. Joseph McIntosh, 377th Force Support Squadron commander, represented Kirtland Air Force Base and discussed some of the benefits available to club members.
"As scams and malware become increasingly sophisticated it's vital that we all become proficient in managing our cybersecurity," John Zepper said. "This event was a great opportunity to partner with our retiree community and help educate them on how scams appear and operate so that they can better recognize the red flags. The end goal is to keep our community safe by providing tips to bolster their own online security."
Boost online security by following these tips.
Security key and tokens
Consider using a security key, a form of second or multifactor authentication. When logging in with your normal credentials, the user will be prompted to provide their security key.
Passwords
Set a device password and use biometrics, like facial recognition or a fingerprint.
Use Apple Password Manager or a tool like Microsoft Authenticator.
Apps and permissions
Review permanent and temporary permissions.
Avoid downloading apps from third-party app stores.
Uninstall unused apps.
Chargers and cables
Use personal chargers only. Don't use public cables.
Use original equipment and manufacturer's cables.
Use wireless chargers, like MagSafe chargers.
Public Wi-Fi
Avoid using public Wi-Fi. If possible, use a hot spot from a phone or tablet instead.
Mobile security apps
Install a mobile security app that can protect against malicious links and tell users about important operating system updates. Examples include programs like Microsoft Defender, Lookout Mobile Security and Norton360.
Antivirus and malware protection on your computer
Install antivirus and malware products to protect home networks and systems.
Set up a recurring reminder to check for and apply software and firmware updates once a month, particularly for critical devices such as an internet router. Some internet service providers handle this for customers.
Wi-Fi security
Rename the default Wi-Fi network. Choose non-personally identifiable network names.
Phishing
Be alert if an email provides a strict deadline with threating repercussions.
Look out for poor spelling and grammar usage.
Check for inconsistent email addresses or links and attachments.
Don't click or open suspicious links or documents.
Call or speak with the sender of the email via a trusted phone number to verify the legitimacy of the email. Never reply.
Never forward the suspicious email to others unless it's a spam phishing mailbox.
If you believe you've fallen victim to a phishing attack, change associated account passwords and notify applicable companies.