Vibrant new mural celebrates women, science
With every brush stroke of pink, yellow, purple and orange paint, Amanda Phingbodhipakkiya transformed a plain, white wall in the Sandia Science & Technology Park into a lively design depicting women reaching toward each other within a landscape of bursting bubbles.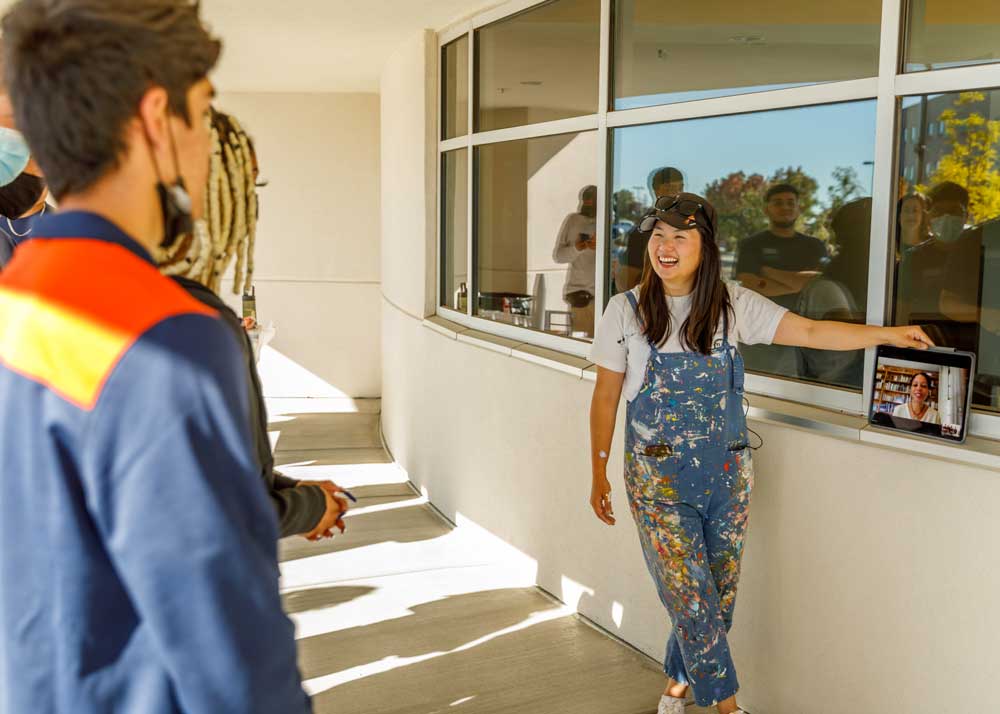 The mural, titled "Limitless," represents what happens when electrons' orbitals overlap, connect and activate.
Wearing a pink paint-splattered jacket and overalls, Phingbodhipakkiya said, "We can draw parallels between the dynamism of women in our society and basic physics research tenets. For example, when women are isolated, and when atoms are isolated, they are inert. But when atoms come into close proximity and their orbitals are allowed to overlap, there is a flurry of activity in the way that when women commune and break free of their isolation or boundaries to come together, they can move, create and make magic."
The Sandia Science & Technology Park was able to secure the location of Phingbodhipakkiya's mural on Research Road through partnerships between the tech park program office staffed by Sandia employees, the city of Albuquerque, Meow Wolf Santa Fe, the artist and Cooperative Educational Services, a company in the tech park that offered its wall.
"We're proud that partnerships with the Sandia Science & Technology Park helped bring this science-themed mural to Albuquerque," said Mary Monson, Sandia senior manager for Technology Partnerships and Business Development. "Art inspires gathering, the exchange of ideas and invites people to pause, chat or think about themes they might not otherwise consider during a walk or drive through town."
The tech park mural is the seventh piece out of 10 in Phingbodhipakkiya's "Findings" series funded by the Heising-Simons Foundation. For each mural in the series, Phingbodhipakkiya teamed with a woman working on cutting-edge science.
She also has a science background of her own. Prior to becoming a full-time multidisciplinary artist based in Brooklyn, New York, Phingbodhipakkiya studied neuroscience and worked at an Alzheimer's research lab.
The Albuquerque mural is inspired by the work of Nadya Mason, a physics professor at the University of Illinois at Urbana-Champaign. She researches condensed matter physics and what happens when electrical currents flow through new materials.
"For example, in some materials, when they are at low enough temperatures, electrons pair up. And when they pair up, they can move almost miraculously through the material without bumping into anything, without losing any energy," Mason said. "When electrons are separate, they just have normal behavior, but when they pair up, they can do something totally different."
Artist's background inspires colorful work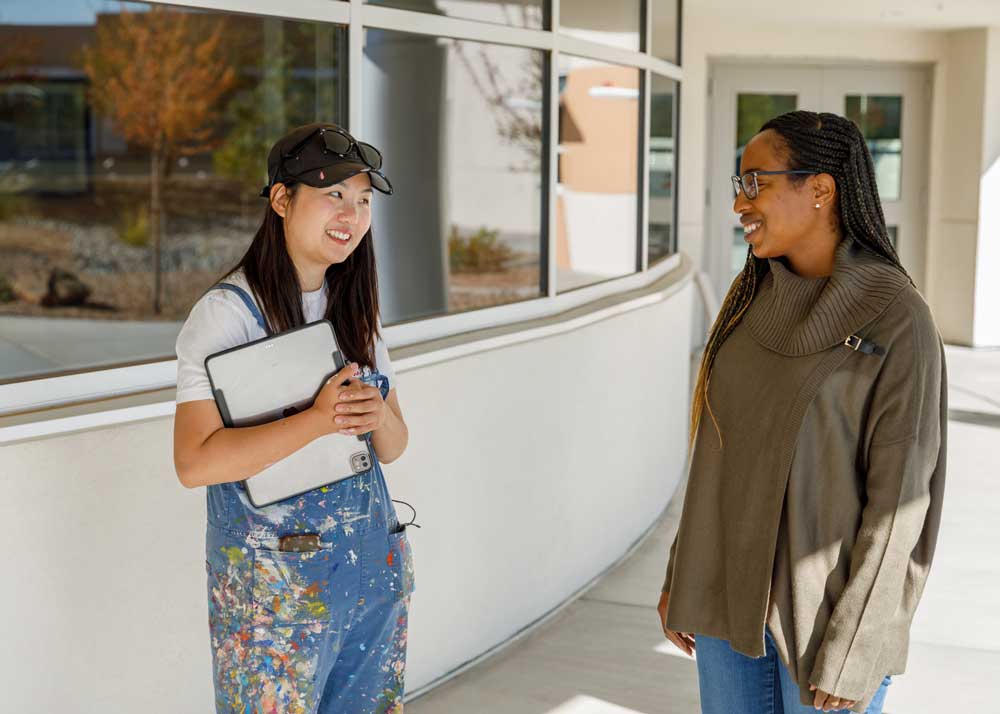 The mural is the first large-scale piece of art within the tech park community that is filled with startup companies and large, established corporations, public schools and walking paths.
"I had the advantage of showing up for work every day and seeing it transform a blank, stucco wall into this beautiful painting," said Robin Strauser, deputy executive director of Cooperative Educational Services. "I think the wonderful blue sky is a huge contrast to it. It just looks amazing and it's interesting. It looks a little bit different every time you look at it."
According to Phingbodhipakkiya, the colors in the painting are inspired by the desert landscape that she experienced while visiting the Southwest in 2019. In all her artwork, she chooses bright colors inspired by her family's Thai and Indonesian backgrounds. Phingbodhipakkiya said her father was a cook, and she grew up with vibrancy all around her, in the form of flavors used in her dad's restaurant, and colors that represent her parent's native countries. That vibrancy in Phingbodhipakkiya's art feeds into the way she portrays women.
"I'm always depicting women as vital, as luminous and harnessing their power to fight for a more just world," she said.
Sherri Brueggemann, Albuquerque Public Art Urban Enhancement Division manager, said many murals have been painted throughout the city's history, but significantly more of them were completed by men than women.
"Having a female muralist, a woman that's got a really bold, strong identity and such an incredible story to tell about women of color and science is an incredible addition to our whole collection here in Albuquerque," Brueggemann said.
Tech park students assist in mural project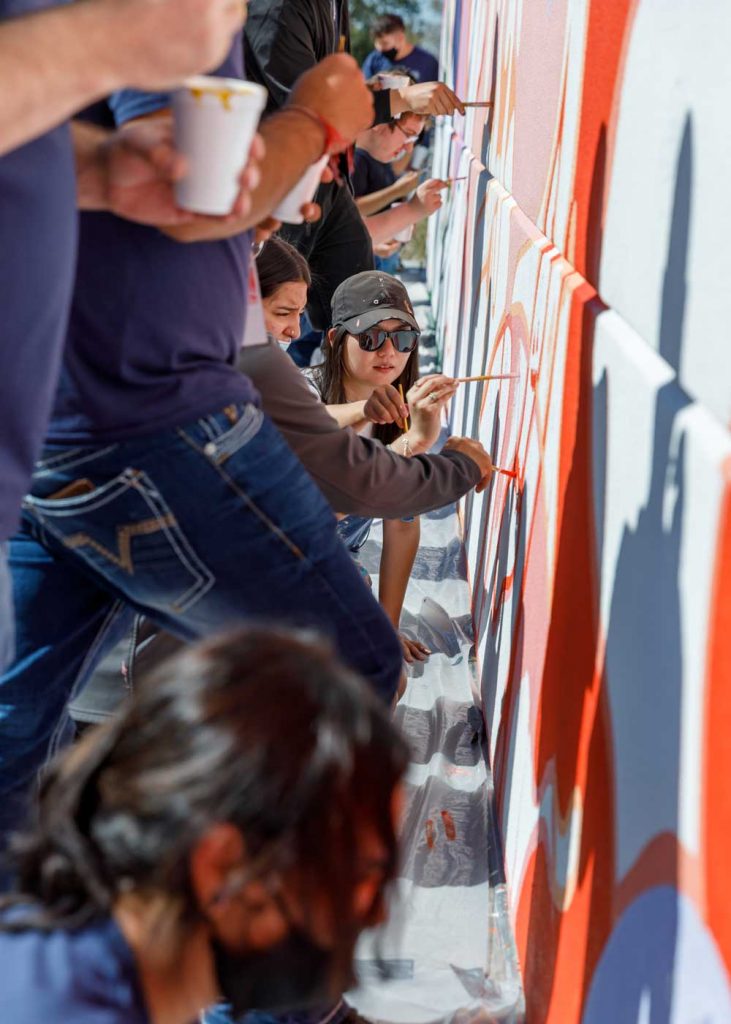 Phingbodhipakkiya arrived in Albuquerque in October and three days after she began work on the piece, she conversed with students from Technology Leadership High School, located in the tech park. As part of the "Findings" series, each mural is co-created in partnership with youth living in the area. When the tech park program office reached out to Technology Leadership High School, teachers and students were immediately on board.
While talking with the students, Phingbodhipakkiya answered questions about science, how she became an artist, and invited them to come back in a week and help paint.
"When we all come together as a society, we can make magic and make big things happen," she told the teens. "That's what this mural is about. Coming together and making magic."
The students were also able to meet Mason through video chat and learned about the science behind the art.
"It was a great opportunity to be part of a community project, which is huge, and to learn by doing," said Executive Director Kara Cortazzo of the Technology Leadership High School. "I'm very humbled and proud that the Sandia Science & Technology Park asked seniors to be part of this project because they are high schoolers, they aren't professional painters, they don't have background in it, and they took a chance on us."
Reactions to the mural have been positive. Albuquerque City Councilors Don Harris and Lan Sena hosted a dedication ceremony for "Limitless" and expressed their excitement and gratitude that the mural found a home in the city. In addition, Whitney Ingram, engineer and co-chair of the Sandia Women's Action Network, said after reading about the mural and seeing it in person, the meaning became personal.
"I live pretty close to where the mural is. I take a personal sense of pride in driving past and seeing it represent the impact women can have on a community working together — bringing women of different backgrounds and creating this kinetic energy, this movement and inspiration. It inspires me," Whitney said.