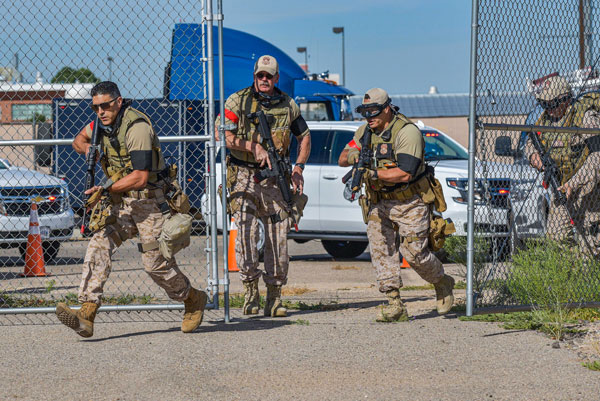 Sandia's Protective Force tested itself last month in a full-scale joint active-shooter exercise with Kansas City National Security Campus New Mexico Operations, Kirtland Air Force Base 377th security forces and the FBI, all operating within Sandia's emergency management structure.
At stake was ProForce's emergency plan and procedures in the face of an imminent threat from a simulated attack by a gunman at the Kansas City operations campus in the Old Western Command Facility, west of the Eubank gate.
The exercise was designed specifically to evaluate ProForce's tactical operations, including direct threat tactics, use of force, scene securing, casualty care and more. Although the weapons and moulage were simulated, the adrenaline was real.
"All players in the exercise absolutely performed as a single, well-trained, integrated unit," said ProForce training Lt. Norman Baca, who designed the event. "ProForce and EMS secured the initial scene and treated faux patients masterfully within minutes. It was impressive," he said. "We found a couple of areas for refinement, mostly related to exercise logistics, which these events are designed to reveal."