African adventure reunites former Sandia work group for journey of a lifetime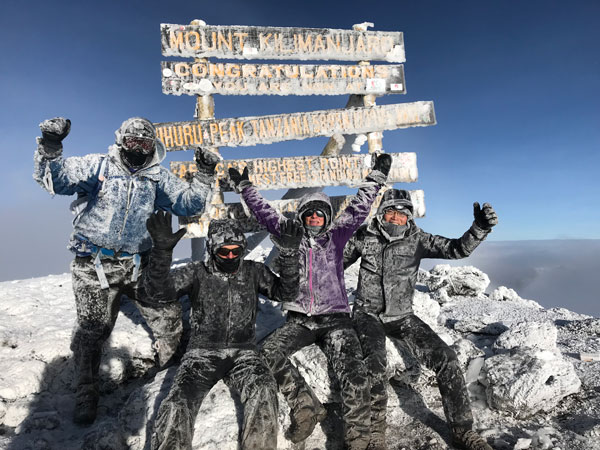 Photos courtesy of Doug Henson and Carole Le Gall
After seven days traversing the rainforest, rocky cliffs and alpine desert of Tanzania, a group of current and retired Sandia employees found themselves making the final ascent to the top of Mount Kilimanjaro last fall. They had trained nearly a year for the moment, yet nothing could have fully prepared them for the deep sense of accomplishment and satisfaction of reaching the summit of the world's tallest free-standing mountain.
"Standing atop Kilimanjaro, I felt lots of gratitude to have been fortunate enough to set off on this adventure," said Carole Le Gall.
After congratulating each other with high-fives and taking some quick photographs, the team didn't stay long atop Uhuru Peak at 19,341 ft. above sea level, as they were met with strong winds and icy conditions. But the moment atop the "Wonder of Africa" was one they won't soon forget.
"It was really a trip of a lifetime," said Doug Henson, former director of weapons systems at Sandia/California, who organized the trip.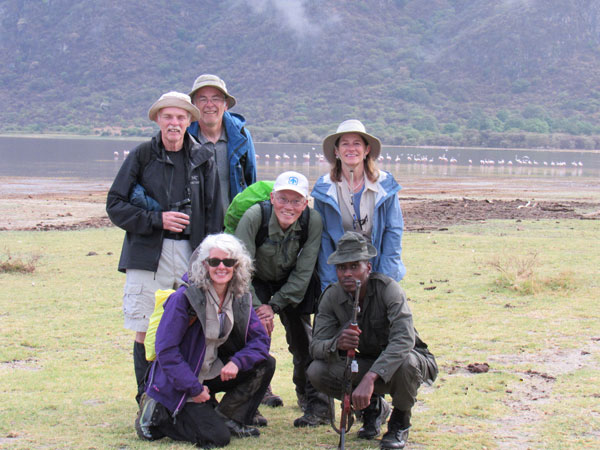 The idea for the trip started when Doug received a holiday card from Carole, in which she shared news of several recent outdoor adventures she had been on. "I'm still healthy enough in retirement that I want to keep active, and I've always wanted to visit Africa," Doug said. "It dawned on me that Carole would be a great partner to make the trip, and we were in touch shortly thereafter."
Doug also reached out to their former colleagues Ming Lau and Doug Gehmlich, and Carole enlisted her sister, Annick, to join them on the trip.
Most of the group had worked closely for more than 20 years at the Livermore site, tackling major weapons systems engineering challenges. Now, the self-proclaimed 'Kili Five' had an incredible opportunity to renew friendships outside of Sandia.
"It was great to spend time with old friends that I had not seen since I retired," said Doug Gehmlich. "We worked together for a long time at Sandia, and it was great to share this accomplishment with them."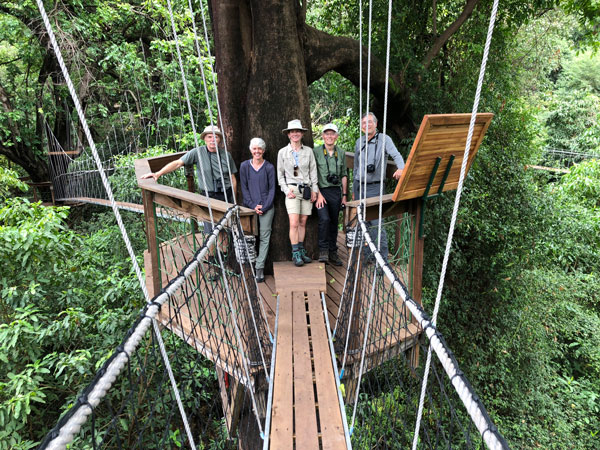 "While you're hiking and camping, there is really a lot of time to talk," said Ming. "We talked about family, hobbies, retirement and things going on in each other's lives. It was really great to be around each other again and to learn a lot more about each other."
Route to the top
There are several routes to ascend the "Wonder of Africa," Doug Henson said. "We selected the eight-day trek designed to give us maximum acclimatization at high altitudes."
That meant the team would pass through several distinct climate zones along their trek and had to be prepared with appropriate clothing and equipment for a variety of weather conditions, including hot sun and cold winds. At base camp in the lower elevations, they were met with pouring rain amid the beauty of the rainforest. As they got further up the trail, giant heathers, wild grasses and a rocky trail replaced the trees and mud of the forest. Finally, the team passed through the alpine desert before negotiating snow and ice in their final ascent.
The team credits their trekking company, Climb Kili, for their successful summit. A team of 18 skilled guides, porters, a driver and a cook helped them navigate the trail, hauled much of their gear, set up and broke down camp and prepared meals for the 45-mile hike.
"Our guides were really well organized, which really helped make the trek a positive experience," Carole said. She recalled being greeted to camp each evening with a welcome song and dance. "It became a nightly tradition and brought us enormous joy. It was really special for us."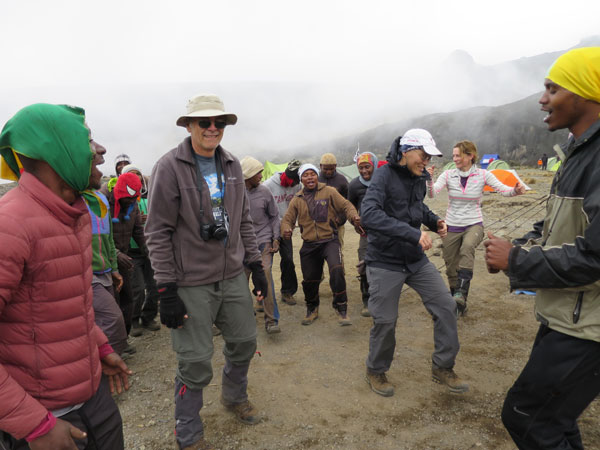 Following the Kilimanjaro trek, the group embarked on a nine-day safari excursion in protected national parks and conservation areas across Tanzania, including Ngorongoro Crater, Serengeti and Lake Manyara. A knowledgeable guide led the safari, which included a mixture of driving tours and short hikes, and helped the group spot a variety of wild animals, including baboons, impalas, giraffes, hippopotamuses, wildebeests and more. One day, a pride of lions approached the group and sat around their vehicle for about 30 minutes.
The last night on safari, the team said a lot of animals visited their camp. "Elephants chewed on trees, their bodies brushing against the sides of our tents. Lions were roaring right outside our tent. It was pretty unnerving," Carole said.
"When I think back on the trip, what stands out to me was an amazing comradery among the group," Carole said. "We really build relationships with the people that we work with side-by-side and year-after-year, and it was amazing to renew those friendships."
The group has talked about their next adventure, possibly a trip to hike Machu Picchu.
"I think it would be really hard to top Kilimanjaro," Doug Henson said.