In the realm of national security, there's a growing need to detect ever smaller signals, materials and backgrounds. Sensing the infinitesimal can be critical to the success of satellite systems, monitoring and global threat reduction.

Sandia's Detection at the Limit Research Challenge aims to push the limit of what can reliably be detected by sensors. It's a tall order. Detectable signals range from nuclear particles, to light — visible, ultraviolet and infrared — to radio waves, chemicals, pinpoint accurate location, and physical phenomena such as temperature and pressure. The various limits can stem from difficulties in sensitivity, selectivity, noise of different types, confidence of detection and even the robustness of the detectors in extreme environments.
What makes the vast challenge achievable is the team's concentration on Sandia's national security missions, ranging from satellite systems for defense and treaty monitoring to global threat reduction areas such as detecting chemical or biological agents and nuclear weapons.
"The Research Challenges are trying to bring together the science and technology community with the mission community and throughout almost every mission space we need to sense things. Even though the topic is extremely broad, by focusing on priority mission needs, it helps us to have a reasonable scope," says Mary Crawford, a senior scientist in the Research Challenge.
Researchers from Sandia's mission community are acutely aware of their sensing needs and limitations. For example, a sensor for a satellite system must be light and energy-efficient but able to detect an important color, or wavelength, of light. Researchers from the science community are experts in developing fields such as optoelectronics or phononics, says Wahid Hermina, a lead senior manager for the Research Challenge.
"The Detection at the Limit Research Challenge represents a seminal opportunity to Sandia as numerous government organizations strive to detect ever smaller signals, materials and backgrounds for various national security purposes," says Anthony Medina, director champion for the Research Challenge. "Ultimately, these government organizations want to know everything about the activities for which they are responsible."
Exquisite knowledge of what is seen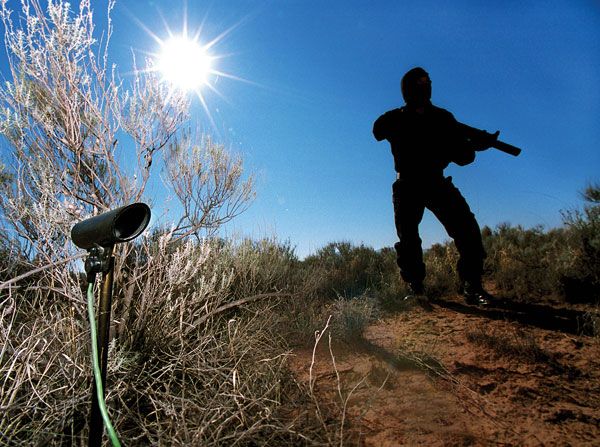 The first mission area the Detection at the Limit Research Challenge focused on was satellite sensors being developed through the Smart Sensors Technologies Grand Challenge Laboratory Directed Research and Development (LDRD) project. "Our first goal is to have exquisite knowledge of observables on the Earth as observed from space. By exquisite knowledge, I mean spatially, temporally and spectrally resolved in-formation," says Hermina. In essence, the researchers aim to make sensors for satellites that know exactly what they saw — can tell the difference between a threat and smoke from a wildfire — where it was and when it appeared.
Sensors on satellites need to work in extreme environments, such as huge temperature swings and the high radiation in space. Often these conditions can make off-the-shelf detectors unusable, says Crawford. This is one reason why the researchers are interested in this challenge. Hermina adds that by "pushing the limits of the state-of-the-art in measurement" they can make sensors that can handle these environments while also being more sensitive.
Many innovations, for example, developing micro-scale sensors using nanoscale physics, have come from LDRD projects, including some projects conducted with partner universities. These basic research projects have contributed new ways of detecting infrared radiation, visible light and ultraviolet light — a wide region of the electromagnetic spectrum.
Researchers on the Smart Sensors Technologies Grand Challenge LDRD project also collaborate with the Power on Demand and Data Science Research Challenges, says Crawford. The Power on Demand researchers aid Smart Sensors Technologies in producing small and efficient power sources for the sensors. The Data Science researchers help Smart Sensors Technologies determine how best to process and download all the detailed data generated by their new sensors.
The Grand Challenge aims to push the limits of detection, not replicate abilities already present in commercial sensors. However, if Sandia's new sensors have uses beyond the national security sphere, they will license the technology to others, as Sandia routinely does, says Hermina.
Next-generation sensors for nuclear weapons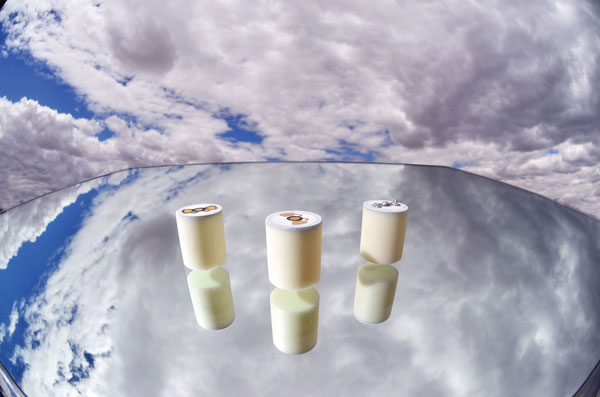 The next national security need the Research Challenge will spotlight is nuclear weapons. Nuclear weapons need next-generation sensors that can evaluate the state of health of the weapon as indicated by measurements such as chemical composition. Also, next-generation nuclear weapons will need new sensors capable of measuring shock, acceleration and position.
An important part of making progress in this area is getting the nuclear weapons experts and the science and technology experts together and speaking the same language. To this end, the Detection at the Limit Research Challenge has hosted three workshops that brought together about 100 researchers from across Sandia. A major goal was cross-education, says Crawford. Experts in scientific fields such as quantum sensing gave seminars on the current state of the art. Nuclear weapons engineers gave seminars on their future needs, and, in brainstorming sessions, researchers from both groups considered how to bridge the gap so that the emerging technologies could address anticipated needs, Crawford says.
"We're trying to nucleate a new Grand Challenge LDRD idea, which is at the crossroads of what the future mission needs are and what the cutting-edge science can accomplish," Crawford says, "I think it's really all about bringing those two communities together to address critical problems."
The Detection at the Limit Research Challenge is well situated to play a major role helping Sandia continue its legacy of national security work.
"Sandia's ability to serve future national security needs will hinge on our commitment to creating, developing and deploying technologies and systems that will enable us to help our customers know as much as possible about their targets of interest," says Medina.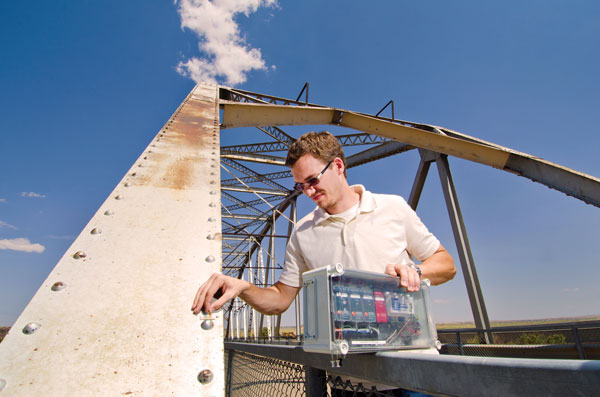 Meet Anna Tauke-Pedretti
Anna Tauke-Pedretti enjoys sewing one-of-a-kind outfits such as dresses with astronauts or elephants on them. "Sewing is a lot like engineering. It's figuring out how to put things together. There's a lot of math involved in figuring out how to modify a pattern, but it's a much quicker turnaround time," says Anna. "I can accomplish something in a weekend as opposed to a three-year program." And her daughters get something awesome to wear.
Tauke-Pedretti is an optoelectronic engineer, which means her day job is playing with light. She is a thrust lead for the Smart Sensor Technologies Grand Challenge, where she works on integrating unconventional ways to select a "color," or wavelength, of infrared light with conventional semiconductor detector systems. Sandia's nanoantennas can act like a filter and select one color from the rainbow of infrared light.
As part of the Microsystems-Enabled Photovoltaics Grand Challenge, she has worked on photovoltaic systems to make more efficient and smaller solar cells, also known as solar glitter, a spinoff from the Department of Energy's Advanced Research Projects Agency-Energy, or ARPA-E.
— Mollie Rappe