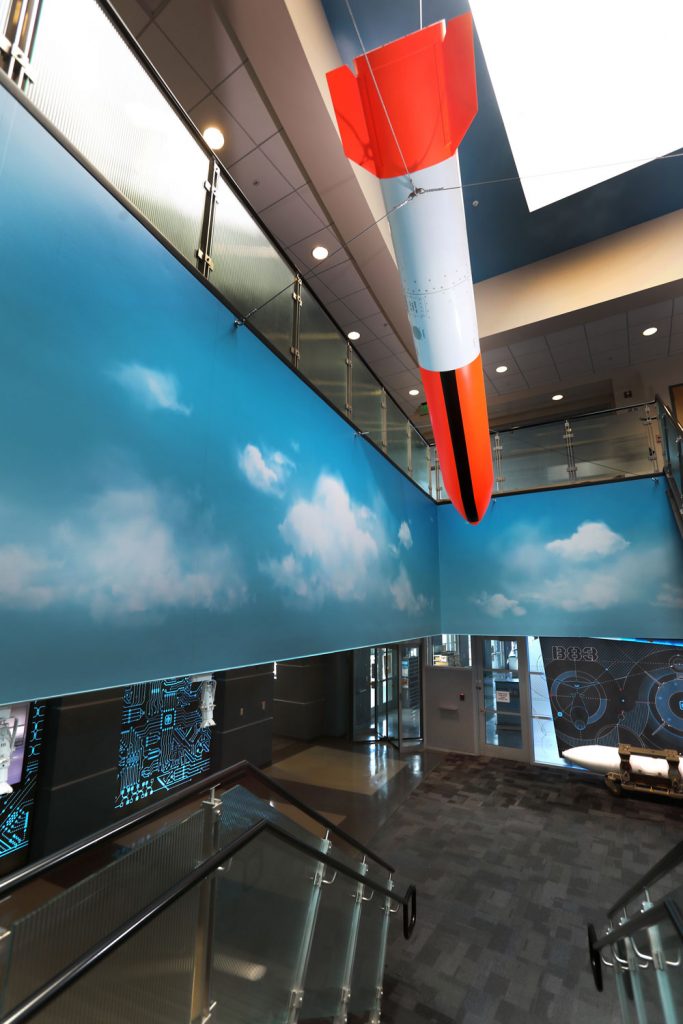 Building 915 at Sandia's California site has a new look, thanks to a collaboration with Creative Services and nuclear deterrence programs. Completed earlier this year, a weapons exhibit in the lobby and main corridor of the building highlights nuclear deterrence programs and cybersecurity efforts based at the Livermore campus.
The new weapons exhibit was created as an interactive tribute to Sandia's nuclear deterrence work, said Loren Stacks, a creative designer who leads experiential design projects across the site.
"From the beginning of this project, our aim has been to provide an opportunity for visitors, new hires and employees to see actual representations of the wide range of work scope done on-site," Loren said.
In the early stages of planning and conceptualizing how to transform the space, Loren and creative designer Krissy Galbraith met with managers of nuclear deterrence programs in California to explore how to tell a story to visitors in a way that was impactful and visually compelling.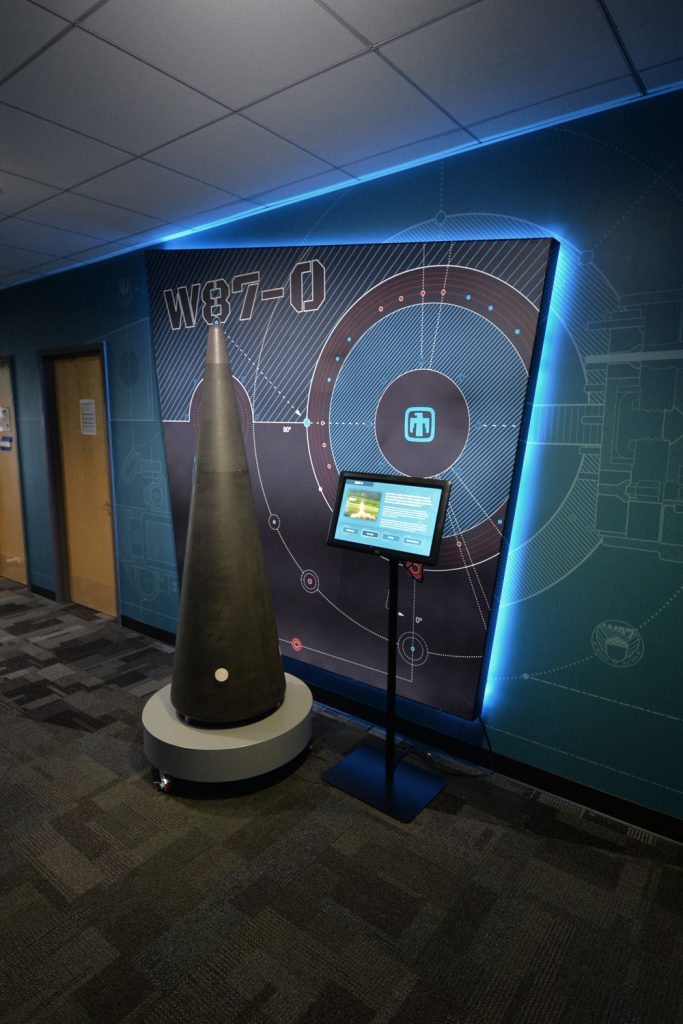 Like graphics developed for other spaces across the campus, the display features an abstract engineering and science pattern with a subtle patriotic feel. And as with other graphics Loren has designed, the patterns and illustrations on the exhibit's wallpaper and lit panels include Easter eggs, or hidden images, including drawings of delivery vehicles, nuclear deterrence program and Air Force logos, and historic elements, such as Fat Man and Little Boy.
The weapons exhibit is expected to have some longevity, Loren said, with the ability to expand and update digital content over time as needed.
Unclassified engineering drawings and weapons models were provided by nuclear deterrence programs to be used in creating illustrations and exhibit artifacts. Brian Cass and the machine shop created all mounts for weapon models and determined how to display them safely and effectively throughout the exhibit. Creative designer Brent Haglund and communications and information management staff Tim Deschler and J.C. Ross conducted interviews and are gathering content for interactive displays to tell about Sandia's nuclear deterrence mission. Interactive content is expected to be finalized and added to the exhibit later this year.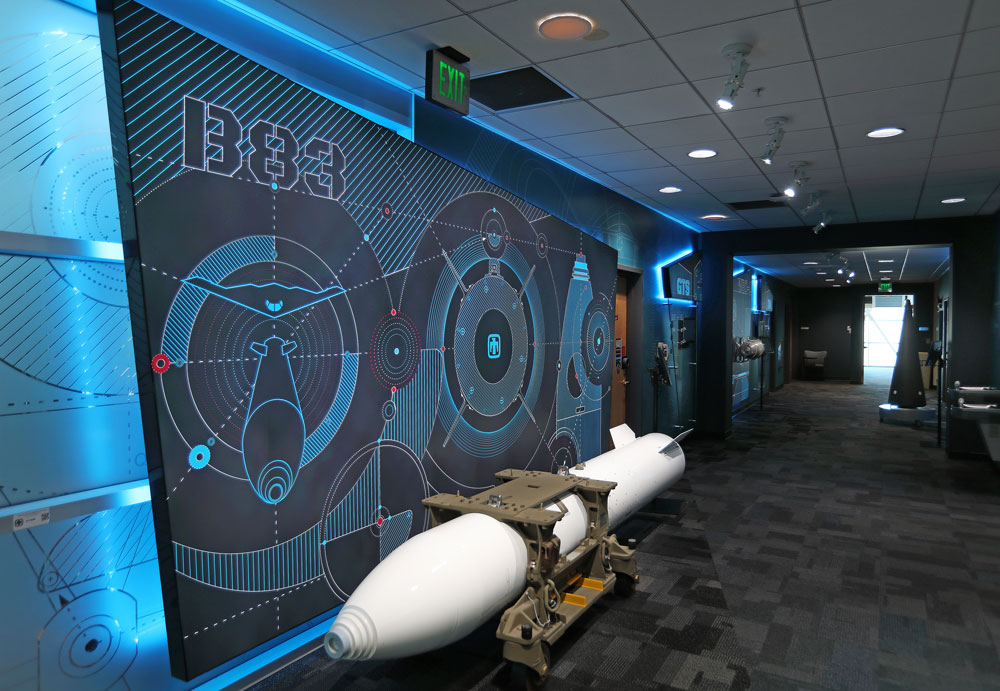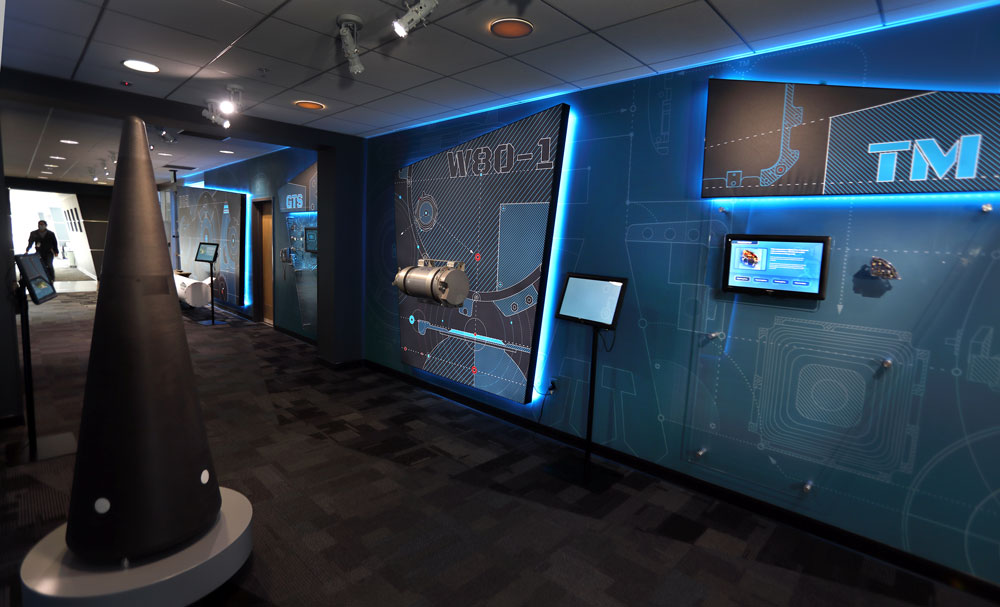 Throughout the development of the exhibit, Mike Hardwick, director of California weapon systems engineering, the Sandia/California's leadership team, and other managers provided significant feedback and support, Loren said.
"We've received overwhelmingly positive feedback from staff and guests," Mike said, sharing his gratitude and appreciation for the new exhibit. "It's been really gratifying to see the new weapons exhibit take shape. We hope this experiential design transformation will draw our visitors in and give them an opportunity to learn more about nuclear deterrence work as well as instill pride in the work we all do to support the mission."