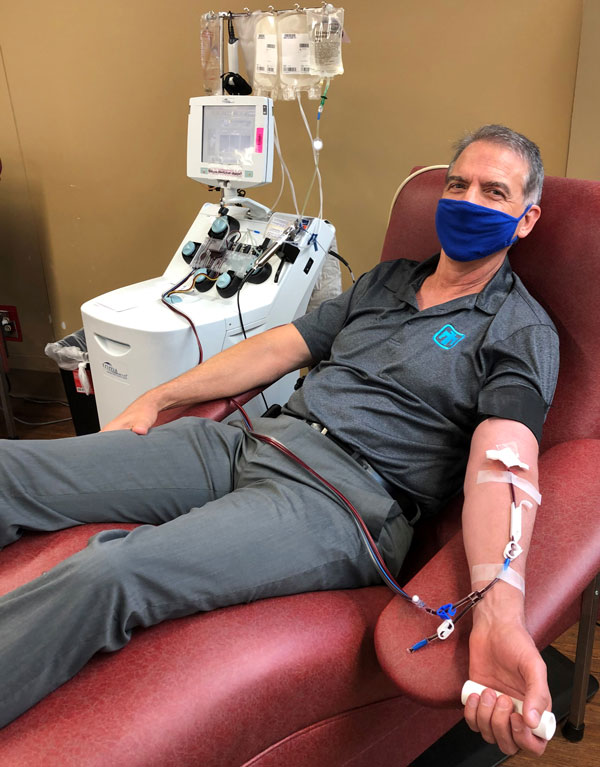 On Sunday night, March 15, Sandia emergency operations sent out an advisory that told employees, "If you can work from home, we want you to." This notice came just in the nick of time for me. Although I felt fine, I started working from home the next day, Monday, March 16.
By Tuesday evening, I began experiencing symptoms that had been associated with COVID-19. It started with shivering and chills. A fever followed. The muscle aches became extreme. Wednesday morning, I reported my daily status to my manager as required: "Working, but don't feel so great."
On Thursday morning, I emailed my manager with a new status report: "I'm sick in bed with the flu. I have a fever, but no dry cough yet. If I get worse, the doc will order COVID-19 testing, but he thinks I'm not high risk at this point."
I had a fever and severe muscle aches for about eight days. I knew this was either the worst flu I've ever had, or it was COVID-19. I was fairly certain it was not just another flu; however, I never developed a cough or difficulty breathing, so I wasn't tested for COVID-19. The tests, still scarce at that point, were reserved for those who had all the symptoms, not just a subset.
Tracing the path
It all started with a ski trip with my girlfriend Claire to Telluride, Colorado, March 12-14. We drove to Colorado on Thursday and enjoyed the slopes and the shops in town on Friday and Saturday. While at dinner Saturday night, we heard that Colorado had just closed all ski areas. We had planned to head home the next morning anyway, so we didn't think much of it other than, "That seems pretty extreme."
The advisory came Sunday night and I worked from home Monday. That night, Sandia Communications sent a special announcement email to the workforce expanding the initial guidance: "All Sandia employees — regardless of their worksites — should work from home as much as their job allows for at least the next three weeks, or until Sandia provides updated guidance."
The new guidance continued with the retroactive requirement, "Kirtland Air Force Base and the Sandia Field Office are asking members of the Sandia workforce who have been out of New Mexico on personal travel on or after Saturday, March 14, to not return to KAFB until 14 days after their return to the state."
It was clear I would be working from home for at least a couple weeks. I also had plans to travel to New York City with my daughter over her spring break at the end of March for a tour of the New York University campus. Naturally, that trip was canceled.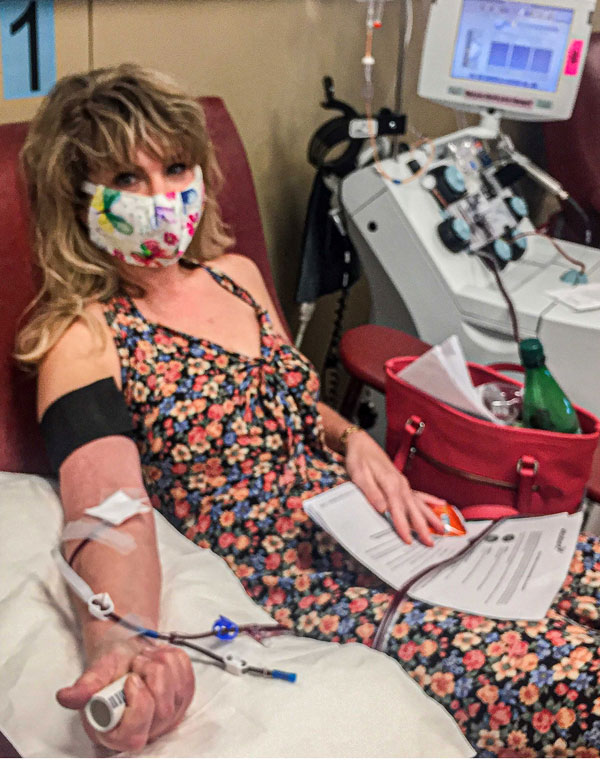 In early April, Claire, a hospital pharmacist, was informed that an ill co-worker had tested positive for COVID-19. She and her co-workers were instructed to get tested, and although she had no symptoms, she was tested Friday, April 3. We hung out all weekend as we normally do, thinking nothing of her pending test result.
Sunday afternoon, Claire received a call notifying her that her test was positive. At that point I thought, "I probably had it and gave it to her, or I'm about to get really sick again." The New Mexico Department of Health called me directly and instructed me to get tested the next day. I did, and my test was negative.
Antibody testing
I did not get sick again, and actually felt the best I've felt in years. At that point, I was fairly certain I had had COVID-19 in March and was now immune. I couldn't wait for the antibody tests to become available so I would know with more certainty. I also was excited about the potential to help others by donating convalescent plasma.
On May 5, I was finally able to get the antibody test. Two days later, I received a call from the chief medical officer at the clinic, who said, "You're positive for COVID-19 (antibodies). Tell me more!"
I told him I had been fairly certain the test would come back positive. I told him my story, and he told me that the median time from contraction to symptoms is 5.1 days, which means I likely contracted the virus on or about Friday, March 13, when I was in Telluride. The area was a hot spot at the time, and he was confident that's where I contracted it.
On June 1, I donated convalescent plasma to help others suffering from this painful disease. If my donation can help even one person suffer less, this will have all been worth it.
I believe I was given this opportunity because my brother and best friend Joe Lifke, a former Sandian, has a terminal illness that I cannot help him with. I desperately needed a way to get through the feeling of helplessness, and COVID-19 came along and gave me an opportunity to at least help others. I would volunteer to contract the disease and suffer through it again, just to have another opportunity to donate plasma in my brother's honor.