Retired Sandia engineer turns 100, continues active lifestyle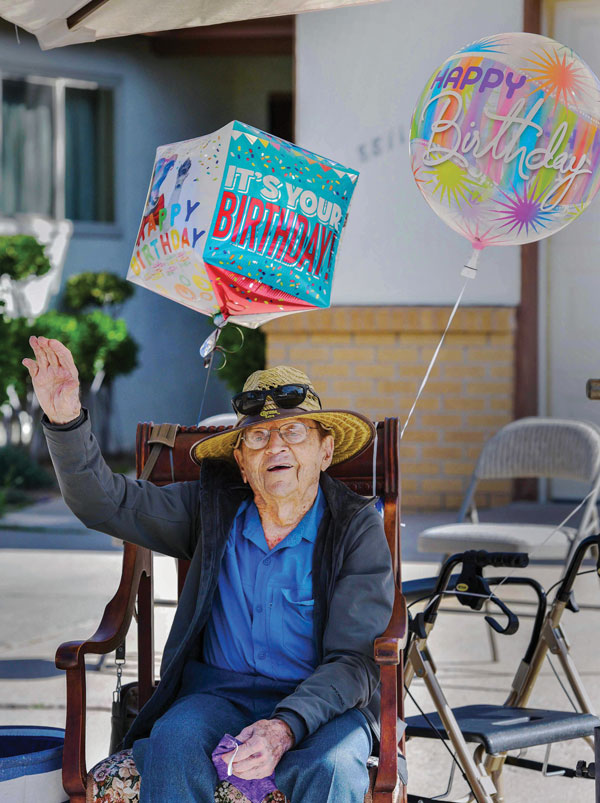 He's 100, still going strong and encouraging others around him to do the same.
Friends and family of former Sandia mechanical engineer Larry Johnson say they have no doubt he'll keep showing up like he has done in many areas throughout his life.
Johnson retired after 38 years at the Labs, and when asked how it was, he said, "I worked until I was 75 years old, so that will tell you something. The boss kept asking me, 'Why don't you stay another year,' and I would say, 'Oh, OK, I'll stay.'"
Johnson worked for many years in aircraft compatibility, making sure military aircraft could withstand certain environments while carrying nuclear weapons. He worked on drop testing and electrical system controls and completed flights in high temperatures and supersonic conditions, he said.
Johnson traveled to Europe many times for work, and back and forth to Tonopah, Nevada. He participated in development projects that involved analyzing drawings and schematics to see if aircraft would be compatible with weapons.
"We had a lot of good projects, and we did really well," Johnson said. "I was excited about the job I had."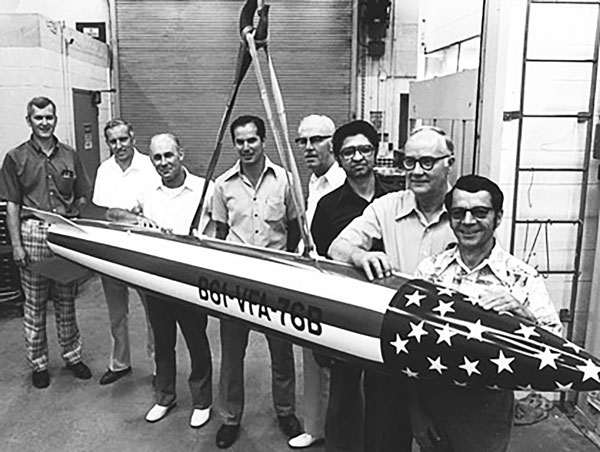 From farm to WWII to Sandia
When asked about significant developments and events over the past 100 years, Johnson chuckled and said, "That's a big story."
He grew up on a farm in Ohio where they grew food and raised chickens, cows and horses.
"My dad said the only things that he bought were salt, sugar and coffee," Johnson said. "We raised everything else at home on the farm."
Johnson's family didn't have electricity until he was in high school, and he remembers riding to his grandma's house in a horse and buggy until his dad got their first vehicle — a Model T Ford truck that his parents and all six kids would pile into.
"My goodness, the things, the progress we've made," Johnson said. "Telephones, gadgets, cellphones, cars and food."
World War II took Johnson to Amarillo, Texas, where he was stationed as a mechanics instructor and flight engineer. After the war, he attended Texas Tech University, and then got a job at Sandia and moved to Albuquerque.
Former co-workers said Johnson was a mentor and someone who was always willing to help.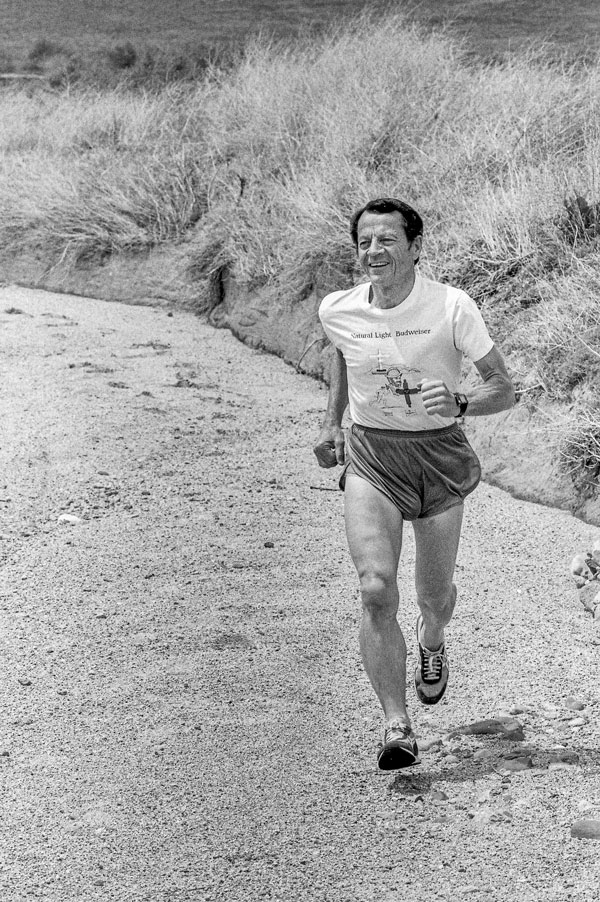 "It was a real pleasure working with Larry," said Andy Rogulich, who worked in the aircraft compatibility group and now works as a technical advisor in nuclear surety and certification for the U.S. Air Force Nuclear Weapons Center. "He was just a super individual. He was very knowledgeable, he was fun to go on business trips with, he was very well respected by all of his peers, and it was a real asset to Sandia to have someone of his caliber and knowledge."
Donald Gluvna, who worked as a mechanical designer in aircraft compatibility, said Johnson helped him get into a field he knew little about initially, and he's remained a good friend for decades.
"He was an extremely good mentor," Gluvna said. "He would always spend time with me whenever I had any questions."
Riding and running through life
Outside Sandia, Johnson was and continues to be an accomplished athlete and volunteer. He served on the Sandia Peak Ski Patrol for 30 years, and his friend Alton Donnell said he's always been the type of person who showed up ready to work.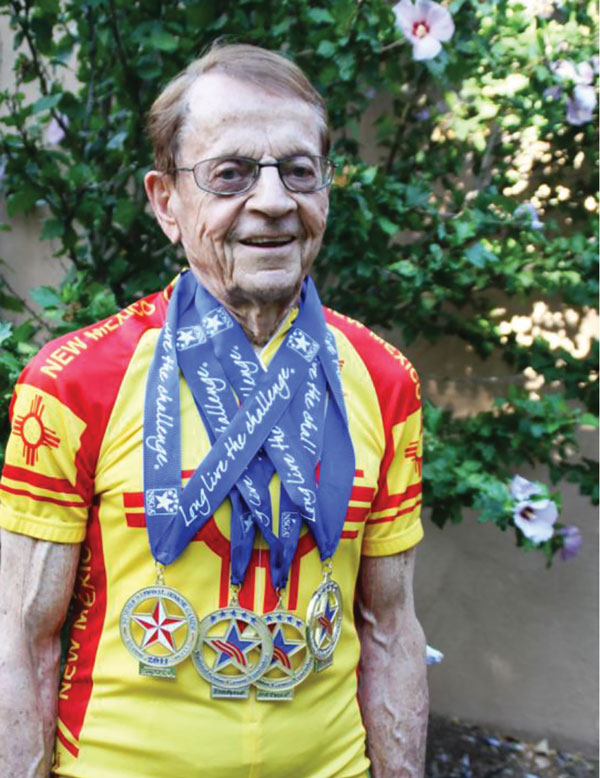 "He was always willing to do just about anything," Donnell said. "He worked hard, he showed up early, he never needed to be told to do anything. He was just one of those guys. He was just a real giver, never looking for any glory."
Johnson competed in about 25 marathons, including Boston, and in National Senior Games all over the country until age 99, when he competed in the 50-meter dash. He was honored with the Personal Best National Senior Games Award at age 94, which recognizes service and staying fit consistently for a lifetime.
He's done many bike races and duathlons, and for several years, starting when he was 90, he biked 100 miles indoors at a gym for his birthday.
"People would sign up and we had shirts made for everybody who participated. That was just kind of the connection and the influence that Larry had on the whole gym," said Johnson's spin instructor Terri Pachelli, who has known him for decades and competed with him in duathlons.
"Larry probably did that 100-mile ride up until he was about 95 or 96. In the past couple of years, we've cut back and called it Larry's Ride. It's an hour ride, which is about 25 miles. We just put a time on it and celebrate."

Due to COVID-19 social distancing guidance, Johnson's friends and family celebrated his 100th birthday April 5 with a drive-by parade as he sat in his driveway on a "throne" decorated by his granddaughter.
The party he had planned was supposed to take place at Los Poblanos with family and friends from Sandia, the ski patrol, his spin classes and more, but that will have to wait until later this summer when there are fewer worries about COVID-19 exposure. Whenever it happens, it sounds like there will be a big crowd.
In addition to his friends, Johnson said he enjoys spending time with his four children, who all live in Albuquerque. He and his wife, Billie Ann Johnson, were married for 68 years before she passed away. They have a handful of grandchildren and another handful of great-grandchildren.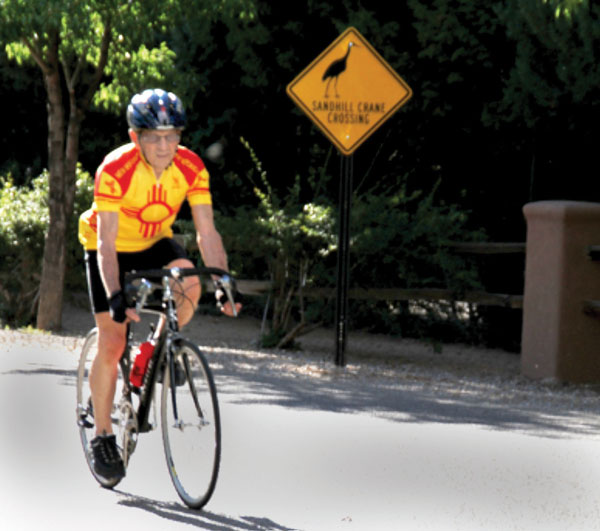 Johnson continued to attend Pachelli's hour-long spin classes up to three times a week until gyms across the state closed due to COVID-19. He'll be back at it as soon as he can.
"He's always ready to work out. I have to motivate some people, but I never have to motivate Larry," Pachelli said. "He brings that inspiration with him to class, and I use him when I feel like people aren't really working out hard enough. I always say, 'Larry is working a whole lot harder than you are.'"
At 100, Johnson's advice for others is simple.
"Keep moving," he said. "Enjoy life, save a little money and get out and do stuff."