Dori Ellis named deputy labs director
Not so long ago, Dori Ellis' distinguished career at Sandia seemed over. Then new adventures came her way — and brought her back.
Dori Ellis' dad was an old-school guy who believed deep in his soul that women should stay home and be wives and mothers. Dori tried, marrying in her teens and having two children, but college beckoned. Not just college, engineering.
"He'd look at me and say, 'Tell me again why you want to be a mechanic?'" Dori recalls. "He just couldn't understand it."
A single mom at 21, Dori pressed on and built a career that took her from the University of Wyoming to leadership positions at Sandia Labs, Lawrence Livermore National Laboratory, the University of California, and back to Sandia, where she recently was named Deputy Laboratories Director.
Small-town girl
Dori grew up in Edgerton, a town of 253 people in central Wyoming. Her dad graduated from high school at age 12 and became the owner of an oil recovery business. Her mom graduated at 15 and raised eight kids: six girls and two boys. Dori was the sixth daughter.
There were 30 in her high school class. Dori was good at science and math and graduated at 16. "I got married and had a couple of kids," she said. "When I found myself a single mom, I decided to go to college."
An older sister who married young, had children and went back to school inspired and gave Dori the strength to enroll in architectural engineering. She was working her way through school, and the program demanded unusually long hours that made it hard to raise her toddlers. The mechanical engineering department offered a scholarship so she switched, becoming the department's only woman.
"It was an excellent move," she said. "It turned out the classes I was enjoying the most were in mechanical engineering."
Dori met Tom Lane, a Sandia senior manager who made a recruiting trip to the University of Wyoming. He told her about the One Year On Campus program, which would allow Sandia to hire her with a bachelor's degree then send her back to school for a master's. Dori transferred to the University of New Mexico to complete her undergraduate degree then entered the program, returning to UNM for a master's in mechanical engineering. She came back to Sandia as a staff member in 1979.
A fast rise to the top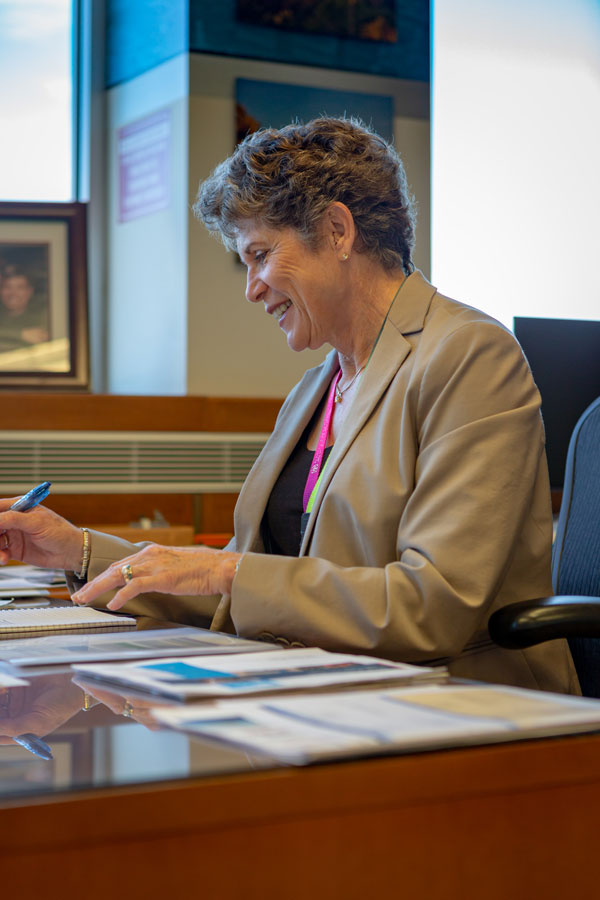 Dori quickly became a manager, one of just seven technical women at Sandia in that position. There were about 50 women total on the technical staff. "It was pretty daunting," Dori said. "But growing up in the family I grew up in, you didn't ask whether you fit in or not, you just did it." She managed departments, including environmental testing, experimental mechanics and sensor systems.
In 1992, Dori became director of the Nuclear Waste Management Center, supervising 26 managers and a budget that rose from $50 million to $85 million in three years. "It was one of the bigger programs at the Labs then, with both the Waste Isolation Pilot Plant and Yucca Mountain," she said. "It was a very compelling mission, but also highly visible and a political hot-button issue."
From 1995 to 2010, Dori moved as director to several different areas, including nuclear reactor engineering, transportation surety, national security and arms control, international security and institutional development. She spent part of 2007 as acting vice president of infrastructure operations, and for two years was chief operating officer for defense systems and assessments, which at the time, was doing $850 million a year in work for others, including satellite programs, military systems, information operations and support to the intelligence community.
"I really enjoy startup and cleanup and putting systems in place to make things easier for the people who are executing the programs," she said. "It's less interesting for me if something is static."
Dori spent almost a decade in international programs and loved the work. Sandia at one time had active projects in more than 130 countries. "It was fascinating," she said. "We were working a lot with Russia and the other former Soviet Union countries, protecting materials and weapons. The technology challenges were significant. We wanted to create enough protection for the Russian systems without divulging the physical security technology for our own weapons."
In 2010, then Labs Director Paul Hommert asked Dori to be principal staff director, a position she held until deciding to retire in 2011. After 33 years at Sandia, "it seemed like the right time to go," she said.
What to do next
Dori found she wasn't good at retirement. In 18 months she finished a to-do list she thought would take years. "Then I sat twiddling my thumbs wondering what I would do next," she said.
Dori did consulting work for Lawrence Livermore National Laboratory, and in 2013, joined the lab as associate director in charge of program development for Strategic Partnership Projects, leaving New Mexico for California.
Two years later, she became executive director of operations at the University of California Office of National Laboratories. "I worked at Lawrence Berkeley, Lawrence Livermore and Los Alamos, getting familiar with their operations," she said.
Dori also began talking to Steve Younger and agreed to be part of the team he was assembling to bid on Sandia's management contract. When the contract was awarded to National Technology and Engineering Solutions of Sandia in late 2016, Dori was named associate labs director for Integrated Security Solutions, based at Sandia's Livermore, California, campus. "It was wonderful coming back, absolutely wonderful," she said. "It felt like coming home."
She says her 33 years as a Sandian helped her when she returned. "Having touched so many places in the Laboratories, I brought a different sense of the things that would make the most impact," she said.
Dori was promoted to deputy labs director, succeeding Dave Douglass in the role on June 28. "This, for me, is the culmination of a long career that has evolved over time," she said. "I could not be happier that the road brought me back to Sandia."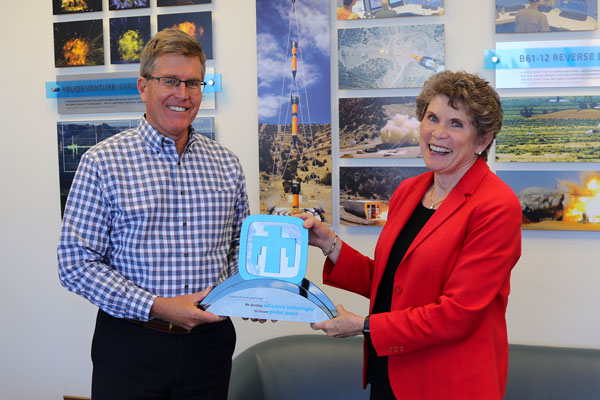 The road ahead
Dori looks forward to the challenges ahead. "What we're trying to do as a leadership team is really important," she said. "I think we can continue on the current pathway and be even better. Operationally, we're ahead of where we were two years ago but still have work to do."
Dori said one of the Labs' biggest issues is staffing. "The staff we want are in high demand, particularly in our critical skills, such as computer science, computer engineering and program management," she said. "I really want to make sure we have a structure in place that is attractive to our young people. Facilities, too, are high on my priority list, along with safety and security and making sure we have the right systems and support for the programs we are executing."
Something that didn't change in Dori's years away from Sandia was the dedication of staff to the Labs' national security mission, she said. "People here have a passion for their work, patriotism and belief in what we do," she said. "The quality of the people is just outstanding."
Dori, who enjoys reading, bike riding and cooking in her spare time, has been married nearly 30 years to retired Sandian Larry Ellis. Together they have five children and eight grandchildren living in Canada, New York, North Carolina and Texas and working in fields ranging from orthopedic surgery to project management. "I could not have done this without Larry's support," Dori said. "He has been such a rock to lean on. He loved his career and loved the technology, but he was good at retirement. He has always been all in as I've made career changes."
While her lifestyle is far different from what her dad envisioned, Dori knows he and her mom would be proud. "People follow their own paths, and mine has been more than I dreamed of," she said. "There's more to do and I'm not ready to retire. Maybe I'll be good at it someday."