More than 200 members of Sandia's workforce got a realistic taste of what might happen in a shooting incident on July 25 in the annual full-scale emergency exercise at the New Mexico site.
The scenario began as a multiple casualty, active shooter incident. First responders, including Sandia protective force officers and emergency response personnel, were first on the scene, working to control the incident in Tech Area V, secure buildings, and triage and treat the wounded.
The incident quickly evolved into a hostage situation. Security forces and emergency responders from the 377th Air Base Wing, the FBI, NNSA and the Albuquerque Police Department provided additional support. The Kirtland Air Force Base and Bernalillo County fire departments and Albuquerque Fire Rescue crews, along with Albuquerque Ambulance Service, transported patients to area hospitals.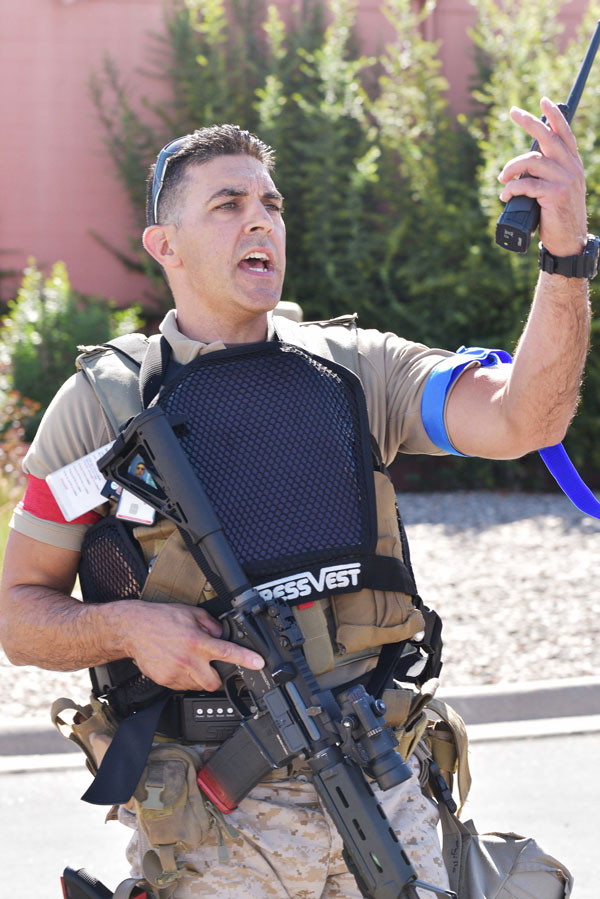 During the hours-long standoff, an Air Force K-9 identified explosives in a shooter's vehicle, prompting responders to call for a Kirtland explosive ordnance disposal team to disarm the device.
Emergency Management uses the annual exercise to verify the effectiveness of its program and evaluate how well the program and responders follow the site's plans and procedures and the Department of Energy order covering the comprehensive emergency management system.