Scott Collis honored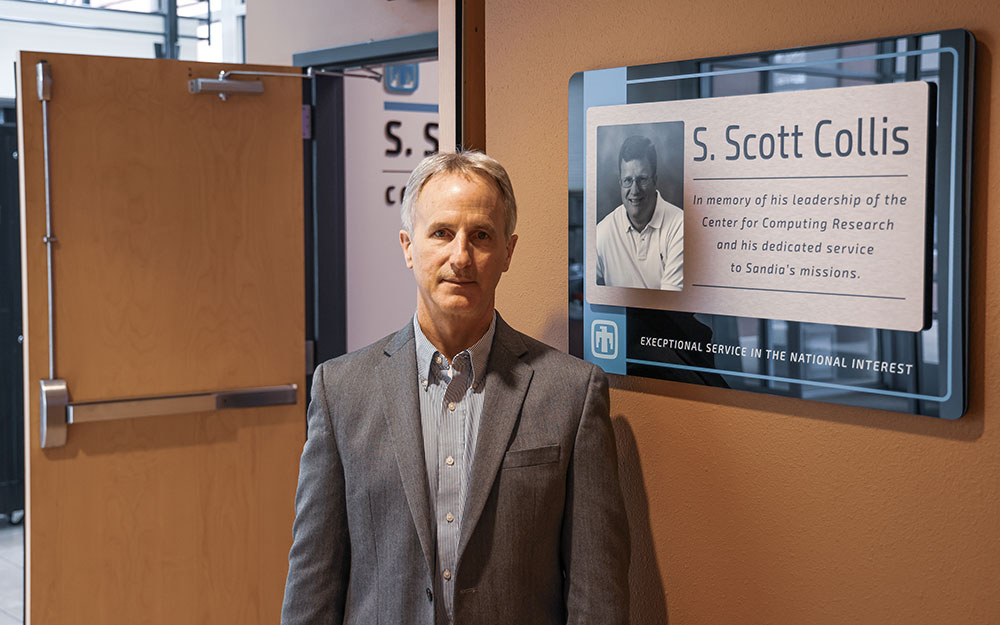 In a gesture of respect, a large conference room usually lively with computing presentations and discussions was quietly dedicated to honor the memory of Samuel Scott Collis, who died in a battle with cancer last September.
The life and work of Scott, a former Center for Computing Research director who served almost 20 years at Sandia, was praised in a 15-minute ceremony chaired by Sandia senior manager Jim Stewart.
The ceremony, attended by more than 50 people with others attending virtually, was held on March 28 at the close of the workday at Sandia's Computer Science Research Institute, located in the Sandia Science and Technology Park.
Jim announced that the conference room, long known as CSRI 90, would now be officially designated the S. Scott Collis conference room.
Until the building was closed due to the pandemic, Jim said, "Scott spent countless hours in this room, including team meetings, team celebrations, department reviews, seminars, external reviews, center town halls and much more.
"This room is truly where important business of the Center for Computing Research is conducted," Jim said.
Scott's wife Emily, unable to attend, provided remarks that Jim read: "Naming this space in Scott's honor is a wonderful, meaningful tribute to his legacy. Our family is forever grateful."
The ceremony also included remarks by senior manager John Feddema and current Center for Computing Research director Jen Gaudioso. Jen noted that the dedication of the conference room — the heart of the center — was particularly appropriate given Scott's passion and care for the people of the organization.
After the ceremony, Rob Leland, director of Sandia's Climate Change Security Center and a former director of the Center for Computing Research, said, "Scott was as passionate about excellence as any Sandian I've known and was able to combine that with a truly considerate and kind nature — a rare combination."
A recent example of Scott's leadership was his negotiation of the Quantum Systems Accelerator research hub that Sandia leads jointly with Lawrence Berkeley National Laboratory.
In addition to the conference room, a wall plaque memorializing Scott was officially unveiled. A tree planted in his name is slated for installation in front the Computer Science Research Institute later this spring.