Inspiring the next generation of Sandia scientists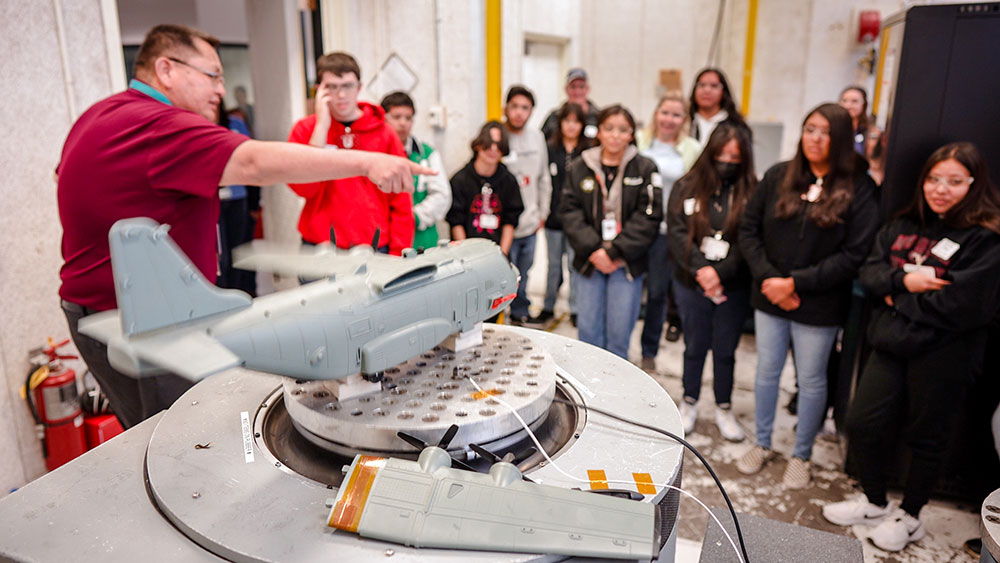 "What high school do you think I went to?" asked Sandia engineer Fernando Bitsie to a group of students who visited a Sandia environmental test lab on March 30. The group, a little perplexed, looked at each other, unsure of how to respond.
"Let's try this again," Fernando said. He directed their attention to one student, wearing a Gallup High School letterman jacket and asked, "What school do you go to?"
The girl hesitantly answered, "Gallup High School?"
"Yes," Fernando said. "I grew up in the same place you did, a tiny town on the Navajo Nation."
The students' faces changed, each realizing Fernando's point: They have a lot in common with this longtime Sandia engineer and could one day be standing where he is.
This is one of many inspiring stories that the group of 40 students from Gallup, Grants and Hiroshi Miyamura high schools heard during their visit to the Labs. The majority of these students are already on track for STEM careers, taking part in the STEM Core program at their school. This program exposes students to advanced math classes, introduction to technical courses, skill development, intern preparation and employer visits. STEM Core is also part of the Successful Training and Effective Pipelines to National Laboratories, or STEP2NL, program, a partnership between minority-serving institutions and national laboratories to increase STEM degrees among minority students and a future workforce at the national laboratories.
Learning about STEM careers is one thing; seeing them firsthand is another.
"I am interested in being an engineer. I want the kind of job where I get to work on cutting-edge technology. The stuff we saw today was really cool and makes me more interested in an engineering career," said Alex Keller, a senior at Miyamura High School in Gallup, during the visit.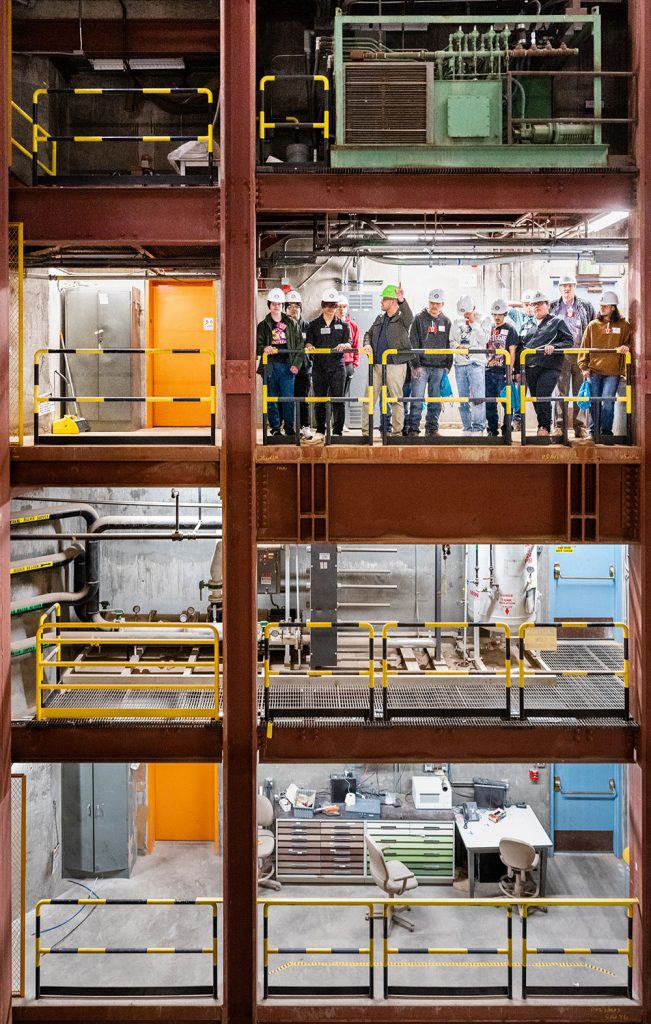 Exploring the solar tower
One of those cool things is Sandia's National Solar Thermal Test Facility — a tour stop that took students to new heights, literally. Students ascended many flights of stairs to the control tower that oversees the heliostat field and looked in awe as they learned about the 218 mirrored devices that harness and redirect the sun's energy.
"It's just amazing," said student Lukas Colburn.
"I didn't know these facilities existed out here, almost in the middle of nowhere," said student Ryan Tortalita.
High school senior Antonio Enriques described his amazement when visiting Sandia's solar furnace, which can generate up to 16 kilowatts of thermal power. "The towers and dishes and how that one big satellite can burn a hole right through a fire brick. I use fire bricks for welding. That is just crazy to me how it can burn right through."
The students then got to take a trip to the solar tower itself, but their journey was different than most. On this blustery, windy day, they took the trip underground. The students walked through a cement tunnel, lined on each side by cables and conduit and only wide enough for the group to walk in a single file. A quarter mile later, which felt like an eternity to the students, daylight emerged, and the students took an elevator up the 200-foot tower. Once inside, the students lined a metal railing and looked down the large shaft that houses a massive lift capable of carrying 100 tons of equipment to the top of the tower for testing. While peering down the shaft, students listened to stories that illustrated the enormous impact of the work that happens at Sandia.
"They're the future. They're going to be the ones working on this in 20 or 30 years," said chemist Andrea Ambrosini, who led part of the tour. "So, they know that they have options and that there are many types of interesting research."
Paving the way for STEM students
The students' next stop was the Thunderbird Café for a career conversation lunch where they met with other Sandians, many of whom were of Native American and Hispanic descent. Among them was Maxine Norton, who grew up in Pinedale, New Mexico. After lunch, Maxine led the students to the environmental test lab where she works and told them how she got there 30 years ago.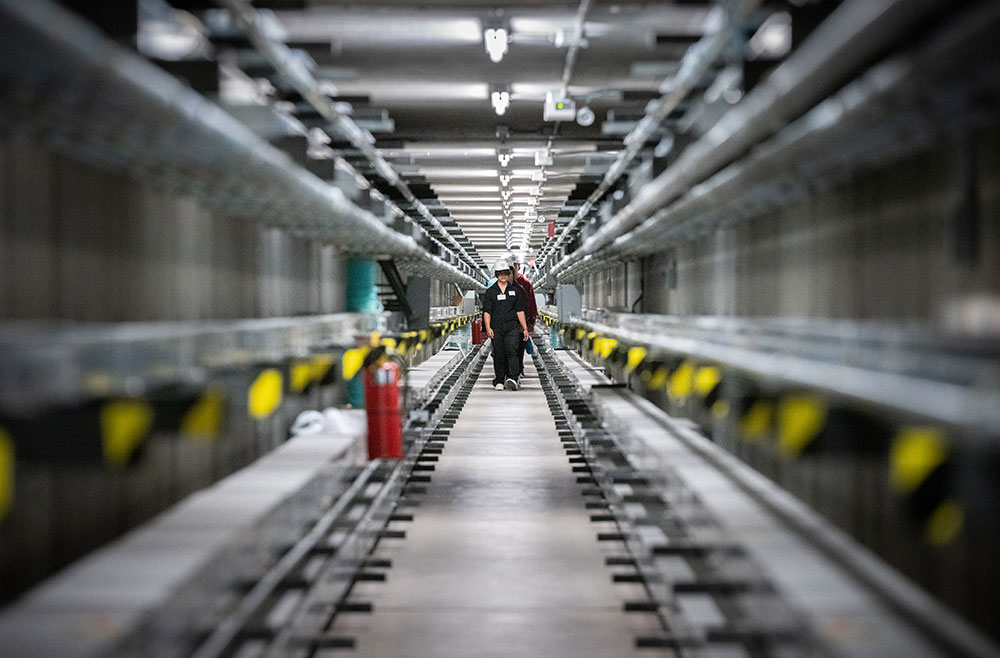 "I came in as a secretary," she said. "I worked in an office. After 15 years, I decided I wanted to do something different, so I took a soldering class at CNM."
Before she knew it, Maxine was on a new journey. She is now a technologist at Sandia. She advised the students to "stay in school and finish before you start a career. It's tough to go back to school, so focus on your education now."
Michael Arviso, another native New Mexican who shares a similar background with the students, accompanied the group.
"I grew up on the Navajo Nation herding sheep and branding cattle, but I always said I wanted to be an electrical engineer," he said.
Michael told a story of how he first applied for a job at Sandia's Structural Dynamics Lab, which consisted of a team of mechanical engineers. Michael, who had an electrical engineering degree, thought there was no way he would get the job. "I applied anyway. I thought, why not try? All they can say is no. I've now worked here for 34 years," he said.
The stories shared during the visit inspired the students, many who might be the first in their family to go to college, to keep dreaming, push themselves and believe they can do something great.
"The reason I wanted to come on this trip was that I wanted to get another idea of what I can do after high school. I was sort of interested in engineering. Based on what I saw on this trip, I want to become a mechanical engineer. I'm going to UNM," senior Devan Zepeda said.
Stories like these demonstrate the success of these visits at a place where people are encouraged to try new things and test the limits, not just with science but within themselves.