U.S. Department of Labor platinum award honors businesses that support veterans
For the second consecutive year, U.S. Secretary of Labor Martin J. Walsh recognized Sandia as a recipient of the HIRE Vets Medallion Award during a virtual award ceremony presented by the Department of Labor. The Honoring Investments in Recruiting and Employing American Military Veterans Act Medallion Program recognizes employers who successfully recruit, hire and retain veterans.
"Sandia Labs respects the sacrifices and contributions made by our service members in advancing our national security mission, and I am proud of our efforts to attract and retain military veterans," said Brian Carter, Sandia's executive champion for the military support committee and chief human resources officer. "We greatly value the professional attributes, technical skills, proven leadership and vast experience that veterans bring to our organization. They are an essential part of our workforce."
Sandia's platinum designation — the highest category of award — honors the value the Labs has exhibited for the contributions of veterans in the workplace through a long-term career and growth plan that uses the diverse skills veterans acquired through their military service.
In 2021, 10% of Sandia hires were veterans retained for at least 12 months.
"The Exceptional Warrior Career Development Program, Sandia's SkillBridge Program, Sandia's Corporate Veteran Recruiting Strategy and the community of leaders and staff members that supports these programs make this award possible," said Tony Lona, Sandia diversity recruiter who retired from the U.S. Marine Corps in 2014 and joined Sandia that same year. "I know I echo our veteran workforce in saying thank you Sandia both for the years of continued support and advocacy for our nation's transitioning service members and veterans."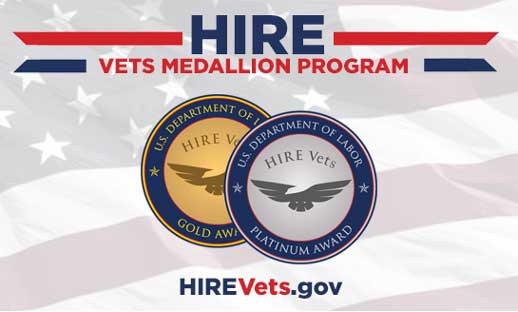 According to HIRE Vets, Sandia demonstrated rigorous employment and veteran integration assistance, including veteran hiring and retention percentages, availability of veteran-specific resources, leadership programming for veterans, dedicated human resource efforts, pay compensation and tuition assistance programs for veterans and more.
In addition to recruiting and hiring initiatives, Sandia advocacy examples include onboarding and mentoring programs, veteran network and affinity groups, bridging the cultural gap between veteran and non-veteran employees, recognizing and celebrating military service within the organization and working with veteran service organizations and other community groups.
The HIRE Vets Medallion Award is earned by businesses that demonstrate unparalleled commitment to attracting, hiring and retaining veterans. There are different awards for large, medium and small employers that fit into two award tiers: platinum and gold.