Energy Secretary Rick Perry emphatically thanked Sandia employees for their contributions to science and issues of national and international security, equating research to public service during a visit to the Labs on Oct. 9.
"There's an old saying that the United States Marines don't have to look in the mirror and ask themselves if they make a difference," said Perry during an all-hands meeting. "I suggest the same thing's true for men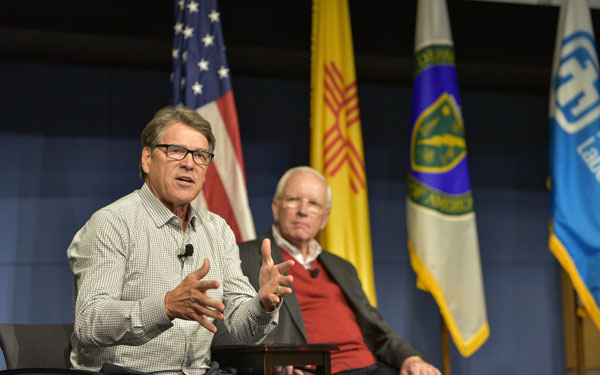 and women of our national labs, particularly those that work in the weapons programs."
Sandia welcomed Secretary Perry for a tour of the Albuquerque facilities as part of his commitment to visit each DOE national lab. The morning tour included visits to MESA and Z machine, and meetings with labs leadership. Following, Perry led an uncommonly easy-going all-hands meeting, featuring a comfortable-looking secretary telling frequent jokes and stories on stage. Secretary Perry visited Sandia's California site in March.