Annual opportunity to help domestic violence victims and more
You've reached a breaking point. In the middle of the night, you see an opportunity and you escape with only the clothes on your back. You have no food, your kids have no diapers, and you've been beaten and sexually assaulted by your partner.
This is a reality for as many as 5,000 victims seeking help every year at the Family Advocacy Center (FAC). Open 24 hours a day, 7 days a week, the center is a community resource in downtown Albuquerque for multiple agencies.
There, the Domestic Violence Services Center, Sexual Assault Nurse Examiners and the Albuquerque Police Department provide services to victims of interpersonal crime. Other agencies that share the space include the Rape Crisis Center of Central New Mexico and Para los Niños, which provides medical evaluations for children and adolescents who have been sexually abused and assaulted.
The center was created in 2007 in response to the ongoing crisis of interpersonal crime in the community. United Way of Central New Mexico collaborated with the City of Albuquerque, Albuquerque Police Department and multiple non-profit agencies to establish it with funding from corporate partners, including Sandia. The United Way served a unique role in bringing together partners and funders to provide a needed community resource.
The organizations work together to reduce victims' stress by giving them access to medical care, advocacy, and legal and financial assistance, as well as access to law enforcement and prosecution in a single location.
Helping victims meet basic needs after fleeing abuse
Since many clients leave domestic violence situations without their belongings, FAC helps to meet basic needs. For example, a donation room was recently transformed from a crowded space with bags and boxes full of clothes into a functioning closet where victims can choose clothing they like with dignity.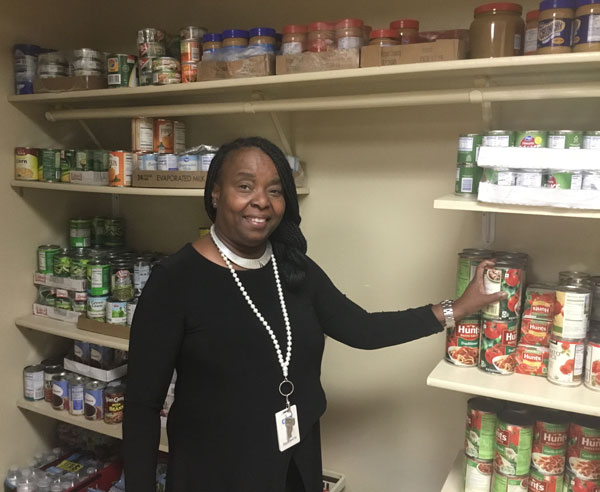 Bev McMillan, marketing and fundraising coordinator for the center, says, "They've been beaten, they're in trauma. Now they can come to the closet and find what they need without adding extra stress. Their self-esteem is already low; they're leaving with the clothes on their backs."
Two United Way donor groups with strong Sandia connections, Guys Give and Young Leaders Society, recently worked together to transform the closet space. "Volunteering with Young Leaders Society and Guys Give on the Family Advocacy Center closet organization project was fun. Providing a small semblance of order and dignity with a neat and organized clothes closet during a chaotic time in a family's life really can be helpful," says Shauna Adams, a surety engineer at Sandia.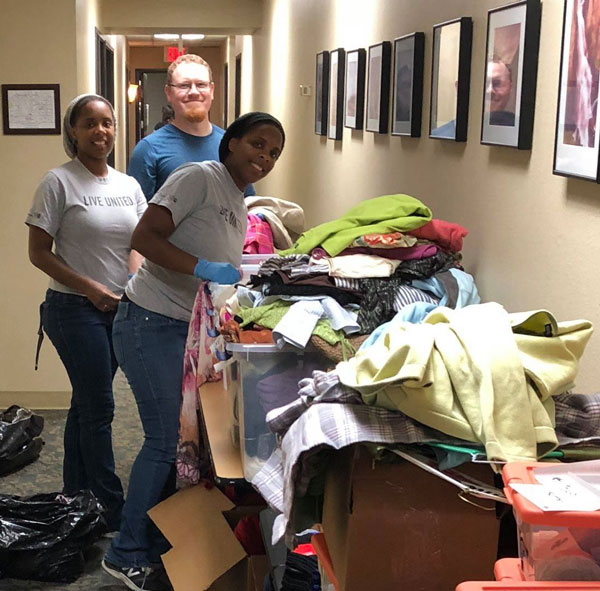 Randy Woodcock, an officer of Guys Give, also worked on the closet project. "I can't imagine how stressful it must be for a victim to leave their home with nothing. I love that they have a closet filled with clothes and diapers and other essentials for victims, and was happy to spend a Saturday remodeling it and building shelves so the clients can enter and select what they need at that critical time."
Guys Give members decided to give all their donations to the center this year "because as men, we value family and we think we have a role in spreading the word that interpersonal violence isn't appropriate anytime, anywhere. We want to serve as an example to other men," says Woodcock. Guys Give chair and Sandia procurement manager Jac Pier says, "There are so many negative perceptions of men in society. Guys Give supports the work of the Family Advocacy Center as an opportunity to show what we should and do stand for as an organization."
Victims of sexual assault find compassionate medical care
One organization key to the center's work, the Albuquerque Sexual Assault Nurse Examiners collaborative, operates there. The nurses provide immediate, comprehensive medical treatment and forensic evaluation for sexual assault victims. Gail Starr, a registered nurse, says, "before the FAC, the victim would go across town to get a sexual assault exam. Now we have an incredible space where we can focus on patient care." The collaborative offers forensic photography, pregnancy prevention and sexually transmitted infection prevention to patients.
"We are a non-report state, but we keep rape kits for two years" in case a victim decides they want to report to law enforcement, she says. "When we see a domestic violence victim, they haven't eaten in a while. We give them snacks. We try to show them understanding and let them know they're not alone. It's not just them," Starr says.
The nurses collaborative also gives each victim a change of clothes and a place to shower. "Our nurse examiners are Safe Zone trained to support the lesbian, gay, bisexual, transgender, queer and intersex community," says Starr. Since the Me Too movement, the nurses collaborative and the center are seeing an increasing number of men who feel safe enough to seek services for domestic violence and rape.
The nurses group provides education and counseling to help victims through their trauma. Starr says. "Strangulation is one of the tools used by rapists and domestic violence offenders because the victim stops fighting," she says. "This is a red flag because if strangulation is a tool being used by the offender, the victim is likely to be killed if they stay with them."
Call to action – how you can help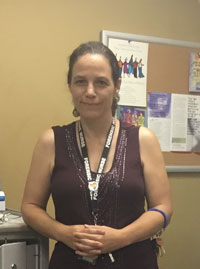 The Sandia Gives Campaign is the Labs' annual opportunity to come together and act with the common goal of helping our communities through the United Way. During this year's Sandia Gives campaign, donors can continue to designate funds for any of the community collaborative efforts, including the Family Advocacy Center, Mission: Graduate and Mission: Families. Giving to these programs allows employees to advocate for improved lives for everyone in the community and help Albuquerque become a safer place to work and live.
"The United Way is playing a role in the community's response to what is a tragedy in our community," says Jeanette Brahl, chief communications officer for the United Way. The FAC "is a practical response to a community challenge. The education of young people to break the cycle of abuse is so important. It's great to have a response but it would be better to prevent," says Brahl.
The United Way of Central New Mexico's Mission: Families and Mission: Graduate are intertwined with the work of the Family Advocacy Center. When a victim leaves home, the children either are not going to school or are having trouble focusing. The goal of Mission: Families is to provide safety, security and stability in the lives of the families served.
Getting involved through donor groups
United Way supports several leadership giving groups that are recruiting new members. Members of the donor groups are passionate about creating positive change in central New Mexico by offering their time, talent and donations.
Guys Give is a group of men (and women) who are philanthropic community leaders.
The Hispano Philanthropic Society is a collaboration between the Albuquerque Hispano Chamber of Commerce and United Way of Central New Mexico aimed at recognizing Hispanic leadership in philanthropy and encouraging all Hispanics to become engaged in building stronger, healthier neighborhoods and communities through focus on middle school success.
Women United is devoted to giving women a greater voice in the community as leaders and philanthropists.
The Young Leaders Society inspires, educates and encourages young leaders in central New Mexico to effect lasting change in the community.