Sandia measurements expert named Asian American Engineer of the Year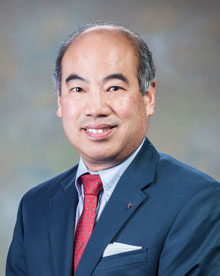 Sandia National Laboratories senior scientist Hy Tran has been named a 2018 Asian American Engineer of the Year. The award program is sponsored by the Chinese Institute of Engineers-USA to salute Asian-American professionals in science, technology, engineering and math who demonstrate exceptional leadership, technical achievements and public service.
"I am deeply both humbled and honored to have been nominated by Sandia and selected by CIE-USA," Hy said of his selection. "This is not so much a personal honor. This honor belongs to Sandia National Laboratories."
He also credits "the supportive environment and great leadership" within the labs, along with the hard work of colleagues and collaborators, technicians, and support staff, including computer, administrative and safety staff. "They make my day job easy," he said.
A career in measured science
Hy began working in Sandia's Primary Standards Laboratory in 2004 and, the following year, was selected as project lead for length, mass, and force metrology, which is the science of measurement. Hy promoted best measurement practices at the National Nuclear Security Administration laboratories, and established and maintained a research and development program in measurement science, supporting the calibration needs of the nuclear security enterprise.
Hy and his team won an R&D 100 award for his development of a three-dimensional micro-machined calibration reference standard that improves measurement accuracy in Mesoscale Measurement Machines used for high-volume parts manufacturing. His calibration reference standard is 10 times more accurate and less expensive than its predecessor, and can be used in the manufacture of miniaturized devices such as fuel injectors, watch components and inkjet printers.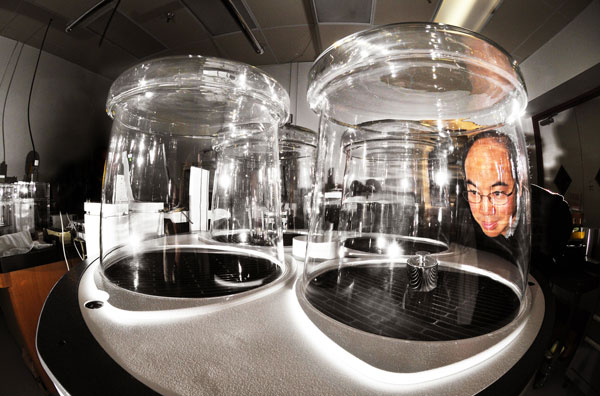 In 2010, Hy was appointed to distinguished member of the technical staff and five years later to senior scientist, a title conferred on no more than one percent of technical staff members. In 2016, Hy was elected an American Society of Mechanical Engineers fellow.
Today, Hy works to develop and implement research and development strategies for the Primary Standards Lab. He also is chair of a Sandia committee that identifies small or short-term research projects across the labs to help ascertain how to turn them into larger research and development efforts. This effort is funded by Laboratory Directed Research and Development.
"Professionally, I still can't believe that I was appointed to senior scientist — there are fewer than 50 senior scientists at Sandia," said Hy. "I am incredibly proud of being asked to serve on the LDRD exploratory express committee, and being asked to chair the committee in October 2017. These small projects are the seeds of Sandia's future. We intentionally mentor early career staff in the committee, so not only are we nurturing new technical ideas and directions, but we are also nurturing our future leading scientists and engineers."
The committee has funded more than 140 individual research projects since 2013, with 39 of those projects funded since he became chair.
A growing interest in science, engineering and public service
Born in Vietnam, Hy says his family was very fortunate to emigrate to the United States during the Vietnam War. They settled in Virginia in 1970. He developed an interest in science, engineering and public service from his family; his father was a physician and his mother a midwife.
"Engineers are always seeking to improve things, so the values of education, hard work and service have all played into making me an engineer, and in the various roles that I have served as an engineer," he said.
Hy earned bachelor's degrees in science and in mechanical engineering from the Massachusetts Institute of Technology. He received his master's in mechanical engineering, and his doctorate in mechanical engineering, with a minor in electrical engineering, from Stanford University.
Serving the community through education
Before coming to Sandia, Hy was an assistant professor of mechanical engineering at the University of New Mexico and a doctoral adviser for students both in mechanical engineering and in electrical and computer engineering.
In addition, Hy has dedicated many years to volunteering, typically in activities that involve educational outreach. He has helped demonstrate scientific research and organize chess clubs at local schools and has prepared teams for the Albuquerque Scholastic Chess League competitions.
Hy's science outreach activities led him to join the New Mexico Partnership for Math and Science Education and, in 2013, the New Mexico secretary of education appointed him to serve a four-year term as a member of the Math and Science Advisory Council to advise the New Mexico Public Education Department on the performance of K-12 students studying science, technology, engineering and mathematics.
Hy, an amateur woodturner, helps organize and teach a woodworking class for middle school students at Explora, an Albuquerque science museum, alongside fellow Sandian Aaron Hall. The class provides an opportunity to combine a few of his favorite things— science, volunteering and woodturning, he said.
"I would advise anyone looking to get into science and engineering: Be passionate about learning—you can learn something from any experience and activity, not just classroom," Hy said. "The breadth of your knowledge is one source of creativity, so broaden your formal education. Use your electives to go outside the boundaries of your discipline."
Hy was honored April 7, during the annual Asian American Engineer of the Year recognition event in Albuquerque.
Sixteen Sandia engineers have earned an Asian American Engineer of the Year award. Nominees come from a range of industrial, academic, government and scientific institutions, and other past winners include astronauts, corporate executives and Nobel laureates. The institute notes that "many of [the recipients'] achievements represent monumental breakthroughs in their respective fields and their impacts are global and everlasting."