John Dec has been selected as one of the 2018 SAE International Lloyd L. Withrow Distinguished Speaker Award recipients. This honor is given to speakers at SAE meetings who have received the Oral Presentation Award more than twice.
John received his award at the annual SAE business meeting held during the SAE 2018 World Congress in Detroit.
"I am honored to be selected to receive this award and to be part of the SAE community," says John. "Most of all I am fortunate to belong to a widely respected and knowledgeable engine research team at the Combustion Research Facility."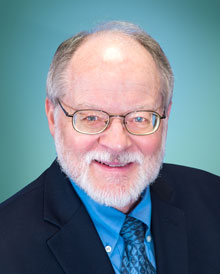 The award recognizes individuals for their outstanding presentation skills. It was created to inspire a high level for presentations at SAE technical sessions.
This is the third Lloyd L. Withrow award John has received; he earned the others in 1999 and 2007.
Originally established in 1984 as the SAE Distinguished Speaker Award by the Engineering Meetings Board, the award was renamed in 1993 to honor the late Lloyd L. Withrow, a leader for decades in engine combustion and automotive fuels and lubricants.