Two Sandians have been named recipients of 2016 Outstanding Service Awards from the New Mexico Office of African American Affairs (OAAA). Accomplished research engineer Conrad James (1714) and supply chain senior manager Theresa A. Carson (10220) have been acknowledged for their strong commitment to improving the quality of life for African Americans in the community. The 13th annual service awards recognize dedication to education, community development, health care advocacy, and economic advancement for African Americans.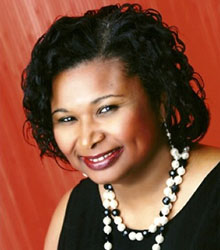 New network brings people together
Theresa is acknowledged for creating a professional networking group to benefit African Americans in Albuquerque. Theresa and Bettye Pressley, former executive director of the Rio Grande Red Cross, cofounded a social initiative to encourage young African American professionals to remain in New Mexico.
"Based on the discussions we had with those new to Albuquerque," Theresa says, "we identified there was a lack of community here for African Americans, thereby causing them to seek job opportunities in other states. We found it important to create a venue to connect the 2 percent of African Americans in our city to network and share information about cultural services and become involved in community activities."
In his nomination letter, Ron Wallace, editor of Perspective 2 Magazine, described Theresa as "innovative, dedicated, and community-focused."
Theresa says, "It's an honor to be recognized by New Mexico's Office of African American Affairs. While awards are wonderful, just knowing that we have helped to bring together African Americans within and around Albuquerque to begin the journey of forming an active community that is embracing our new residents is rewarding enough."
In the Albuquerque community Theresa has served as a member of the Albuquerque Academy Board of Directors. For the past two years she has volunteered as co-planner for the National Museum of Nuclear Science and History's Discover STEM program and she also serves on three Calvary of Albuquerque Missionary Care Teams. She is the former co-chair of the Black Leadership Committee at Sandia and coordinator for HMTech, the educational outreach program for African American middle school and high school students.
Theresa, who grew up in Albuquerque, says she makes time for community outreach work because "it's important to give back. I live by the scriptural verse, 'to whom much is given, much is required.'"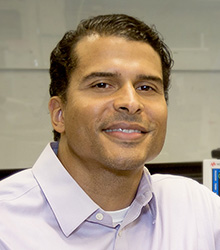 Improving the community through legislation
Conrad James received the executive OAAA service award for his contributions to statewide policy. While working as a researcher at Sandia, Conrad served as an elected member of the New Mexico House of Representatives from District 24 from 2011-2012 and 2015-2016. In 2013, he was appointed to the University of New Mexico's Board of Regents where he served as vice-chair of the Finance and Facilities Committee and as a member of the Health Sciences Center board of directors.
"Through his work as a legislator, Conrad has been dedicated to the community at large and all communities of color," says Yvette Kaufman-Bell, executive director of the Office of African American Affairs, who nominated him for the award. "He is a champion for education, and has made an impact on policy for our youth, our elders, and our local business owners," she says.
Kaufman-Bell adds, "Conrad is just such a great spirit who deserves to be recognized as he looks to retire this year from his service in state government."
Conrad says he is honored to receive an award from the Office of African American Affairs. "My time in the legislature and on the UNM Board of Regents was very rewarding, and I am pleased I was able to make a difference in our state. New Mexico has a unique situation where legislators are citizen volunteers, and I really find it to be a great way to get people involved in helping their community, while still remaining a vital part of that community."
Conrad says he enjoys community service because, "I like examining complex problems, and then working in teams to come up with solutions. Policy-making at the state level was a perfect match for my interests."
Conrad's research spans neuromorphic computing, microelectronics, and microfluidic devices. He holds seven patents and has published numerous journal articles.
"My schedule is rather hectic, but as long as you put faith and family first, everything else seems to fall into place," says Conrad.