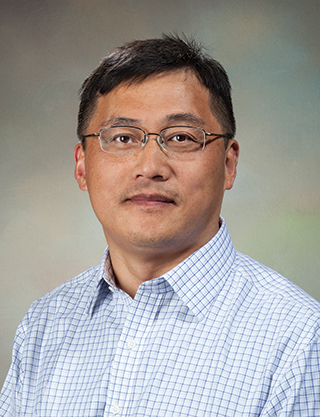 Hongyou Fan (1815) has been appointed a Fellow of the Materials Research Society (MRS).
The highly selective distinction represents less than 0.2 percent of MRS membership. Hongyou is the first Sandian selected since 2011, and the fifth since the honor was first offered in 2008.
His work was cited for "pioneering contributions to the development of novel synthesis methods and self-assembly processes to fabricate multifunctional nanomaterials for nanoelectronic and nanophotonic applications and service to the materials community."
The MRS describes its Fellows as "outstanding members whose sustained and distinguished contributions to the advancement of materials research are internationally recognized."
The award follows upon Hongyou's selection in 2015 to deliver the MRS Fred Kavli Distinguished Lectureship Award in Nanoscience. Hongyou was the first national laboratory scientist to be so honored.
Hongyou's poster on the self-assembly of nanoparticles into ordered, three-dimensional films also won an outstanding poster award from the society at the Spring 2013 MRS meeting.
The formal announcement of Hongyou's new status will be made at the 2016 MRS Spring Meeting in Phoenix, meeting from March 28 – April 1.
The only other MRS Fellow currently employed at Sandia is Sandia Fellow Jeff Brinker (1000).