Roundtable panel members offer optimistic assessment of the role women leaders can play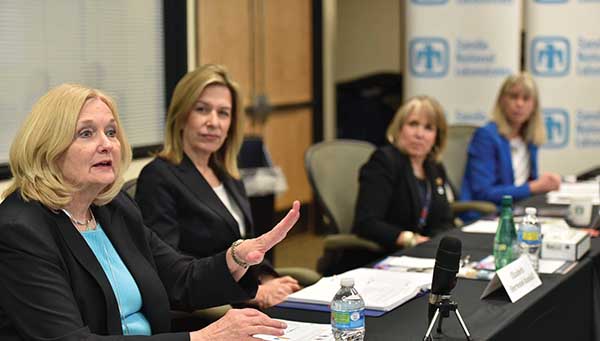 US Rep. Michelle Lujan Grisham, D-N.M., DOE Deputy Secretary Elizabeth Sherwood-Randall, and NNSA Principal Deputy Administrator Madelyn Creedon joined Sandia President and Laboratories Director Jill Hruby and a distinguished panel of women from government, industry, and academia at a roundtable discussion last month to explore the topic: "Women Catalyzing Innovation in New Mexico: Growing our Economic Footprint."
The panel members, with their diverse backgrounds and experiences, offered an optimistic assessment of the role women leaders can play in taking advantage of the state's technological and research infrastructure to enhance the state's economy.
Prior to the roundtable, Lujan Grisham and Sherwood-Randall and their delegations split up to receive tours and briefings on several key Sandia mission areas, including nuclear weapons work, breakthrough defense products, energy, and cybersecurity.
Following the roundtable, the visitors participated in a technology transfer showcase that highlighted recent success stories about technologies from Sandia and Los Alamos labs that are succeeding in the marketplace. California Laboratory Div. 8000 VP Marianne Walck hosted the event and served as moderator.