American Indian Science and Engineering Society honors Chris O'Gorman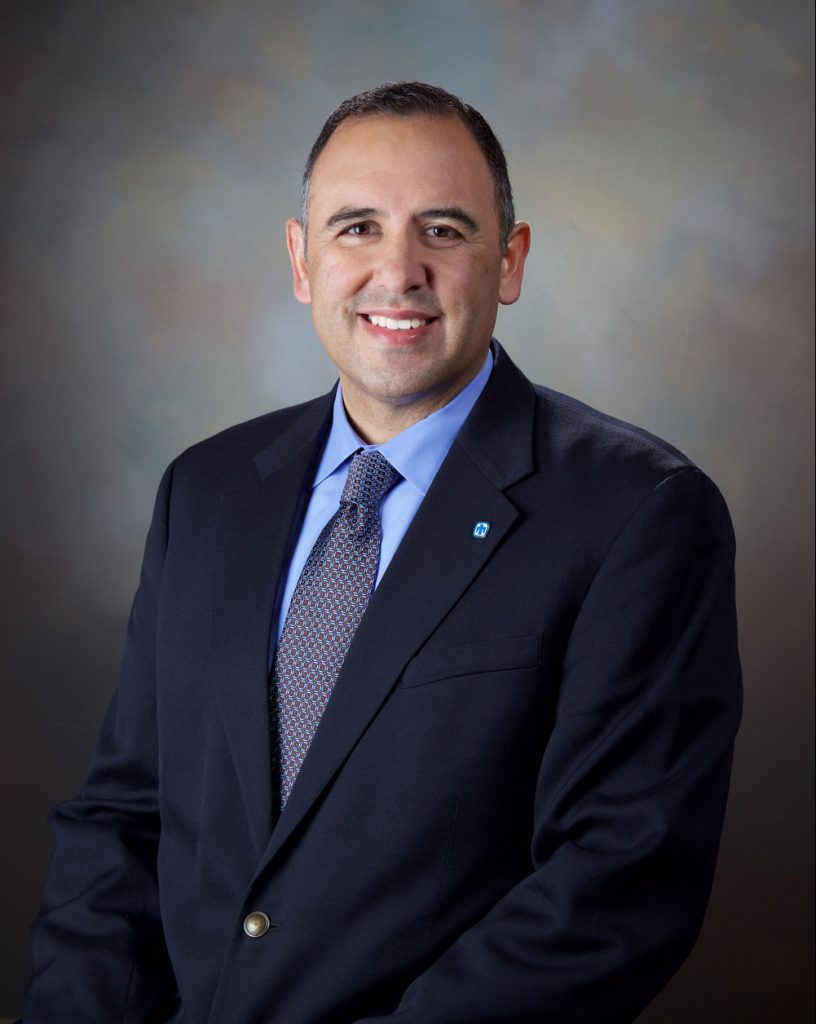 Sandia Labs mechanical engineer and senior executive Chris O'Gorman was recently awarded the 2022 American Indian Science and Engineering Society Executive Excellence Award.
As director of Research and Development Science and Engineering, Chris leads national security programs for nuclear stockpile systems, surveillance and numerous testing technologies. His experience ranges from experimental structural dynamics and mass properties measurements to software development for artificial neural networks and national security systems.
Chris leads a team of three senior managers, 19 managers, four team leads, and close to 400 technologists, scientists and engineers at Sandia.
"This award is about my colleagues, family, community and Sandia Labs. I've learned so much about community and work through those around me over the years," Chris said. "I've also greatly benefitted from my affiliation with AISES as a student and a professional. I hope to share their wisdom with future generations of scientists and engineers, both inside and outside of AISES."
Looking to the horizon
Chris is one of the first American Indian executives at Sandia. But his journey hasn't been easy.
A proud member of the Winnebago Tribe, Chris spent his early years on a small family farm on the reservation in northeast Nebraska. From an early age, Chris pondered his course to adulthood looking to a future that could foster opportunity for himself, his family and his people.
"I encountered my share of hardships growing up but was able to keep my focus forward," Chris said.
At the impressionable age of 15, he decided to attend school 400 miles away from his home and family. With encouragement from a high school counselor, Chris enrolled at St. Martin's Academy, a school in South Dakota that provided an opportunity to live with host families. There, he remembered the words of Chief Little Priest, the last warrior of the Winnebago, "Be strong and educate my children." He also remembered his grandmother's encouragement that education was key in overcoming struggles.
St. Martin's was a significant cultural shift for Chris, and he missed his family and community deeply. "I wanted to quit and move back to Winnebago on many occasions," he said. Chris worked hard focusing on math and science using the answers in the back of books as a form of self-teaching. With his family's support, he prevailed, graduated from the academy, moved to Albuquerque and enrolled in the University of New Mexico's School of Engineering.
Finding AISES
Looking for familiar faces and a path forward, Chris joined the college's Native American program and the American Indian Science and Engineering Society. "I found a much-needed support system in these organizations," Chris said. "They understood me. They experienced similar cultural and academic challenges and shared their ideas about how to draw on strengths and overcome obstacles unique to American Indians."
College engineering courses did not come easily for Chris, and he fought his way through, studying long hours every chance he got. Having developed his work ethic on the family farm, he refined it in high school and applied it to his college studies. He was beginning to realize that perseverance was probably more important than being gifted.
In 1994, Chris earned his bachelor's degree in mechanical engineering. He was on his way to graduate school and was accepted to multiple nationally recognized engineering programs. At the same time, he was hired at Sandia as a technical staff member and seized an opportunity to continue his education through Sandia's One-Year-On-Campus program. He attended Stanford University and earned his master's degree in mechanical engineering.
Building professional bridges
Having spent a good deal of his academic and professional career trying to overcome a sense of living in "two worlds," Chris became more active with AISES and Sandia's American Indian Outreach Committee, or AIOC. "The culture I grew up in on the reservation is very different from the corporate world," he said. "I saw these two organizations as a means to bridge these differences."
Chris joined AIOC in 1995. He spent a year as an executive on loan from Sandia to AISES and managed more than 160 university and college chapters working with government and industry partners to set up scholarships, internships and employment opportunities for AISES students.
Chris served as the AIOC in-reach chair from 2001-2005 and contributed to many outreach activities, including elementary and high school science fairs, while leading a professional chapter and fostering university partnerships and corporate engagement with student chapters. He also has participated in the AIOC-hosted Dream Catcher science program, which educates native youth in STEM disciplines.
At the same time, Chris judged AISES National Conference science fairs and helped lead local planning committees. He has served in leadership roles, as president of the AISES New Mexico Professional Chapter from 1999-2002 and treasurer from 2003-2004. He served a four-year term on the AISES board from 2000-2004. Through a Sandia-sponsored program, Chris also has served as a physics instructor at Southwestern Indian Polytechnic Institute in Albuquerque.
Building personal bridges
Closer to his roots, Chris and his family participate in powwows and homecoming celebrations every year, while spending time with family and friends in Winnebago, Nebraska.
Chris has been a guest speaker on tribal initiatives on the digital divide and participated in discussions regarding tribal alternative energies. He continues to help and support American Indian students in their journey through high school and college while promoting STEM careers.
"There's so much to learn and teach one another about living, learning and working together for the benefit of everyone," Chris said. "It's about the connectivity we can create within ourselves and one another along the way. I want to help people make those connections."