Expansion planned over the next 5 years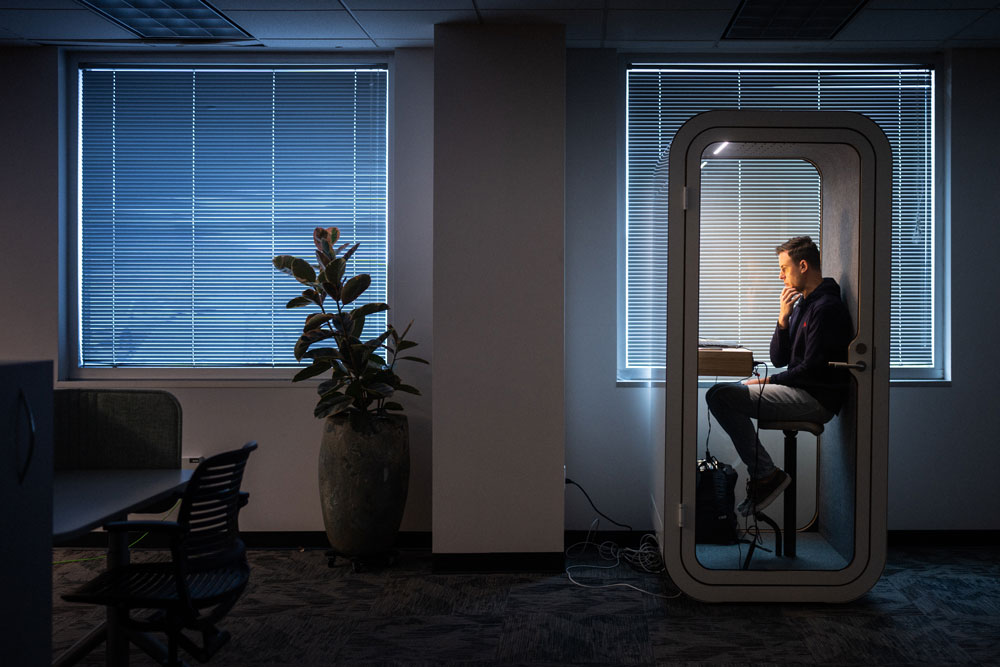 The COVID-19 pandemic forced businesses around the globe to suddenly embrace a telecommuting work environment. Nearly three years since the pandemic began, many businesses have returned workers to their traditional desks, cubicles and office spaces. Sandia is doing things differently.
Recognizing the success of telecommuting, and the desire by many professionals to work at home or far from its main campuses, Sandia is developing a more extensive and immersive hybrid work model to help create the workforce of the future and attract and develop top talent.
While the vast majority of Sandia employees have returned to on-site work, as of January, there were approximately 1,700 full-time and 1,100 part-time telecommuters, and 1,200 remote Sandia employees around the country. That is about 30% of Sandia's workforce.
Remote work can provide benefits to both the employer and employee, according to results from the 2020 Labswide Telecommuting Experience Survey. The top benefits include less commuting to and from work, no parking challenges, flexible work schedules, more opportunities for exercise and self-care, more interaction with family, increased productivity and fewer interruptions.
A 2021-2022 remote work study by Sandia also showed significant increases in the number of qualified candidates applying for a remote position that was identical to an on-site position. The study found remote work options can be a significant recruitment and retention tool and are necessary to remain competitive in the future.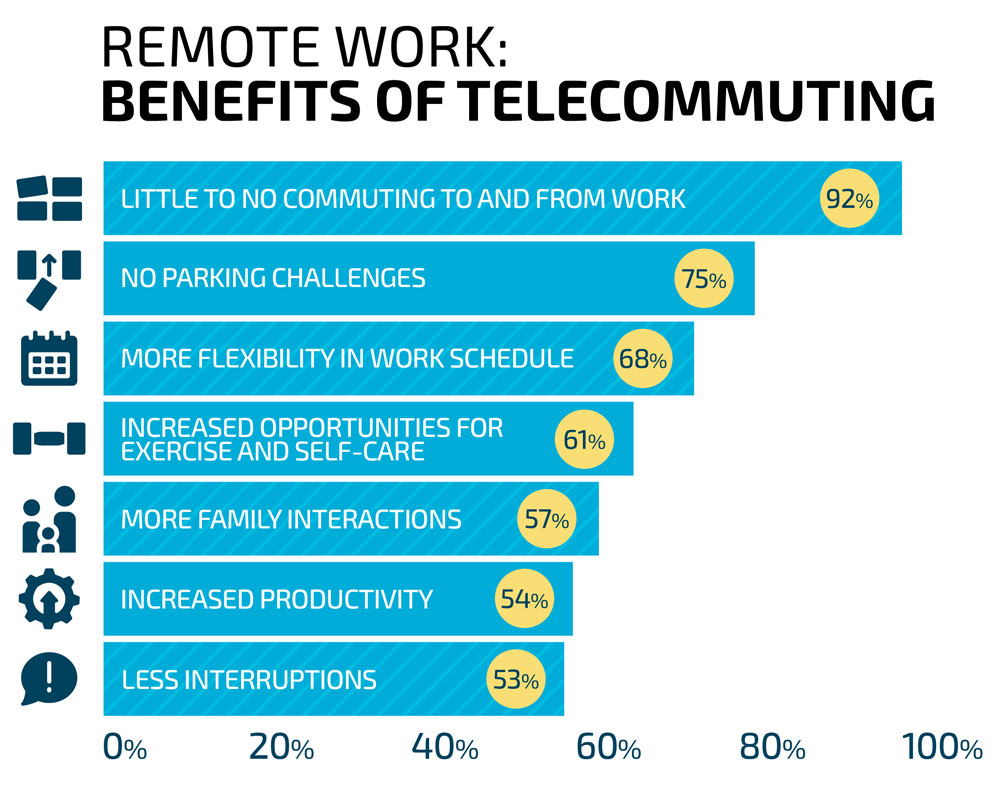 In response to this shift, Sandia has created a five-year plan to build a permanent hybrid workforce that will include a mix of remote workers, full and part-time telecommuters and on-site workers. That plan began with the stated goals of Sandia embracing its remote workforce, addressing key pain points and creating positive messages about the hybrid model. It included identifying remote or telecommuting positions in areas that wouldn't traditionally be considered compatible, such as those that involve classified work. Broadening the scope of remote work should help improve innovation, competitiveness and the ability to meet strategic goals.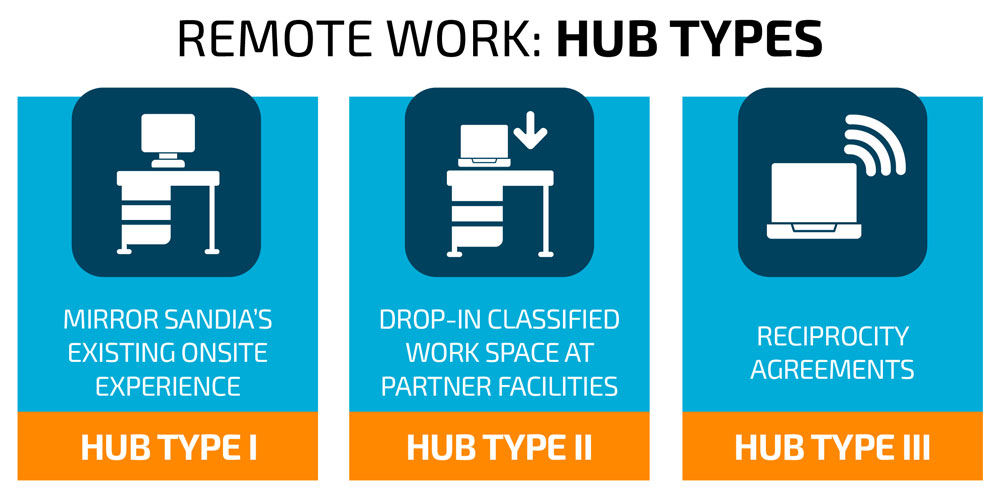 In fiscal year 2023, the hybrid work strategy will focus more on how people work and less on where people work. Sandia is committed to opening one to two remote hubs this fiscal year in order to attract a more diverse talent pool with critical skills. The plan includes three different hub types: mirroring Sandia's on-site experience, drop-in classified work at partner facilities and hubs with reciprocity agreements.
The plan's criteria for choosing hubs include existing workforce and talent migration hotspots; proximity to schools with strong talent pools; cost of living; proximity to federal headquarters, labs and plants; and sites where Sandia doesn't yet have a strong physical presence. Sandia considered more than a dozen sites and has immediate plans for three hubs:
Sandia's Minnesota site.
Pacific Northwest National Laboratory.
Texas A&M University.
Touchdown spaces, IT fixes help hybrid workers succeed
According to a fiscal year 2022 year in review report, 1,600 telecommuters moved home, creating square footage for other needs and those who work on-site. It also allowed Sandia to move out of some leased space and begin major modifications in nine buildings.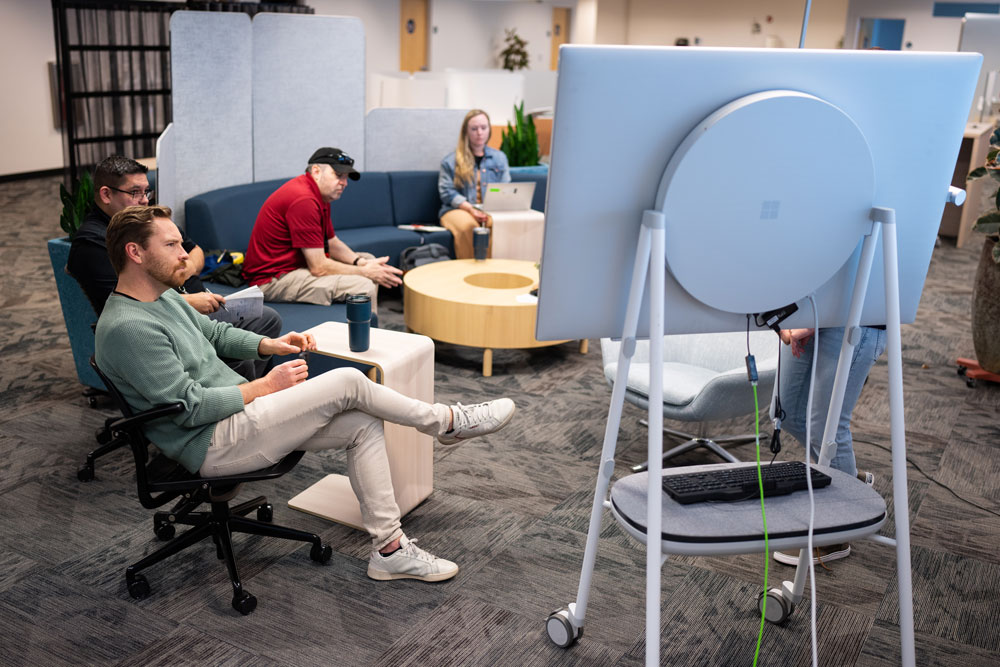 Leadership is working to provide the tools necessary for remote workers and telecommuters to do their job efficiently and safely. This includes an ergonomic assessment for every employee who transitions to a home office to ensure they are working in a healthy environment and to reduce their exposure to such physical hazards as uncomfortable postures, repetitive tasks or straining of the neck and eyes.
Because not all work can be done at a home office, 170 individual touchdown spaces are available on-site through a reservation-based system. Many teams also have designed local touchdown spaces for team members. There are also three large collaboration centers open, with more to come. These drop-in collaboration spaces provide a more relaxed place to meet with co-workers or to get away from a traditional desk.
There are also private spaces to work in nontraditional open office settings that keep online meetings from being disruptive to others.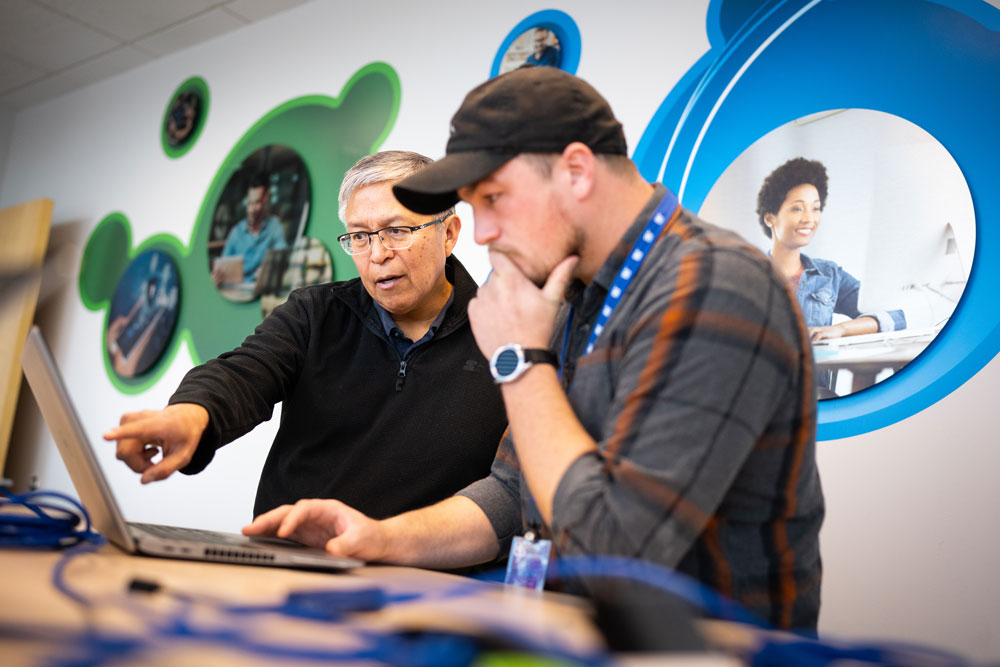 Hybrid work provides IT challenges. As part of the strategy moving forward, the IT team is gathering information on hybrid workforce needs and IT service gaps. One way to answer that call was by creating a drop-in Swift Bar for employees to get help with their IT issues, located off base at IPOC.
Sandia recognizes that there are challenges in adapting to a hybrid workforce. Remote workers often want ways to better connect with one another, or report feeling loneliness and uncertainty about their ability to advance in the organization, or they have trouble reconciling time zones when working far from their home site, the survey reported. Sandia's strategy calls for introducing more ice breakers, regular formal and informal team meetings and meetings with managers, among other things. Some leaders are also experimenting with other ways to build connections, no matter the physical distance.
Overall, the study found managers and employees view remote work as beneficial because it provides needed flexibility for workers who would otherwise leave or not consider joining Sandia, without any detrimental effects on productivity.
Sandia's strategy aims to complete its hybrid work policies and best practices in the next five years, with the goal of increased physical capacity, increased workforce engagement across the country, improved access to resources that help Sandia further its mission, increased ability to attract and retain staff and, most of all, increased ability to perform classified work outside the confines of Sandia's main sites.