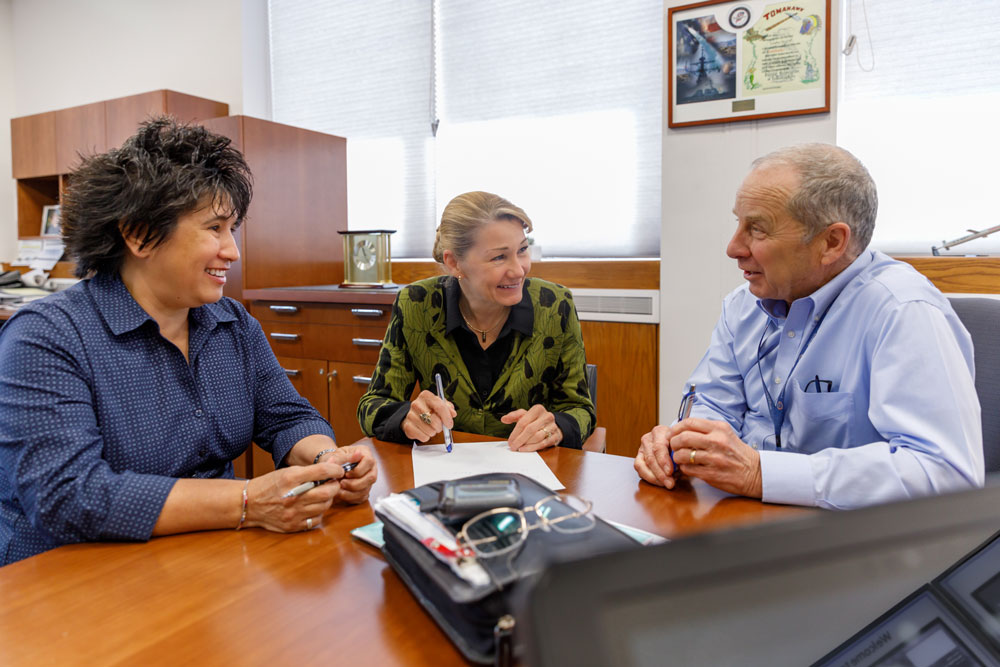 When designing something as complex as a nuclear weapons system, challenges are expected. It was the way that Sandia colleagues responded to one such challenge that made a lasting impression on Deputy Labs Director for Nuclear Deterrence Laura McGill.
"We were working with one of our teams going through really tough technical problems with a component," said Laura, describing a situation that unfolded only a few months after she joined Sandia following a career at Raytheon Missiles and Defense, where she served as deputy vice president of engineering. "We had just received some new test data that indicated it was going to be even more complex than we thought. Instead of resigning themselves to a delayed schedule, the team already had a recommendation for potential solutions."
Laura came to Sandia in January 2021 as part of an update of Sandia's approach to nuclear deterrence that added two executive leaders and restructured the organizations supporting this crucial mission. A year later, Sandia leaders reflected on the effects of this change.
"Nuclear deterrence is a very large mission area here at the Labs," said Rita Gonzales, a 30-year Sandian who became associate labs director for Nuclear Deterrence Modernization and Future Systems as part of this updated approach. "We do everything from partnering with our colleagues in Sandia's Advanced Science and Technology organizations on early research, to production, to assessing the stockpile that's in the field today. I think the current organizational structure helped to put focused attention on multiple areas of that complex mission."
"I believe [the new structure] enhanced our capacity to do more and have more rigorous, executive-level attention across more topics," said Steve Girrens, associate labs director for Nuclear Deterrence Stockpile Management, Components and Production, who came to Sandia in 2017 following a 40-year career at Los Alamos National Laboratory.
Managers from the span of Sandia's nuclear deterrence program credit improvements to the reorganization.
"By spreading out the large nuclear deterrence portfolio, it has increased leadership focus in their respective areas, like NNSA engagement by Laura using the breadth of knowledge she brings from her external experiences, driving the modernization programs differently from Rita's leadership experiences, and it has enabled Steve to focus more deeply on component and production needs," said Ernie Wilson, director of Advanced Systems and Transformation. "Laura, Rita and Steve have worked well together during an incredibly challenging year."
The change appears to have enhanced nuclear deterrence's engagement with both internal and external partners.
"The reorganization has made it more natural to include other organizations outside the nuclear deterrence core, but that are central to execution," said Asset Security and Weapons of Mass Destruction Response Director Gary Laughlin, whose organization collaborates with the nuclear deterrence program, including on development of the Mobile Guardian Transporter. "I am grateful for the very welcoming and inclusive environment the nuclear deterrence leadership team has created. With extended teams that include NNSA, the Kansas City National Security Campus and the supplier base, that helps us find the most fruitful efficiencies."
"The leadership transition has significantly amplified our engagement with our NNSA customers, allowing for much closer coordination and deeper understanding of key progress and challenges, not only with critical deliverables but also with the underlying capabilities that are so important for Sandia to meet the needs of the nation," said Brad Boswell, director of the Nuclear Deterrence Weapon Engineering and Production Program Management and Executive Office.
Brad's office manages the collaboration between the nuclear deterrence program and Sandia's science and technology program, which invests in foundational science and engineering capabilities, including those that address current and future security challenges. This collaboration is working well from the perspective of Susan Seestrom, associate labs director for Advanced Science and Technology.
"About 60% of our work is executed on behalf of the nuclear deterrence program, so we think about those needs every day," said Susan. "I lead the weapons science and technology program for nuclear deterrence, which is all about developing advanced technology that can impact the stockpile. Lastly, through the Advanced Science and Technology program portfolio — with funding from the DOE Office of Science — and the Chief Research Office, we support foundational research benefiting all the Labs' programs, of which nuclear deterrence is the largest. Personally, I greatly value the collaboration between the Advanced Science and Technology and nuclear deterrence programs and have three outstanding colleagues [Laura, Rita and Steve] to work with on the future of our nation's nuclear deterrent."
With first production units for the W88 Alt 370 and the B61-12 Life Extension Program delivered in 2021, the past year was a culmination of nearly a decade of work on these critical systems. Rita and Laura credited Sandia's nuclear deterrence staff and management.
"When I became associate labs director, I was super impressed with the people — the staff and the leadership, and how they distinguish themselves as highly dedicated, competent individuals — really delivering on every commitment and putting all they had into our nuclear deterrence mission," said Rita.
"Every week, maybe almost every day, I look around a room of people, and I just can't believe I get to be here with these people, getting to work on these problems that are so important to our country," said Laura.
As Sandia partners with the Kansas City National Security Campus to support full rate production of the W88 and B61-12 systems, it is allocating resources to design and develop the W80-4, the W87-1 and the W93 systems.
"I think the future remains extremely challenging," said Steve. "The work scope and intensity are increasing. But when I look back over the past year, it fills me with great pride, both as a Sandian and as an American in our fellow Sandians. They're overcoming and delivering for the nation, above and beyond, during a pandemic."