Labs employees show up for neighbors in times of need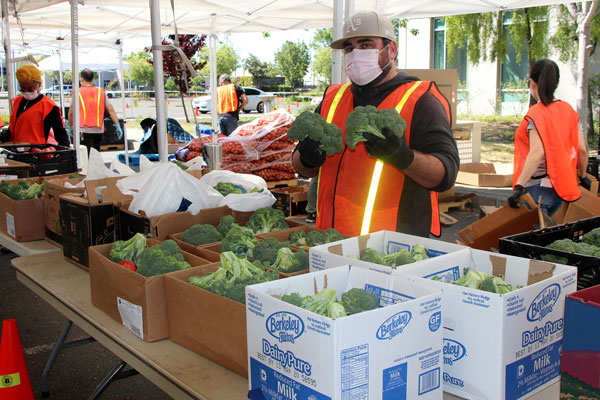 In February, when things seemed normal, the Alameda County Community Food Bank in the Bay Area reported that about one in five community members were experiencing hunger. By late March, when the financial implications of the COVID-19 crisis were being felt by so many, the food bank experienced an increase in call volume to their food helpline by 1,000% and were expected to respond to a dramatic increase in need while facing the same uncertainties as everyone else.
Stories like this are not uncommon among agencies that provide community services like food assistance, shelter and education in times of need. The Sandia Gives campaign begins Oct. 5. This annual event provides an opportunity to give back through the United Way organizations of Central New Mexico and the Bay Area, and your participation is needed now more than ever.
According to IndependentSector.org, 83% of large and midsize nonprofit organizations have experienced a reduction in revenue, 71% have responded with a reduction in services provided and 53% have experienced a reduction in individual giving as a result of the pandemic.
Nonprofit organizations that provide needed resources like food and housing assistance rely upon contributions from donors to survive. Traditional in-person fundraising events like galas, charity walks and golf tournaments have been canceled to comply with social distancing recommendations, and donors themselves may be experiencing financial hardships that prevent them from contributing.
The Alameda County Community Food Bank partners with more than 290 food pantries, soup kitchens and nonprofit organizations in the Bay Area to provide millions of pounds of fresh food to community members. When the pandemic hit the county, layoffs and furloughs were staggering and there was an incredible surge in demand. In order to provide the increased amount of food to the community, the food bank had to purchase additional food; their costs have more than tripled since 2019.
Juan Francisco Orozco, food bank corporate and foundation relations manager, said "unemployment was at 3% and jumped to 15% when COVID-19 impacted people primarily in the service industry."
In addition to decreased donations and contributions, some volunteers the food bank relies on were at high risk and were unable to help sort and distribute food, increasing the challenge of getting food assistance to those in need.
The Alameda County Food Bank has a team of researchers who use data like high-interest car loans in the area to determine potential food assistance need. "During this pandemic, having a team of researchers on our staff has been invaluable to our ability to quickly pivot and track emerging need to access food, overlay it with our network's reach to provide food services, identify gaps and operationalize strategies to cover those gaps," Orozco said. "Access to food is something everybody needs."
Your contributions matter
Sandia makes it easy to support our communities by conveniently giving to the United Way of Central New Mexico through payroll deductions. You may choose to allocate your donations to United Way or opt to give to other charities that support our communities.
If you've never given before, now is your chance to show up to improve someone's life during the Sandia Gives campaign. You could help a family in need of shelter, help a single mother learn how to read so she has a better chance of obtaining good employment, or help a community have access to nourishing food. Now more than ever, your contributions are needed to support the nonprofit organizations that care for the communities where we live and work.
Organizations offer community support
New Day provides shelter and teaches life skills to youth experiencing homelessness in Albuquerque. They have moved to a virtual system for their Life Skills Academy, which teaches youth life skills such as doing laundry, grocery shopping, budgeting, relationship skills, financial literacy and interview skills.
"It's hard to take a human services program and make it virtual," New Day Executive Director Steve Johnson said. But they have been successful in using technology to help their clients.
Teaching life skills classes 100% online has given New Day the opportunity to expand services anywhere in the country. "Some youth are in treatment centers in other states but can now participate in the life skills courses virtually. This creates a bridge that never existed before," says Johnson.
The United Way of Central New Mexico has partnered with New Day for about nine years and helped found the Life Skills Academy with community impact funds.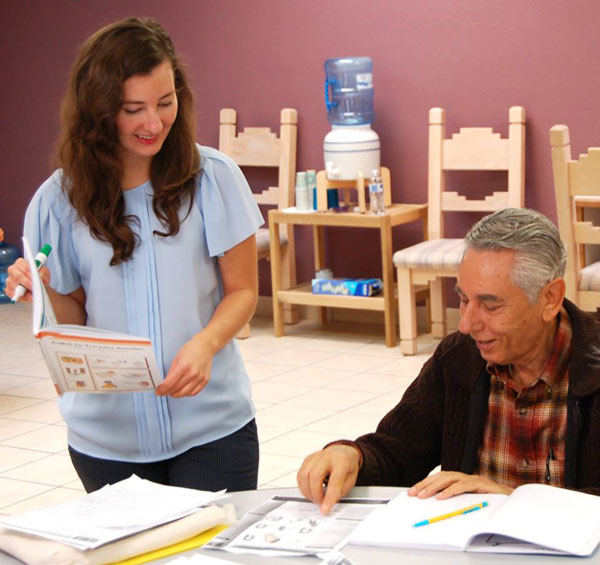 Reading Works is a nonprofit adult literacy program that provides free literacy and English as Second Language tutoring. Acting Executive Director Esodie Geiger said there are about 46 million people in the U.S. who cannot read, and about 21% of the adult population in Albuquerque doesn't have a high school diploma or speak enough English to thrive economically.
"In our organization alone, 84% of the adults in our program read at or below the 5th grade level. I guarantee you that right now these folks are struggling tremendously. With most services being closed, they're having to fend for themselves and their children and it's much harder than even what they're used to," Geiger said.
"Having basic literacy skills gives people a chance to navigate the world around them in the best of times, but most importantly during crisis," she said, adding that low-level readers learn best face to face. About 80% of the readers in their program live below the poverty line and don't have access to technology or the internet, putting them at a disadvantage for participating in virtual learning opportunities.
All Faiths Children's Advocacy Center is a behavioral health agency specializing in the treatment of families, children and their caregivers who are struggling due to issues of divorce, homelessness, child abuse and family violence. All Faiths also operates the Children's Safehouse, which provides age-appropriate, legally defensible forensic interviews for children and developmentally disabled adults who have been the alleged victim of sexual or physical abuse or have witnessed a violent crime. The average client is a 9-year-old girl, sexually abused by someone she knows and trusts.
The pandemic has impacted the way All Faiths provides services. Therapy for children and families can no longer be done in person and is conducted virtually, though the Children's Safehouse is still providing in-person services. Virtual counseling sessions provide the opportunity for therapists to offer real-time parenting help to clients. Donations to All Faiths help provide families with case management that includes practical needs such as bus passes to help a parent get to work, steady shelter and food assistance.
"It is therapy along with case management that helps a family heal. We want families to thrive," Chief Development and Marketing Officer Yvette Tovar said.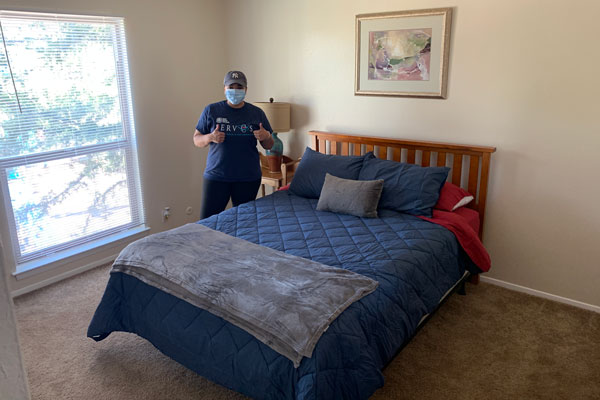 Saranam is a two-year housing, education and community-building program for families experiencing homelessness in Albuquerque. "We provide everything a family needs to live for free for up to two years while they increase their education and thus their employability skills," Executive Director Tracy Weaver said. The families in Saranam's program did not lose their housing because of COVID-19, but the pandemic certainly created challenges in helping them get back on their feet.
In August, both parents and children in the program returned to school, and most classes were virtual. A challenge they faced was having enough working technology and reliable internet connection to have everyone set up in time to begin school online.
Saranam has received United Way Community Impact funding for many years and has received support from Women United, a United Way philanthropic organization whose membership includes many Sandia employees. Additionally, Sandia supported Saranam's decorator program, where volunteers created a home atmosphere for new program families.
"When you are homeless, you lose your resources. At Saranam, you're not alone. You have community and resources and people who show up to help you," Weaver said.
The annual Sandia Gives campaign starts Oct. 5. Visit Sandia's Community Involvement website for more details.