Rodeo challenges robots, bomb squads with innovative scenarios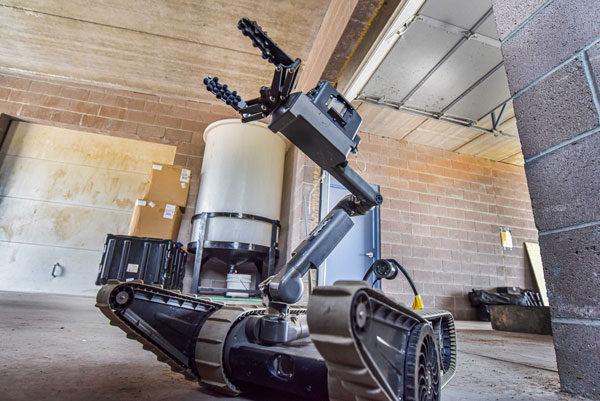 Bomb squad teams from coast to coast challenged their emergency preparedness skills during Sandia's five-day Robot Rodeo and Capability Exercise last month.
Twelve scenarios involving vehicles, simulated terrorist events and timed obstacles were set up from May 13-17 around Sandia and Kirtland Air Force Base for the military and civilian teams. The event, which tests bomb squad teams to their limits, takes a year of planning and collaboration with multiple agencies and volunteers, said Sandia robotics manager Jake Deuel.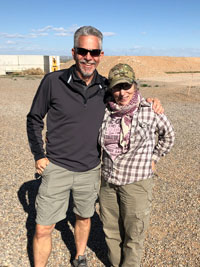 One of the volunteers, retired Marine Judy Ellis, helped the 21st U.S. Army Explosives Ordnance Disposal team with the mock explosives challenges this year. She has been participating in the Robot Rodeo for four years in various capacities, helping at scenario sites and even volunteering on teams that were shorthanded.
Ellis, who lives in Belen, was one of the first female bomb techs in the Marine Corps, graduating from EOD training in 1981. She said the tools she used as a bomb tech consisted of a tool bag or belt, not a bomb protection suit and robots.
"I really enjoy keeping up with the latest technology, learning the robots and getting proficient," Ellis said. "My training was years ago, but being a bomb technician, a lot of the basic concepts don't change. Now I like watching the new technicians learn and grow and sometimes I interject a little old-school wisdom. Overall, I enjoy how hard these guys work and seeing how talented our young bomb squads are."
'Lucky 13' provided many firsts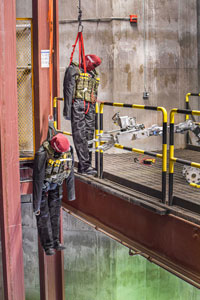 The 13th annual event offered many first-time scenarios with the help of external agencies. Jake said this was the first year Sandia hosted teams from both sides of country: the Riverside County Sheriff's Office from California and two Navy teams from Virginia.
The Albuquerque International Sunport and the Transportation Security Administration in Albuquerque teamed with Sandia for the first time to support a cargo airplane scenario, and an inaugural Albuquerque Transit Department scenario incorporated a city bus.
Representatives from the Waste Isolation Pilot Plant in Carlsbad also joined the Robot Rodeo this year and set up two scenarios in a Sandia warehouse. In one of the challenges, teams used a virtual training system to detect simulated radiation sources.
Original challenges involving mannequins representing terrorists and a tunnel with simulated traps took place at Sandia's National Solar Thermal Test Facility, with help from Kirtland Air Force Base.
Jake said other organizations that pitched in include the Army, which donated a two-armed robot. The U.S. Department of Commerce's National Institute of Standards and Technology made a return to the event and set up obstacles in a hangar where robots maneuvered up and down stairs, around tight corners and through dark spaces.
The multi-organization effort pays off every year, Jake said. He called this year, "Lucky 13."
"The Robot Rodeo gives agencies and bomb squads a chance to work together in no-harm, no-foul scenarios," Jake said. "There's great synergy here."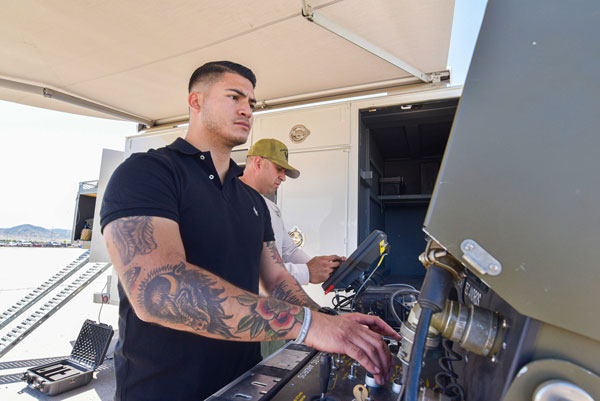 Robot Rodeo and Capability Exercise:
Kirtland Air Force Base Explosive Ordnance Disposal Team
21st U.S. Army EOD group, Kirtland Air Force Base
Albuquerque Police Dept.
Doña Ana County Sheriff's Office
New Mexico State Police
Two Navy EOD Teams, Virginia
Holloman Air Force Base EOD
Dallas/Fort Worth Airport Police
Fort Worth Police Dept. and Fire Dept.
Plano Police Dept., Texas
Riverside County Sheriff's Office, California
March Air Reserve Base, California