Sandia employee reaches 8-gallon blood donation milestone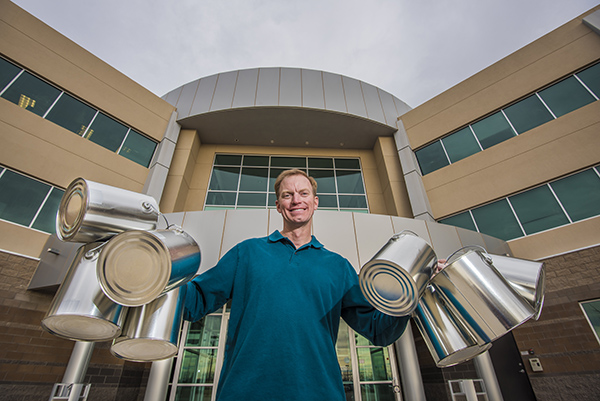 When Frank Jennings was 16 he had to have his mom sign a permission slip — not to go on a class field trip to Six Flags Over Texas or join the Civil Air Patrol, but to donate blood.
Today, some 30 years later, Frank has just earned his 8-gallon pin from United Blood Services, the nonprofit community blood center that provides blood and blood products for local area hospitals. According to Michele Moore Wright, senior donor recruitment representative with the Albuquerque United Blood Services, one unit of blood — that's one pint — can save three lives. That means that Frank, through his donations over the years, has been directly responsible for saving as many as 192 lives. And Frank is just one of many Sandians who roll up their sleeves to donate blood each year.
"Sandia National Laboratories provides more life-saving blood to our community than any other organization in our state," Wright says. Last year, she adds, Sandians donated 1,167 units of blood, "potentially saving more than 3,500 lives." The 2016 figure, she adds, represents a 10 percent increase over 2015.
Frank says his initial motivation to donate blood was that "it is a really easy way to help others and save lives; people need blood and currently there's only one way to get it."
Says Wright, "Our partnership with Sandia ensures that blood is available daily for the patients in need of a blood transfusion, including cancer patients receiving chemotherapy — as much as 8 units a week — heart surgery patients, automobile accident victims, complicated childbirths, and premature babies."
Frank says he didn't set out to break any records. "I don't remember having an initial vision of a lifetime of donating blood, but once I realized that it was pretty quick and painless, there wasn't any reason not to continue."
Frank understands that some potential donors are a bit wary of giving that first pint. To them, he says, "I'd say just try it. It's really not that bad or scary, and if you hate needles, you can always look away. The folks at United Blood Services and the Red Cross are super friendly and willing to go the extra mile to help allay any fears."
Frank says he doesn't have any particular long-term goal but says he intends to keep giving blood regularly as long as he can. "While it's nice to know how much I've donated, it's really about helping others."
Noting that UBS bloodmobiles are on site at Sandia every week, Wright challenges Labs employees to donate blood and make 2017 the best donor year ever.
"We can always count on you," she says.
Check out the UBS bloodmobile schedule for Sandia at https://goo.gl/TIQJpd. Search by city and scroll through the listings for locations, times, and dates.