An entrepreneur steers his young company
Note: Entrepreneurial life holds both attractions and unknowns for Sandians considering that path. In an effort to shed more light on the realities of starting a high-tech business, the Lab News is following the efforts of the fledgling company mPower to grow its own wings. On Oct. 2, 2015, our first installment was titled "Why attempt the entrepreneurial life?" What follows here is Chapter 6. You can read previous installments in this ongoing saga from December 11, 2015 and April 1, 2016.
* * *
Sitting innocently in a local restaurant with two members of his startup company mPower (a cool way to write "empower," but it means what it says), former Sandian Murat Okandan lets his two associates Pete Atherton and Yun Li do the talking in describing why they chose to work for shares in his solar company rather than requiring cash for their services.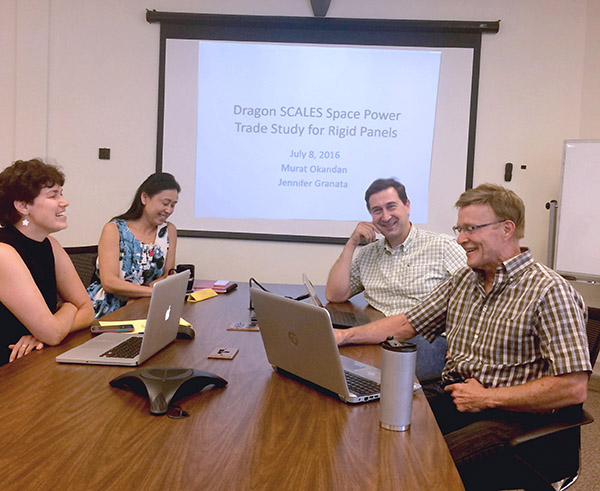 Pete, former senior manager of Industry Partnerships at Sandia, buys cookies for the group at the table and explains his reasoning for spending time with a company trying to sell very thin, flexible photovoltaic material: "I'm retired, I get to do what I want, it's fun, and I believe in it."
Murat nudges, "And there is potential to make an impact."
Pete responds, "Something really good for society!" Pete, who has worked on two successful tech startups, also worked on a solar project some 30 years ago and remembers it fondly.
Technology commercialization consultant Yun Li has a doctorate in material science from Arizona State University and worked in Fortune 500 companies for a number of years before starting her own business in leadership coaching and business consulting. She says, "The incentive is the potential to bring a venture to market. It's exciting. That's why we entrepreneurs invest time and energy into it."
A good match for the company
Her background in semiconductors and business are a good match for the company, says Murat.
It is obvious the team has shared Murat's vision about the moral and economic advantages of solar, and the benefits in particular of mPower's technology.
But now it's more than a vision.
Currently, mPower has a purchase order "for delivery and joint evaluation of a first set of photovoltaic samples with colleagues at NASA, with the possibility of further engagement," Murat says. His interactions with the US space agency started early when samples from his Sandia group were sent up to the international space station and were returned to Earth for post-flight evaluation. Murat has talked with NASA engineers and expects the agency eventually to request variations in his product's shape, size, and thickness. He sees that as an avenue for future commercialization. "We've had similar conversations with other companies," he says.
The light weight and small volume of the tiny solar cells make them ideal for packaging on a space ship, to spread out over a much larger volume of outer space to snag sunlight.
Chasing it down
And there's more. After spending time at a commercialization event showcasing Labs technologies, Murat spoke with the president of Aquila, Judy Beckes-Talcott, about using the tiny photovoltaic cells as a component in a new class of radiation sensors. After all, it's radiation in the form of sunlight that activates the cells. Why not adapt it for this application?
"If Murat sees a potential application," says Yun Li, "he will chase it down."
Additional business tasks for the group include the finalization of licensing terms with Sandia, as well as delivery of early products to potential customers and further interactions with potential partners.
"We're moving ahead with licensing with Sandia," Murat says. 'We're working toward an arrangement that provides the necessary flexibility for a startup with constrained capital — that would be us — to proceed in a challenging environment, conditions especially true in the renewable energy field. We need to find the right partners to generate commercial value and Sandia has been very good in allowing that to happen by providing intellectual property protection through a license option during this time."
Continued traction with customers, partners, and deliveries is critical to further business development, says Yun Li.