Introducing STEM students to careers in national service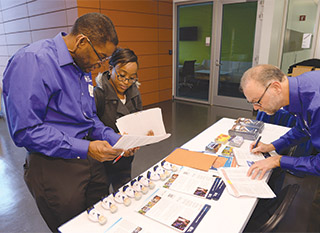 On Feb. 4, Sandia led the coordination of National Labs Day, a career fair featuring 15 national labs, DOE, and NNSA. Held at Howard University in Washington, D.C., the event was designed to introduce science, technology, engineering, and math (STEM) students to the unique career opportunities available at the national laboratories.
The day's events included panel discussions with representatives from the national labs and DOE, and a showcase of research being conducted at Howard. Students from Howard and neighboring minority-serving institutions (MSIs) were invited, and more than 200 took part.
"National Labs Day is among the first coordinated steps toward strengthening relationships between the nation's DOE labs and historically black colleges and universities to foster talent development and acquisition," says Melonie Parker, VP of Human Resources and Communications Div. 3000.
"This event provided an opportunity for the national labs to showcase the unique capabilities and the importance of complex-wide mission programs and deliverables. It also helps us attract and hire the most qualified applicants in STEM fields. Like other technical companies, the nation's labs are at a pivotal point in addressing growing attrition rates in critical skill areas while ensuring diversity in our workforce, and we are working to extend access and visibility into the work of the national labs to those who may not have it."
Howard was a natural fit for event
Howard was selected as the site for the first National Labs Day because of its central location, and also because in 2015 it received a grant, along with 12 other MSIs, from the DOE Office of Economic Impact and Diversity to help strengthen the pipeline of students from MSIs to careers in the national laboratories. Howard is also ranked among the nation's top 150 universities, and second among historically black universities and colleges, which made it a natural fit for this event, says Annie Hanawalt (3555-2), a Sandia employment, staffing, and recruiting specialist.
Steve Rottler, deputy Laboratories director and Executive VP for National Security, attended National Laboratories Day. After the research showcase, he said, "The research going on here is first-rate and very well aligned with the capabilities of Sandia and our mission area needs. I'm impressed by the emphasis at Howard on service, leadership, and excellence."
Plans are already underway to expand National Labs Day to other laboratories and universities.
Kim Sawyer, deputy Laboratories director and executive VP for Mission Support, said, "This is a major breakthrough in terms of having DOE and the laboratories at a joint event. Today I've seen tremendous enthusiasm from the students, but also from the representatives of the labs and DOE. The students I've encountered were bright and thoughtful, and it's clear to me this is an untapped resource."