Miquelita Carrion recognized as a Woman of Influence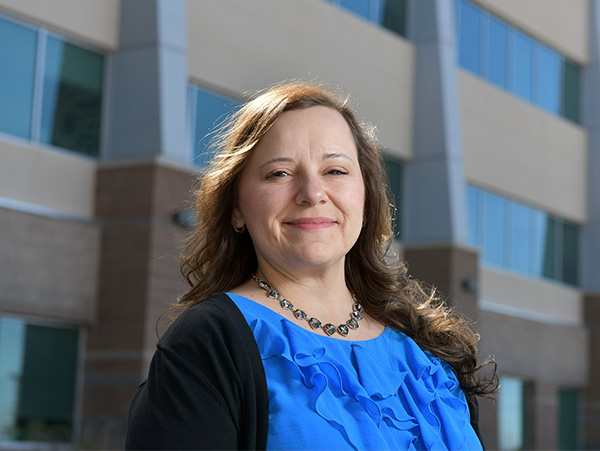 Miquelita Carrion (753) is passionate about giving back and being a catalyst for change both at Sandia and in the community.
"I thrive with the challenge to understand where an organization or project has been and where it is trying to go," Miquelita says. "I look at the challenges, the risks, and the goals — it's storytelling with data."
Miquelita was named a 2017 Woman of Influence by Albuquerque Business First. She was one of 21 women to be recognized out of a pool of 250 nominees based on professional achievement, leadership, and community involvement. She was honored at an awards luncheon at the Women's Summit on April 3 and featured in a special section of the paper on April 7.
"I'm humbled and really honored to receive this recognition, especially when you look at the other women selected — there are executives, women holding public office, and then there's me," Miquelita says. "I give back and mentor not for recognition at all, because that's where my heart is, and that's what I enjoy."
Creative leadership
Miquelita has worked in business, project management, and quality assurance roles at Sandia for 27 years, saying she has "grown up here." She is widely recognized as a natural leader and specializes in working on challenging projects.
"Her caring leadership style compels the entire team to follow her direction into successful results."
"Miquelita demonstrates leadership, mentorship, and organization, so much so that I appointed her as the lead of my top program within the first few months of her coming to work for me," Ann Marie Ryder, manager of Quality Assurance Monitoring and Partnerships Dept. 753, says. "Her caring leadership style compels the entire team to follow her direction into successful results."
One example of Miquelita's leadership in action is a re-planning activity that she led during her role as a project manager for the nuclear weapons stockpile program. She needed to redevelop the workflow but had minimal time and access to the engineers in the program. She needed their buy-in with the new processes, so she took a creative approach and started scheduling walks, lunches, coffee and donuts, and other activities to learn more about each of the roles and processes in the program while developing relationships with the team.
"Little by little, I pieced together a process flow on the wall, and that was my way of letting everyone be part of it and see what I was doing," Miquelita says. "This process really engaged the team and provided transparency to all. In the end we had a successful re-plan in a very short period of time and successfully passed an integrated baseline review with the customer. Challenges like that are what I thrive on — it's motivating to me."
'Never stop paying it back'
Miquelita also is known for being creative in her community outreach efforts. She recently met with a group of at-risk children to explain her job as a quality assurance professional. To make quality assurance relatable, she partnered with McDonalds to use their "spec" cards for a cheeseburger. She gave each child a cheeseburger and a "spec" card and asked them to look for deviations from the standard, like an extra pickle. Miquelita says she is passionate about working with youth because she owes her career at Sandia to the inspiration and encouragement she received in high school when someone from Sandia came to talk to her Business Professionals of America club about internships at Sandia, and to the many mentors she has had throughout her career.
Miquelita is constantly looking for ways to inspire and support youth in the community and "never stop paying it back." She volunteers with Sandia's MANOS program and was the program coordinator for more than 16 years. She also serves as a United Way Ambassador, is a member of the United Way's Hispano Philanthropic Society and the Women in Philanthropy group, is a member Sandia's Hispanic Leadership Outreach Committee, volunteers for Habitat for Humanity, has served as a high school mentor for Big Brothers Big Sisters Mentor 2.0 program, and has been a Project Linus "blanketeer."
"Words like humble leader, effective communicator, and successful collaborator accurately describe Miquelita," Ann Marie says. "However, she is also so much more. While Miquelita has clearly demonstrated huge success at work, she is infectiously passionate about giving back to individuals and her community."
Problem solver
Miquelita served as Sandia's 2016 loaned executive for United Way and had the opportunity to visit a variety of community agencies and learn about their needs. Many times she felt called to help in whatever way she could. She says it started after she had visited an agency that needed towels.
"I told my husband, we don't need all these towels — let's donate some of them."
"I told my husband, we don't need all these towels — let's donate some of them," Miquelita says. "The next day it was clothes for a men's shelter to help them transition back into the workforce, and then it was bicycles to help them get around. I kept donating all these things we had at home to different agencies, and my husband told me he had dreamed there was nothing left. He told me, 'You're always trying to help solve all the problems in the world, but you can't solve everything.' I told him, 'I can try.'"
Miquelita stays organized by keeping a lot of lists, keeping her calendar full, and incorporating giving back into everything she does, including office parties and personal hobbies. If her team is having a holiday party, she'll suggest they do a project to give back instead of exchanging gifts. She's also developed a way to pair her crafting hobby with community service.
"I've always had a passion for crafting and party planning," Miquelita says. "So now I coordinate weekend crafting events for about 30 attendees five times a year. With each event, I select a non-profit agency or two and have them come in to speak with the group and the group pulls together to give back to our community."
While enjoying fellowship through crafting, her group has completed a number of community service projects, including donating crafting supplies to UNM Arts and Medicine to support its mission of healing through creating, holding book drives, collecting and bagging toiletries for the women and children at Barrett House, writing letters to soldiers for Veterans Day, and collecting items for Safe House. Miquelita says giving back is part of who she is — she was inspired by seeing her family always pull together to support each other while she was growing up.
"Going forward, I want to continue my passion of giving back, continue to influence others, and continue to build my network," Miquelita says. "For many years I was told I'm a 'change agent' in my performance reviews. When I started receiving more challenging assignments, I understood. To me, being a change agent is really about the ability to influence others. Whether you are trying to change direction or a process, I think it goes back to thinking outside the box while having everyone being part of the process instead of having just one person making the decision. And it's also about paying it back — I always ask people: 'Who helped you get where you are, who motivated you, and how are you paying it back?'"