Computer Scientist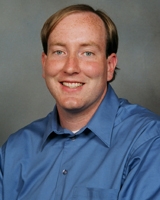 Computer Scientist
(505) 284-3391
Sandia National Laboratories, New Mexico
P.O. Box 5800
Albuquerque, NM 87185-CSRI/124

I am a technical staff member in the Scalable Algorithms department at the Computing Research Center at Sandia National Laboratories in Albuquerque, New Mexico, USA.
Education
General Research Interests
Parallel Computing
Very Large Graph Analytics
Scientific Computing
Combinatorial Algorithms
Recent or Upcoming
miniTri software released. miniTri data analytics miniapp now available through Mantevo Github site: miniTri
Paper: "Kokkos/Qthreads Task-Parallel Approach to Linear Algebra Based Graph Analytics," IEEE HPEC 2016, Waltham, MA, September 2016.
Paper: "Advantages to Modeling Relational Data using Hyper- graphs versus Graphs," IEEE HPEC 2016, Waltham, MA, September 2016.
Presentation: "Task Parallel Approach to the Linear Algebra-Based Implementation of miniTri," SIAM Annual Meeting (AN16), Boston, MA, July 11-15, 2016.
Presentation: "Hypergraph Exploitation for Data Sciences," Graph Exploitation Symposium, Dedham, MA, May 18-19, 2016.
Related Links