International visitors learn about Sandia's nuclear weapons, nonproliferation work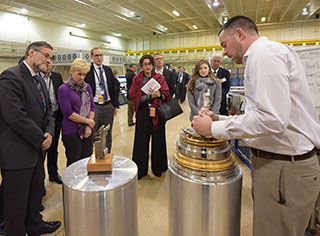 International visitors participating in the second Nuclear Nonproliferation Treaty Transparency Visit were concerned about whether Sandia's life extension programs are modernizing the military capabilities of US nuclear weapons.
A goal of the Oct. 27 visit to Sandia was to correct this kind of misperception through briefings and visits to technical facilities used to support the stockpile stewardship and nuclear nonproliferation programs.
"These life extension programs are not providing any new military capabilities," NNSA Principal Deputy Administrator Madelyn Creedon told the visitors. "They are replacing all the other parts and pieces of the warhead that just simply don't last."
The US stockpile is older than ever, with the current average weapon's age being greater than 27 years, Creedon said. Making nuclear weapons more reliable by replacing worn- out parts means that the nation can retain confidence in the deterrent while reducing the total number of warheads, she added.
In the US, the number of nuclear warheads peaked during the Cold War at 31,255, but at the end of 2014, the US had 4,717 warheads in the stockpile and about 2,500 retired warheads awaiting dismantlement, Creedon said.
"We're not designing any new systems — new warheads, new nuclear bombs — with new military capabilities. What we are doing is just taking these old systems, replacing their parts, and making sure that they can survive another period of time. For the most part, that's 20 years," she said.
Sandia President and Labs Director Jill Hruby; Gary Sanders, VP of Weapons Engineering & Product Realization Div. 2000; and Rodney Wilson, director of Global Security & Cooperation Center 6800, also addressed the visitors in the morning session.
The guests, who included diplomats from Austria, Finland, Jordan, Nigeria, Poland, Singapore, and Sweden, and a NATO representative, visited Los Alamos National Laboratory on the first day of their trip to New Mexico.
In addition to senior representation from NNSA, the US Department of State was represented by Ambassador Adam Scheinman, special representative of the president for nuclear nonproliferation in the Bureau of International Security and Nonproliferation, and Anita Friedt, principal deputy assistant secretary for nuclear and strategic policy in the Bureau of Arms Control, Verification, and Compliance.
Visitors learn about LEP work at the Labs
Gary discussed Sandia's current life extension programs (LEPs) for the W76-1 and the B61.
Gary and Creedon explained that as the weapons age, the non-nuclear parts are wearing out, including the wires, plastics, and other materials, vacuum tube radars, batteries, spin rockets, and parachutes.
The Labs historically tests 11 of each type of weapon per year, Gary said, by taking the physics package out and running flight and lab tests to determine whether the non-nuclear parts work properly.
Replacing aging batteries is one task of the LEPs, Gary explained. "What we are making sure of is that the modern one has the same capability that the old one did. Now, we can make the battery last 30 years, versus 20 years, but it doesn't do anything to the ability to hit a new target set. It doesn't change the yield. There are no new targets at risk. There are not new flight parameters. Nothing else is happening," he said. "It doesn't change the deterrence. The part of the weapons being modernized are the safety features."
During their visit to Sandia, the group toured facilities involved in testing nuclear weapons through science-based stockpile stewardship, such as the Thermal Test Complex (TTC) and the Z pulsed-power machine. They also visited the Training and Technology Demonstration Area to learn about the Labs' nonproliferation, arms control, nuclear security, and international work.
Sandia modernizing facilities, workforce during LEPs
If any modernization is happening, it's in Labs' facilities and workforce, Gary said.
Earlier in his career, he said, testing non-nuclear parts of weapons for their safety in accidental fires took place outside in a jet fuel pool. Today, the TTC provides an environmentally safe way to test nuclear weapons parts in an enclosed chamber that can recreate any possible combination of accident scenarios to make sure a weapon is safe, Gary said.
"The bombs are designed to use insensitive high explosives. You can throw one into a fire and it just melts," he said. "You can crash it. You can shoot bullets into it, and it doesn't react."
Nuclear weapons have used environmental sensing switches to sense the intended conditions of an intended launch and deceleration of the missile. In addition to these conditions, Sandia added other elements to the W76-1 extension design to make a weapon even safer, he said.
"We're adding in safety features every time we have the chance to," he said.
And, the size of the nuclear weapons enterprise is shrinking to match the smaller stockpile. Three decades ago, there were approximately 30 facilities across the country in the complex, compared with eight sites plus NNSA headquarters today, Gary said.
The workforce, too, is changing. Thirty to 40 percent of Sandia's workforce is retirement-eligible, Gary said. So it's important to bring in a new generation of employees who can learn from those nearing the ends of their careers or those who have retired but continue to pass along their knowledge.
Creedon also wanted the visitors to understand that expertise in Sandia's weapons programs flows into the Labs' work to prevent, counter, and respond to nuclear dangers worldwide.
"The technology, the science, and the people worrying about our weapons programs have been able to make our nonproliferation programs even stronger, so that we understand what other people are doing, what are they looking for, what are they designing, what are they buying, and what are they doing in respect to materials production," she said. "It's allowed us to be very strong leaders on the nonproliferation side."