Named Distinguished Alumnus of the Year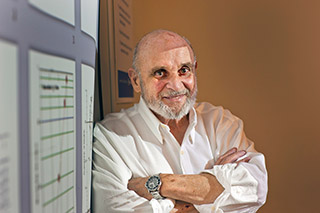 Renowned Sandia explosives expert Paul Cooper was named Distinguished Alumnus of the Year by the New York University Polytechnic School of Engineering. "My head is swimming," says Paul, a retiree who continues to consult for the Labs. "I didn't know there was such a thing. It was a real surprise and a big honor."
Paul received the award from the president of the school's Alumni Association at a luncheon last month on the NYU campus in New York City's Washington Square. Five of Paul's 1958 classmates attended the ceremony, which recognized his career achievements. "It was fantastic," Paul says. "We had all stayed in touch. One of them came from Switzerland."
Paul is a Brooklyn, New York, native and chemical engineering graduate of Brooklyn Polytechnic Institute, which operated as NYU Polytechnic from 2008 to 2014. It then merged with NYU to become the NYU Polytechnic School of Engineering.
Paul joined Sandia in 1964 after working in explosives at the Illinois Institute of Technology's Armor Research Foundation. He worked in explosive components at Sandia until 1977 when he was recruited by the Underground Nuclear Testing arming and firing group, where he stayed until he retired in January 1997. His work focused on the design of explosive systems.
Paul built a global reputation. In 1979, he joined the national Nuclear Emergency Search Team, NEST. "If the FBI or somebody got a lead there was a clandestine or homemade atom bomb somewhere, NEST had to locate and disarm it," says Paul, a NEST member until the mid-1990s when its work transitioned to the military.
Paul was involved in the investigations of the 1989 USS Iowa gun turret explosion that killed 47 crewmen; the 1992 Branch Davidian compound siege and fire in Waco, Texas, that killed 75 people; the 1995 bombing of the federal building in downtown Oklahoma City that killed 168; and the 1996 explosion of TWA Flight 800 over Long Island, New York, that killed all 230 people on board.
IAEA inspection team
In October 1991, following Operation Desert Storm, Paul was named to a United Nations/International Atomic Energy Agency inspection team sent to Iraq to look for evidence of weapons of mass destruction. He did other accident and criminal investigative work for outside agencies, particularly the FBI.
And Paul taught explosives safety and technology to about 1,000 people at Sandia over 35 years. He taught hundreds more at private and government facilities nationwide, including the US Army's Aberdeen Proving Ground in Maryland and Schlumberger in Houston, Texas, the world's largest oilfield services provider. Paul taught his final class at Sandia on May 24, 2012.
He describes his career with humility. "Along the way, wonderful things happened," he says. "I was just in the right place at the right time."