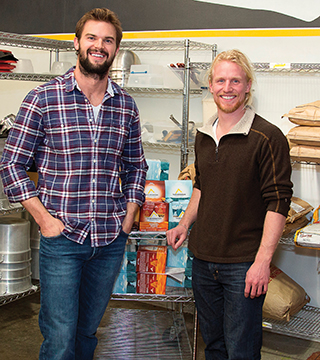 Ski bums need fuel to schuss down mountains day in and day out. Their go-to snack is an energy bar, a backpack staple. "We need something that is quick, healthy, sustaining, and cheap," says Kyle Hawari of Taos.
But taste matters, too. "We humans crave something that is enjoyable to eat," Hawari says. "Simply put, we wanted something healthy that delivered in the taste department."
Hawari says the bars he tried were chalky and dry, and some had fillers and preservatives. Others were just plain bad. "There were many choices when it came to bars but none lived up to the fancy packaging or the hyped-up story on the back," he says. "We saw the same tired flavors, bad textures, and poor ingredients over and over again."
Hawari and his longtime friend and fellow outdoorsman Brooks Thostenson thought they could do better and in 2010 set out to craft a line of artisan energy bars using premium, organic ingredients. "There's a legend in Taos that if the mountain calls you there to make art, you have little choice but to surrender," he says. "Well, we heard it calling."
Hawari and Thostenson founded Taos Mountain Energy Foods LLC using the community kitchen at the Taos Food Center. Their first sales were in New Mexico but distribution quickly expanded throughout the United States. Hawari and Thostenson were overwhelmed.
They turned to the New Mexico Small Business Assistance (NMSBA) program for help streamlining production and were paired with the New Mexico Manufacturing Extension Partnership, which contracts with NMSBA. It helped the company reduce cooking times, automate manual processes, and improve how products flowed from customer order to receipt and fulfillment.
Taos Mountain Energy Foods cut costs by $120,000 and, along with a Los Alamos Venture Acceleration Fund award, expanded to a 10,000-square-foot manufacturing center in Questa. The company employs 17 people.
"NMSBA helped me tap into high-level resources and expertise," Hawari says. "Our company has grown into a national outdoor lifestyle brand. I couldn't be happier with how it all panned out."
Millions of dollars' worth of expertise
Taos Mountain Energy Foods was among 352 small businesses in 31 counties that participated during 2014 in NMSBA, a public-private partnership among Sandia, Los Alamos National Laboratory, and the state of New Mexico that connects small business owners with scientists and engineers who provide technical assistance. The program also contracts with the New Mexico Manufacturing Extension Partnership, University of New Mexico Management of Technology program at the Anderson School of Management, Arrowhead Center at New Mexico State University, and the New Mexico Tech Department of Management. NMSBA provided $4.7 million worth of assistance to New Mexico small businesses last year.
Ten projects that achieved outstanding innovations through the program in 2014 were honored in a series of six events held statewide through August 18. Taos Mountain Energy Foods received the Honorable Speaker Ben Luján Award for Small Business Excellence as the honoree that demonstrated the most economic impact. The award was presented by the late New Mexico House speaker's son, US Rep. Ben Ray Luján.
"NMSBA is a partnership that generates jobs and economic wealth in our state. It has created and retained more than 4,000 jobs," says Jackie Kerby Moore, manager of Technology and Economic Development Dept. 7933. "We are grateful to the principal investigators who work with New Mexico's small businesses. Together they are implementing innovative ideas and stimulating our state's economy. It is a powerful tool."
On the road
The six NMSBA events brought together small businesses, local economic development representatives, elected officials, and community leaders. Panel discussions with past NMSBA participants let company owners share their experiences and encourage others to join. And laboratory project managers were on hand to answer questions.
"Instead of a single awards ceremony, we decided to do it differently this year and take the event on the road," Jackie says. "We wanted to celebrate with the businesses in their back yards with their community leaders. It was more personal."
The first gathering was May 6 at the Taos County Economic Development Corp. Taos Mountain Energy Foods was recognized as a 2014 NMSBA success story with Mayor Dan Barrone, State Sen. Carlos Cisneros, and State Rep. Bobby Gonzales on hand.
The next stop was May 27 at the Arrowhead Center at NMSU. Fundamentalist Flowerchild Productions, a Mimbres Valley film animation company, was named a success story. Las Cruces Mayor Pro Tem Greg Smith and State Rep. Doreen Gallegos attended.
On July 22, KemKey LLC, which makes transfer fittings for the chemical industry, was recognized as a success story at an event at Katrina's East Mountain Grill in Edgewood attended by State Sen. Sue Wilson Beffort and State Rep. Matthew McQueen. The company worked with Sandia's Juan Romero (1832) on three-dimensional modeling to develop prototypes and designs.
A gathering Aug. 5 in Santa Fe honored three companies that participated together in what is known as an NMSBA leveraged project: Earth System Sciences LLC, Geo-Risk, and Terramar Inc., which are developing a software tool to evaluate geothermal resources. The lighting company iBeam Materials Inc. and Pharma Connect Express, which created software linking pharmaceutical reps and physicians, also were named success stories.
'The state should be proud'
On Aug. 12, Sisneros Brothers Manufacturing LLC, which makes prefabricated ductwork, was honored in Belen. Mayor Jerah Cordova, State Sen. Michael Sanchez, and State Rep. Don Tripp were on hand. Sisneros Brothers worked with Sandia PIs John Robert Laing (1851) and Thomas Bosiljevac (1558) on tensile and lateral testing.
"NMSBA is a major benefit offered by the national laboratories," Tripp, the House Speaker, said. "Scientists provide a level of expertise most small businesses cannot afford. The state really gets its money's worth."
Sanchez, the Senate Majority Leader, said the program not only helps small businesses but the communities where they are based. "These businesses thrive and support the area with jobs and other economic stimulus," he said. "This is one of the most successful programs New Mexico has ever started. The state should be proud."
Three NMSBA participants were honored at the final event Aug. 18 in Albuquerque, which was attended by State Rep. Gail Chasey: Facility Facts, which makes emergency-response software; IC Tech Inc., which developed automated water-flow monitoring systems and worked with Sandians Don Small (5348) and Michael Holzrichter (5335); and the leveraged program group TriLumina Corp., Dynamic Photonics Inc., 3D Glass Solutions, Theta Plate Inc., and Ideium Inc., which produce laser arrays. They worked with Sandia PI Robert Brocato (1751) on a laser-array submount assembly.
"There's a great synergy to NMSBA," State Sen. Gerard Ortiz y Pino said at the Albuquerque event. "The resources of a place like Sandia are applied to real-world problems. How will we break the cycle of poverty in New Mexico? We need everything we can get. NMSBA is an example of how government can provide a tremendous shot in the arm for entrepreneurs in the private sector."
NMSBA was created in 2000 by the state legislature to bring national laboratory technology and expertise to small businesses in New Mexico, promoting economic development with an emphasis on rural areas. The program has provided more than 2,300 small businesses in all 33 New Mexico counties with $43.7 million worth of research hours and materials. It has helped create and retain 4,086 New Mexico jobs at an average salary of $38,488, increase small companies' revenues by $200 million, and decrease their operating costs by $85 million. These companies have invested $68.3 million in other New Mexico goods and services and received $77.1 million in new funding and financing.
For further information about NMSBA, call Genaro Montoya at (505) 284-0625 or visit www.NMSBAprogram.org.