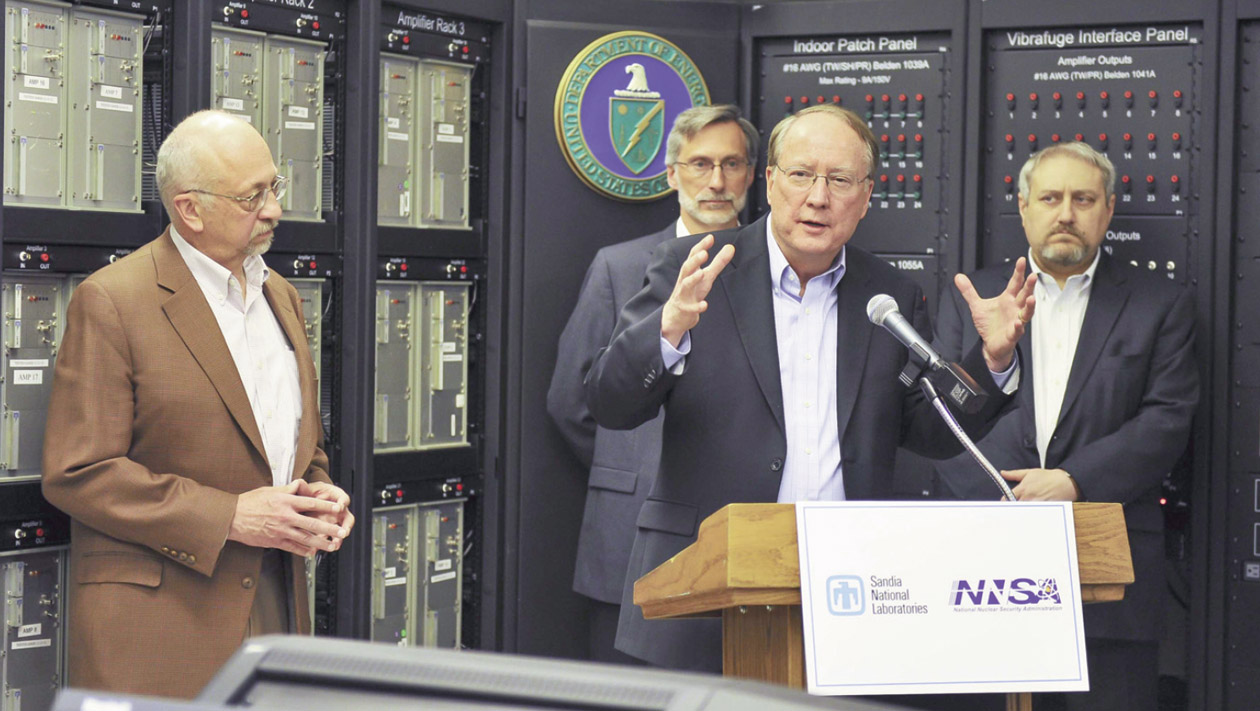 Newly appointed NNSA Administrator Frank Klotz said his visit to Sandia and meetings with the directors of the three NNSA laboratories is strengthening their partnership to ensure that those who work at NNSA laboratories and plants have what they need to do their jobs.
Klotz, who was sworn in April 17, arrived in Albuquerque on May 7 for a day and a half of meetings with NNSA staff, Sandia executives, and the three directors, Sandia President and Laboratories Director Paul Hommert, Los Alamos National Laboratory Director Charles McMillan, and Lawrence Livermore National Laboratory Director William Goldstein. The NNSA Administrator toured the NNSA complex in Albuquerque, held an all-hands meeting with NNSA staff May 7, and had briefings with Sandia officials. He held an all-day meeting with the directors to discuss the NNSA mission, its successes, and its challenges. The group also toured Sandia's Superfuge Facility, part of a multiyear Test Capabilities Revitalization program.
The Sandia upgrades, important to handle testing in both normal and abnormal environments in a range of facilities, cost about $100 million, Paul told a news conference at the Superfuge, one of four refurbished facilities reporters saw on a tour May 8.
The weapons components testing that takes place at those facilities is critical to ensuring the nation's nuclear arsenal remains safe, secure, and effective, Klotz told reporters. He also said he was enormously proud that Sandia completed the revitalization program $4 million under budget.
"We've made promises we have to keep — promises to sustain the nuclear weapons stockpile, promises to conduct leading-edge scientific research, promises to help prevent nuclear material from falling into the hands of terrorists, promises to support the Navy nuclear reactor program, promises to repair and modernize our aging facilities, and promises, perhaps most important of all, to protect the safety and security of our sites, our employees, and the public," he said.
And, he said, all that must be done in the face of tight federal budgets.
Many test facilities at the NNSA complex were built decades ago, some as far back as the Manhattan Project of World War II, Klotz said.
"Facilities age, equipment becomes obsolete, better technology is available to do some of the things we do," he said. "For this reason, NNSA is revitalizing existing facilities not only at Sandia, but at the other national laboratories and plants across the entire complex."