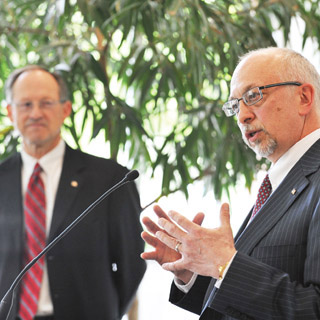 With President and Labs Director Tom Hunter's retirement comes the end of a career that started with underground nuclear testing at the Nevada Test Site and eventually saw a more diversified national security mission at Sandia that includes much more than nuclear weapons work.
Tom announced his retirement May 13 after five years of leading Sandia and welcomed his successor, Paul Hommert, who currently leads Sandia's nuclear weapons program. Tom said he will step down July 9.
SANDIA'S NEW LEADER — Paul Hommert, right, answers questions from the media during a news conference on May 13 announcing Tom Hunter's retirement as Sandia president and Labs director and Paul Hommert's appointment to the position. Tom, at left, said the past five years mark an era of the Labs' history that employees "can be extremely proud of." (Photo by Randy Montoya)
Paul Hommert was tapped as Labs director by the Sandia Corp. board of directors after an extensive succession planning process, said Sandia Corp. board of directors chair Marillyn Hewson in a memorandum announcing the transition.
"It has truly been a rewarding time for me and one that I think will be an era for our employees to be extremely proud of," Tom said of his tenure.
Tom didn't forget those he worked with along the way during the announcement.
"I'd like to thank all the employees for their proud contributions here at the laboratory," he said. "If I look at the laboratory management team, none at any place are more capable, none are more committed, and, while we'll continue to become a better and improved place, I'm intensely proud of what the employees at this laboratory have done. I anticipate those contributions will continue and get even better under Paul's leadership."
Diversification and stability
Tom said the biggest change during his 43-year career was the diversification of Sandia's mission. The mission expanded from mainly nuclear weapons work to a diversity of missions focusing on developing technological solutions and systems for a broad range of national security challenges.
Paul said his greatest challenge as director would be "to bring stability in a long-term sense to this now very diversified institution. There are increasing demands on us that will be necessary to support the nuclear deterrent going forward, but again because of the diversity of our security partners, we have to bring a long-term focus and stability that constitutes a maturity of this now diversified laboratory."
In her May 13 memo, Hewson said of Paul: "He has an exceptional record of leadership and achievement over a 34-year career, and is uniquely qualified to lead the Labs into the future."
Hewson also thanked Tom for his service, noting that he "has led the Labs with distinction and with exceptional dedication to our nation and its security. His career has been marked by an overriding commitment to national service."
Paul, who began working at Sandia in 1976, served as vice president of Sandia's California site and led Sandia's homeland security and defense strategic management unit. He has extensive nuclear weapons and national security experience, including homeland security and energy research.
Paul also led Los Alamos National Laboratory's Applied Physics Division, known as "X" division, from 2003 to 2006. And, he worked for three years as director of research and applied science at the United Kingdom's Atomic Weapons Establishment.
Paul said the nuclear weapons program remains at the core of Sandia's mission to ensure the stockpile is safe, secure, and reliable and can fully support the nation's deterrence policy.
"But Sandia has a significant additional role as a multimission national security laboratory to develop solutions for a wide range of national security challenges and we will also remain committed to those strategic customers," he said.
A high bar
Paul said the Labs will miss Tom's leadership, depth of understanding, experience, and the overall excellence he brought to a wide range of national security issues.
"He has set a high bar when it comes to the things that make his legacy important to Sandia: our workforce, our values, good corporate citizenship, especially in our local communities, and our enduring strategic partnerships. I look forward to building on that legacy," Paul said. "Tom, thanks for everything that you've done for the laboratory and national security."
'Broad experience and insight'
NNSA Administrator Thomas D'Agostino called Paul an "excellent choice" to lead Sandia.
"He brings deep knowledge of the nuclear weapons program, as well as broad experience and insight on a range of national security issues," he said.
D'Agostino also had good things to say about Sandia's departing director. "As the director of one of the three crown jewels of the scientific infrastructure that supports our national security, Tom was a tremendous partner to me and a true servant of his country. While I will miss his counsel, Tom is leaving Sandia in good hands and well-positioned to build on its 60 years of service to our country," D'Agostino said.
Tom began his career at Sandia in 1967 as a member of the technical staff working on advanced weapons systems concepts. As a young engineer right out of school, he became a member of the Labs' Field Test group working at the Nevada Test Site and had to figure out how to recover samples from very close to the nuclear devices being tested.
Before becoming president and Labs director, Tom was in charge of nuclear weapons-related work that accounted for about 60 percent of the Labs' budget as senior VP and head of the Nuclear Weapons Strategic Management Unit.
Tom served as VP at Sandia's California site from 1995-1999. Earlier, he served as director of the Energy and Environment Program Center, director of Nuclear Waste Management and Transportation, manager of the Yucca Mountain Project, and leader of the R&D Program for the Waste Isolation Pilot Plant. He was responsible for developing advanced technology for underground nuclear weapons testing, reactor safety programs, and fusion engineering.
Tom said he has no particular plans for his future, but he wants to maintain close ties to the national security community and his colleagues at universities and laboratories.
Recalling his early days working on nuclear testing at Sandia for a 2004 Lab News article, Tom said: "It was a time at Sandia when you were limited only by your imagination. It was a time in which you were able to dream big and think of things thought to be impossible and how one might do them … ."
He certainly did them.