Environmentalists and car enthusiasts have been anxiously awaiting next year's full-scale debut of electric cars that can run up to 40 miles on a single charge. But before those vehicles end up in your driveway, the lithium-ion batteries that power them will have been through some serious abuse — including being crushed, pounded with nails, and heated to boiling hot temperatures — to test the limits of what they can safely handle and provide critical scientific data for developing the next generation of batteries.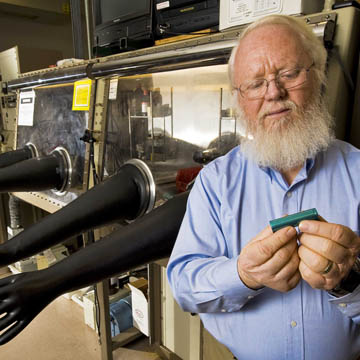 PETE ROTH examines a component undergoing tests at Sandia's Battery Abuse Testing Laboratory. (Photo by Randy Montoya)
Sandia's Battery Abuse Testing Laboratory (BATLab) has been at the forefront of this effort, doing everything imaginable to hybrid and plug-in electric hybrid batteries in the relatively safe confines of a lab to make sure that once they hit the road, they will provide safe and reliable transportation. And now, the BATLab is getting ready to offer more in-depth quantitative analysis as it prepares to beat up even more batteries.
During a Nov. 18 visit to be briefed on Sandia's capabilities and programs, Deputy Secretary of Energy Daniel Poneman announced that Sandia's BATLab will receive $4.2 million in stimulus funds to modify and enhance its existing facility. The funding is part of a $104.7 million American Recovery and Reinvestment Act package awarded to seven DOE national laboratories, to provide important technological insights to further develop the nation's clean energy efforts.
"It's so terribly important that we keep the nation's work moving in this direction," Poneman said. "We as a nation have relied on the national laboratories since the time of World War II, well over half a century, to keep this nation strong, to keep us at the cutting-edge of science, of innovation in the service of the nation, and in the service of the American people. The scientists and engineers who have been working all these years at Sandia are owed a great debt of gratitude by the American people for the tremendous progress they have made in keeping our nation safe."
For years, the nation has relied on Sandia's BATLab to test everything from regular small cells about the size of a laptop computer battery up to modules and packs weighing several hundred pounds for the DOE-funded FreedomCAR hybrid vehicle initiative. And while the BATLab team has been recognized for its ability to perform scientific analysis and a full range of measurements, members face a number of limitations.
"The equipment and facilities that we currently have allow us to do only one test at a time, so our throughput has been somewhat limited," says Pete Roth (2546), lead researcher for Sandia's FreedomCAR program. "The new equipment and upgrades that we will be able to implement will enhance the amount and range of testing and diagnostics that we can do, and we expect to at least be able to double our throughput."
Those upgrades include fire suppression, improved lighting, and advanced electrical systems, as well as new software and analytical equipment to help diagnose battery responses and provide data for manufacturers.
Such improved efficiency will allow Sandia to continue to build on its past success, and offer increasingly valuable contributions to the nation's FreedomCAR effort.
"Pete and his team are already internationally recognized for this work, and this funding will help us to sustain that leadership position into the future as the auto manufacturers start to implement these lithium battery modules and packs into their vehicles," says Tom
Wunsch (2546), manager of Advanced Power Sources R&D Dept. 2546.
"This funding is an answer to a lot of our hopes and aspirations for where this program could go. Even though we've had programmatic support, we've been getting by on a shoestring in terms of facilities and equipment support," Pete says. "I think this is going to take us into a whole new regime of conducting the
science and testing we've always dreamed of doing. It's going to be very beneficial.".