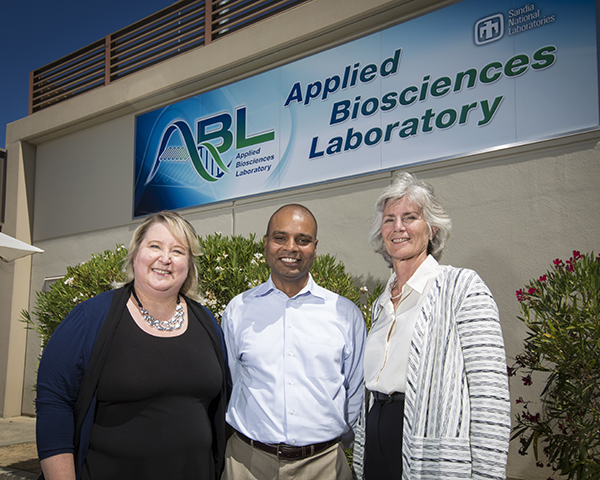 A commitment to national security, enhancing partnerships, and a strong focus on research and development were the primary themes highlighted at a recent 20th anniversary celebration for Sandia's biological sciences program. The event also commemorated the fifth year of Sandia/California's Applied Bioscience Laboratory.
On Tuesday, Aug. 30, Div. 8000 VP Marianne Walck and former Center 8600 director Malin Young, now deputy director for Science and Technology at Pacific Northwest National Laboratory, led the event.
Marianne highlighted the work conducted at Sandia to provide biological solutions to critical challenges in energy and homeland security. She acknowledged the world class researchers and thanked everyone who has been involved in biosciences at Sandia.
"Sandia could not have done all the great things without the technical staff, technologists, postdocs, and student interns who demonstrate the talent, innovation, and determination to forge this exciting research area," Marianne said.
"Biology's special requirements are very different from our nuclear weapons work. I am thankful to our mission support for making this new capability happen at Sandia," she said.
Marianne read remarks by former 8000 VP Mim John, who was unable to attend the event. Mim wrote that Sandia first began bioscience work in the 1992-93 timeframe.
"With the end of the Cold War, our historic missions were certain to decline," Mim wrote. "We had started a small effort in computational biology. At that time, the nation was taking a nuclear holiday with the fall of the Soviet Union, but we had started to see some worrisome events in the chemical and bioweapons world."
During that time Sandia explored how the California site could contribute to chemical and biological weapons defense.
Since then, the biological sciences program has grown to include some 120 researchers located in Livermore and Emeryville, California, and Albuquerque. The work is primarily funded by DOE, DoD, DHS, and NIH. The Laboratory Directed Research and Development program was a major source of funding in the early days of bioscience work at Sandia, and LDRD continues to play a significant role today. Bio funding from DOE's Office of Energy Efficiency and Renewable Energy is at an all-time high. External partnerships include multiple national laboratories and universities. Inventions have led to start-up companies and licensing with many others.
Bioscience work is strongly aligned with Sandia's Energy and Climate and Global Security Program Management Units. Various projects support the Labs' Nuclear Weapons and Defense Systems & Assessments programs.
Young reminisced about joining the bio program in 1999 during the microChemLab era, a Grand Challenge LDRD project that had a distinct focus on biodefense. Bioengineering and bioscience at Sandia soon led to research in medical diagnostics and host-pathogen interactions.
During the mid-2000s, the program expanded into algae, diatom (a group of algae), and genomes-to-life projects. New Mexico brought biomaterials and bioimaging strengths to the program.
Center 8600 Director Anup Singh, who first joined Sandia as a post-doc, said he looks forward to the continued success of Sandia's bio program, including new projects such as Co-OPTIMA (continuation of fuels and engines), agile biofoundry, and the NanoCRISPR Grand Challenge project, which exploits new gene editing capabilities.
"Sandia will soon be in the forefront of gene editing technologies both in constructive applications and in countering the threats enabled by gene editing," he said. "We have ushered in a new era in biological engineering and Sandia will continue to focus on these areas."