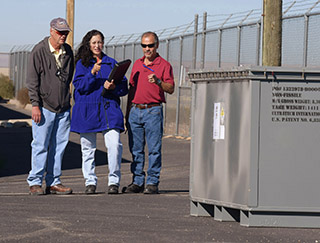 At a seismic array site located 60 miles north of the Arctic Circle, 10 radioisotope thermoelectric generators, or RTGs — once used as a power source by the Air Force Technical Applications Center (AFTAC) — awaited relocation to the Nevada National Security Site (NNSS).
Each of the thermoelectric generators contains from 1 to 3 pounds of a radioactive material called strontium-90. The material is about the size of a hockey puck and is securely contained in a vessel with an inner shield made of tungsten and a cast iron protective housing, weighing approximately 4,000 pounds.
Experts from Sandia's Waste Management and Pollution Prevention Dept. 4144 began working in collaboration with DOE and the US Air Force to dispose of the RTGs in 2001. While the project had been delayed for various reasons, the plan finally came together this July when the thermoelectric generators were transferred from the remote Arctic site to an underground disposal facility at NNSS.
By regulation, radioactive material determined to be excess must be moved to a facility with a mission, capability, and authorization to support long-term storage or recycling of the material. NNSS fits that bill.
Sandia filled the bill
In addition, to facilitate NNSS's waste acceptance criteria, there must be an entity with an approved Waste Certification Program. Sandia fits that bill.
"We provided the path for proper disposal," says Leroy Duran, a Sandia environmental technical professional. Since 1997, Sandia has been shipping radioactive and mixed waste to NNSS, including a similar RTG in 2004. "Because of our proven successes, we were able to give the support the project needed," he adds.
Others at Sandia tapped for their expertise included waste certification official Linda Gonzales, Weston Solutions contractor Howard Seeley for transportation, and manager Jeff Jarry.
Once all the RTGs were recovered from the rugged terrain by Air Force team members and shuttled in Chinook helicopters to Eielson Air Force Base in Fairbanks, a C-17 Globemaster III was dispatched to the base for transport from Alaska to Creech Air Force Base in Nevada. There, the units were loaded onto ground vehicles and transported to NNSS for permanent burial.
Tundra fire raised concerns
"Upon arrival at NNSS, our team ensured 100-percent verification took place for each RTG," Leroy says.
The RTGs had been operated and maintained since 1973 by an AFTAC detachment based at Eielson, and were used because of their high reliability and low maintenance requirements to determine if regional seismic activity was caused by nuclear explosions or naturally occurring events. AFTAC's primary mission is to verify compliance with nuclear test ban treaties. A tundra fire near the Burnt Mountain site in 1992 raised concern among nearby inhabitants about the safety of using radioactive material as a power source at the station.
A proposal made to the Air Force by Patty Wagner, Sandia Site Office Manager in 2005, which led to the joint project. The Air Force, in coordination with multiple agencies and its mission partners, made the decision to remove the RTGs and relocate them to NNSS.
"This was, from start to finish, a 100-percent team effort," says Col. Jonathan VanNoord, on-site commander and AFTAC's director of operations. "To move the largest non-weapons grade nuclear material in the Air Force inventory was an incredibly intricate and complicated mission, requiring detailed planning and precise mission execution."
"It was our department's previous experience dispositioning RTGs that positioned us to be well-suited to help the Air Force with this project," says Jeff. "And, our staff members who were part of this project were keys to its success."