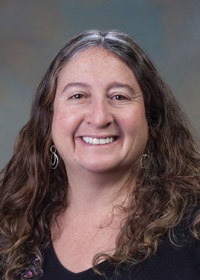 Marlene Brown (2958), who started at Sandia as an intern in 1995 and became a member of the technical staff in 1999 working in photovoltaics, has been selected as one of Albuquerque Business First's 2014 Women of Influence.
Marlene is a recognized leader in the solar power community in New Mexico and around the country. She was named a "Solar Hero" in Solar Today magazine in 2009, was the recipient of the Women in Solar Energy Award from the American Solar Energy Association in 2009, and was listed as one of the top 10 women in renewable energy in Petroleum World magazine in 2010. She is a sought-after speaker on photovoltaic applications for organizations in New Mexico and around the country.
In a career marked by notable professional success and proactive involvement in the community as mentor, teacher, and volunteer, Marlene cites her work empowering women — for example, through her women-only classes in photovoltaic systems installation — to be her proudest accomplishment. Her Facebook username — "mbwildwoman" — says it all: She is fiercely determined to help women succeed. In her Women of Influence nomination package, Marlene responded to the question "What needs to happen in order for more American women to reach the top levels of leadership in business?" this way: "Women need to believe in themselves and not give in to their own fears. Our fears stop us from doing so many things. We are raised differently and still have to get past what stops us. We need to start mentoring women when they are young and encourage them to pursue their dreams." Marlene has organized her life to live by those words.
Selected from among 400 nominees
Marlene is one of 30 women recognized by Albuquerque Business First, formerly called the New Mexico Business Weekly, a newspaper and companion digital edition that focus on business and economic issues. According to the publication's website, the 30 honorees were selected by a panel of judges from among more than 400 nominees. The award recognizes New Mexico's most dynamic women of diverse professional backgrounds who stand out as role models for their peers and are leaving a lasting and positive mark on the state.
In her 15-plus years at Sandia, Marlene has worked in the Labs' satellite programs and nuclear weapons programs as well as in photovoltaics.
Currently a component evaluation surveillance engineer in Integrated Stockpile Evaluation Group 2950, she has also worked as a quality engineer for subsystems and components in the W76 and B61 programs, project lead for workforce development for DOE, and Tiger Team lead for the Solar America Cities Project.
She provided on-orbit analysis for NNSA Nuclear Detonation System satellite payloads and has served as a subject matter expert for renewable energy for Sandia's Facilities organization.
Marlene holds a BA in environmental and natural sciences from The Evergreen State College, Olympia Washington, and master's degrees in electrical engineering and systems engineering. She holds professional certificates in a diverse range of disciplines, from electrical trades and energy-efficient building technology, to systems engineering and architecting.
When she's not on the job, Marlene's work doesn't stop. She volunteers her time as a consultant for the Boko Bed Net Project. The project seeks to reduce malaria in Ghana through use of simple technologies. By building a bed net with a light and a fan powered by PV panels, people are encouraged to use bed nets, which lead to a reduction in malaria.
Marlene learned to build the PV panels and is helping teach local people to build them themselves. She also found an Albuquerque company to provide LEDs to the project.
The do-it-yourself panels Marlene introduced to the project are increasing efficiency, reducing the cost, and creating local jobs.
In a testimonial written in support of her Women of Influence nomination, a longtime colleague from the private sector said, "Marlene is an incredible leader, and has helped bring a lot of women into the renewable energy field. I have known Marlene for almost 20 years, and taught numerous solar classes with her, and she not only really knows the technology, but can convey it in a way to make it understandable and exciting to people at all levels.
"Working with Marlene has been a pleasure, because she always gets things done and forges ahead even when things get difficult and others might give up. I know that a lot of women in the solar field really look up to Marlene as a mentor and role model."